Donate now to support the LLIFLE projects.
Your support is critical to our success.
Since 4 Aug 2013
Accepted Scientific Name: Ananas ananassoides (Baker) L.B.Sm.
Bot. Mus. Leafl. 7: 79. 1939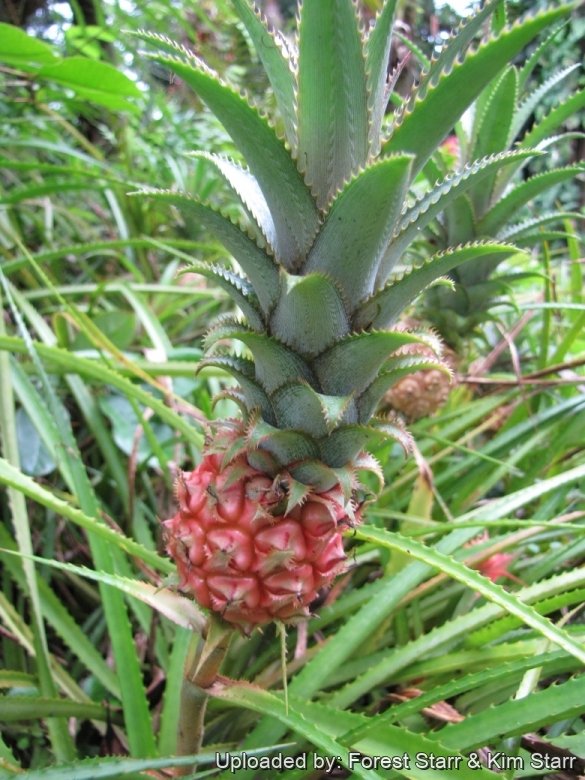 Ananas ananassoides var. nanus Photo by: Forest Starr & Kim Starr
Fruit at Hawaii Tropical Botanical Garden, Hawaii. July 16, 2012.
Origin and Habitat: Northern Brazil to Suriname
Altitude: About 500-600 a.s.l.
Habitat: It grows mainly in the cooler, arid sections of central Brazil, where it is found in barren ground.
Synonyms:
See all synonyms of Ananas ananassoides
Accepted name in llifle Database:
Ananas ananassoides
(Baker) L.B.Sm.
Bot. Mus. Leafl. 7: 79. 1939
Synonymy: 13
Common Names include:
ENGLISH:
Dwarf Pineapple, Pink Pineapple
SPANISH (Español):
Piñita
Description: Ananas nanus (Dwarf) is a delightful little pineapple grown mainly as ornamental rather than an edible. It is a pygmy relative of Ananas ananassoides cultivated for it´s pink inflorescence, that lately becomes a beautiful miniature yellowish pineapple. The miniature pineapple's small fruit is edible. It can be bought in fruit in a 10cm pot!
Rosette: Open, spider-like, about 30-60 cm tall, 40-60 cm wide (or a little more) of whorled dark green leaves.
Leaves: Long, stiff , green-grey to dark-green often blushed in maroon in full sun, leathery with sharp spines that pierces the skin like curving swords. Unlike other bromeliads, the plant isn´t designed to store water in the middle of its leaves, although it has special hairs on the leaf surfaces that absorbs water, so watering the leaves is important.
Inflorescence: Looks like a cone-shaped pineapple. It´s on the top of a 30-50 cm tall stalk from the center of the leaf rosette, also covered with those special hairs (it looks grey). The flowers are tubular, small, mauve-lavender to purple up to 5 cm long, and attracts birds. On the top of the pink inflorescence you have another whorl of leaves growing in there.
Bloom Time: Spring, Late Spring. Healthy two-year old plants may just produce the first flowers!
Fruit. The ripe fruit looks like a baby pineapple usually no larger than that of a chicken egg, (or a bit longer). The fruit changes its colour from pink to pale yellow at maturity. The fruit is capped with a small rosette of leaves, called a coma, that will take root in the soil after the fruit naturally decays and drops to the ground. It is juicy and tastes good, but it´s a little more acid than the regular pineapple, the epicarp is relatively thicker and covered with tiny spiny bracts that makes you need to use gloves or something to protect your hands, so many people just leave it.
Bibliography: Major references and further lectures
1) Forest & Kim Starr "Ananas nanus (pink pineapple, dwarf pineapple)". Plants of Hawaii. <http://www.starrenvironmental.com>. Downloaded on 20 August 2014.
2) D. P. Bartholomew, Robert E. Paull, K. G. Rohrbach "The Pineapple: Botany, Production, and Uses" CABI, 20/nov/2002
3) James Cullen, Sabina G. Knees, H. Suzanne Cubey "The European Garden Flora Flowering Plants: A Manual for the Identification of Plants Cultivated in Europe, Both Out-of-Doors and Under Glass" Cambridge University Press, 11/Aug/2011
4) Wikipedia contributors. "Ananas ananassoides" Wikipedia, The Free Encyclopedia. Wikipedia, The Free Encyclopedia, 21 Aug. 2014. Web. 21 Aug. 2014
5) Smith, L.B. & R. J. Downs. 1979. "Bromelioideae (Bromeliaceae)", Part III. Fl. Neotrop. 14(3): 1493–2142.
6) Rauh, W. 1981. "Bromelien". 327.
7) Smith, L. B. & R. J. Downs. 1979. "Bromelioideae (Bromeliaceae)." In: Organization for Flora Neotropica, ed., Fl. Neotrop. Monogr. 14(3):2052–2054.
8) Kramer, Jack (1976). "Bromeliads The Colorful House Plants." Litton Educational Publishing, Inc. pp. 33; 100.
Padilla, Victoria (1973). "Bromeliads". New York: Crown Publishers. p. 32.
9) Coppens d'Eeckenbrugge, Geo; Freddy Leal (2003). "Chapter 2: Morphology, Anatomy, and Taxonomy". In D.P Bartholomew, R.E. Paull, and K.G. Rohrbach. "The Pineapple: Botany, Production, and Uses". Wallingford, UK: CABI Publishing. p. 21.
10) K.F. Baker, J.L. Collins, "Notes on the distribution and ecology of Ananas and Pseudananas in South America", American Journal of Botany, 1939;
11) Collins, "The pineapple: botany, utilization, cultivation" (London:Leonard Hill) J L. 1960
12) Kochhar, S. L. (2006). "Economic Botany in the Tropics." Macmillan India. p. 203.
13) Francesca Beauman, "The Pineapple", publisher Chatto and Windus
14) Menzel, Christopher. "Tropical and Subtropical Fruit." Encyclopedia of Agricultural Science—Volume 4. Charles J. Arntzen. New York, NY: Academic Press, 1994. 380–382.
Fruiting habit at Hawaii Tropical Botanical Garden, Hawaii. July 16, 2012.
Photo by: Forest Starr & Kim Starr
Send a photo of this plant.
The gallery now contains thousands of pictures, however it is possible to do even more. We are, of course, seeking photos of species not yet shown in the gallery but not only that, we are also looking for better pictures than those already present.
Read More...
Cultivation and Propagation: Ananas nanus is an valuable miniature ornamental pineapple due to the beauty of the foliage and of the inflorescence, fruit and the facility of cultivation. It is more commonly grown as a house plant but seldom blooms indoors, so no fruit is produced.
Growing substrate: It requires a well-drained, aerated, porous and moisture-retentive substratum which that has organic matter incorporated (e.g. 2 parts peat moss to 1 part loam to 1 part sand or perlite). Use only acidic to Neutral soil. Root rot can be a problem if the soil is too moist.
Exposition: It prefers prefers a sunny site but tolerates partial shade.
Watering: It enjoys constant moderate moisture from rain or sprinkler, but allow the plant to dry in-between waterings. However it is quite drought-tolerant and may be also planted in dry succulent plant gardens, whilst in winter it is better to leave it dry, thus avoiding possible rottenness. In dry and hot climate, humidity can be increased with nebulisations utilizing water at room temperature and not calcareous. Requires complete and perfect drainage.
Fertilizing: Fertilize every 4-week during the growing seson with a balanced fertilizer diluted to ½ the strength recommended on the label. Apply mild solutions (one-quartet strength) of foliar fertilizer at 3-month intervals to both garden and container plants.
Hardiness: It is cultivated in open air in the tropical and humid subtropical climate countries, with temperatures which it is good to keep over the 14°C, best 20-24°C , but can withstand light frost for short periods if very dry (hardy down to -2 to -4º C, even if with damage to the foliage) in these situations it will better resist if sheltered by the winter rains, seen that the humidity and low temperatures render it more sensitive to rottenness. USDA Zone 9b to 11
Pest & diseases: It is susceptible to scale and trips. Mealybugs infestations are also a frequent problem.
Pruning: Remove old leaves from plant base and dead flower spikes only. Remove older plant crown when it begins to fade.
Use: Use this bromeliad as a specimen in a frost-free garden border or patio container, or as a houseplant where not hardy. Ananas nanus is small enough for the windowsill. It is a valuable landscape plants that require very little care and create exotic tropical look. You can also use them in flower arrangements or even as exotic drink stirrers. The small fruit is edible, but its size makes it better as ornament than a snack.
Propagation: Remove and replant stout offshoots from the base of the parent plant. After flowering and fruiting the plant dies, but not before at least one plantlet, a pup, grows from the mother plant's base as a replacement. The new rosette can be left there, since it will substitute the mother plant. It blooms repeatedly and as the small pineapple continues growing, some new buds are formed on the stalk at the base of the fruit. The crown and the buds of the inflorecence/fruit can be replanted. It may also be grown from seed: remove seeds from inflorescence and lay them uncovered on a bed of crushed tree fern fibre; keep constantly but moderately moist.
Warning: Plant has thorns or sharp edges that deter some gardeners; use extreme caution when handling.