Donate now to support the LLIFLE projects.
Your support is critical to our success.
Since 4 Aug 2013
Accepted Scientific Name: Gymnocalycium hybopleurum (K.Schum.) Backeb. in Backeb. & F.M.Knuth
Kaktus-ABC [Backeb. & Knuth] 289. 1936 [12 Feb 1936] Backeb., F.M.Knuth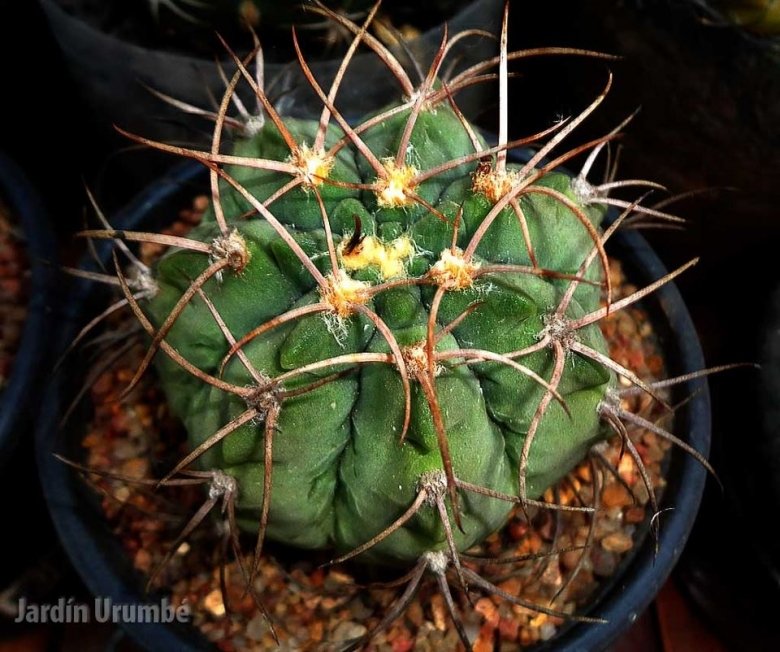 Gymnocalycium nigriareolatum f. carmineum Photo by: Alexander Arzberger
Origin and Habitat: Argentina Northwest (Catamarca).
Type Locality: Sierra de Ancasti, 600-700m
Synonyms:
See all synonyms of Gymnocalycium hybopleurum
Description: Gymnocalycium nigriareolatum f. carmineum is an interesting pink flowering form of Gymnocalycium nigriareolatum that, in turn, is one of the several species of the very variable Gymnocalycium hybopleurum which form a complex of related taxon. It is still unclear whether this variable complex is one or several species. There is so much variation that most authors choose to lump them together until further studies are done.
Taxonomy note: G. Charles (2009) speculated that Gymnocalycium nigriareolatum f. carmineum might be a form of Gymnocalycium oenanthemum, but part for the pink flowers it does not differ from the standard Gymnocalycium nigriareolatum. However it is not clear if it is simply a pink-flowering form of the species, or whether it is a natural hybrid with Gymnocalycium oenanthemum. (Perhaps the deviant flower colour was created by "introgression", i.e. by the back-crossing of a natural hybrid from Gymnocalycium nigriareolatum and Gymnocalycium oenanthemum with Gymnocalycium nigriareolatum - but this is only a vague presumption.) It could also be interpreted as a transitional form between the two species.
Subspecies, varieties, forms and cultivars of plants belonging to the Gymnocalycium hybopleurum group
Bibliography: Major references and further lectures
1) J.G. Lambert "Cacti of Argentina" 2nd edition Revised and supplemented 1997 <https://www.cactuspro.com/biblio_fichiers/pdf/Lambert/LambertEN.pdf>
2) Gymnocalycium nigriareolatum Backeb. <http://www.atlas.catamarca.gob.ar/PDF/unidades%20tematicas/territorio%20y%20medio%20ambiente/eco%20regiones/Publicaciones/Cactus/nombre/gymnnigr.htm>
3) "Notes on the 1967 Seed List W.F.M." The Cactus and Succulent Journal of Great Britain Vol. 29, No. 1 (FEBRUARY, 1967), pp. 16-18
4) Edward Anderson "The Cactus family" Timber Press, Incorporated, 2001
5) David R Hunt; Nigel P Taylor; Graham Charles; International Cactaceae Systematics Group. "The New Cactus Lexicon" dh books, 2006
6) Charles, G. 2009. "Gymnocalycium in Habitat and Culture." Graham Charles, Stamford.
7) Pilbeam, John. "Gymnocalycium: A Collector's Guide." A. A. BALKEMA / ROTTERDAM / BROOKFIELD / 1995
8) Preston-Mafham Rod Preston-Mafham Ken "Cacti: The Illustrated Dictionary" 1995
9) Detlef Metzing "Nacktdistel und Spinnenkaktus Die Gattung Gymnocalycium." Sonderausgabe der Deutsche Kakteen-Gesellschaft e.V., 2012, S. 99.
10) KuaS 2/2001, S. 37 f.
11) KuaS 4/2012.
12) Karteikarte 2012/07.
Gymnocalycium nigriareolatum f. carmineum (a red stemmed form)
Photo by: Alexander Arzberger
Send a photo of this plant.
The gallery now contains thousands of pictures, however it is possible to do even more. We are, of course, seeking photos of species not yet shown in the gallery but not only that, we are also looking for better pictures than those already present.
Read More...
Cultivation and Propagation: Gymnocalycium nigriareolatum f. carmineum is a summer grower species that is easy to cultivate, but it grows rather slowly.
Growth rate: It is a relatively rapidly growing and easily flowering species that will make clumps given the best conditions.
Soils: It likes very porous standard cactus mix soil. Prefer a low pH compost, avoid substrata rich in limestone; otherwise growth will stop altogether.
Repotting: This plant needs plenty of space for its roots, repotting should be done every other year or when the it has outgrown its pot. Use pot with good drainage.
Watering: Needs moderate to copious waterings in summer, but do not overwater (Rot prone), keep dry in winter at a minimum temperature of 0°C.
Fertilization: Feed with a high potassium fertilizer in summer.
Hardiness: Reputedly resistant to frost if kept on the dry side prior to, and during, cold weather (hardy to -5° C, or less for short periods).
Exposition: The plant tolerates extremely bright situations but enjoys filtered sunlight or afternoon shade, inside it needs bright light, and some direct sun. Tends to bronze in strong light, which encourages flowering and heavy spine production, but is likely to suffer from sun scorch or stunted growth if over exposed to direct sunlight during the hottest part of the day in summer.
Uses: It is an excellent plant for container growing. It always looks good and stays small. It look fine in a cold greenhouse and frame or outdoor in a rockery.
Propagation: Division, direct sow after last frost. Seeds germinate in 7-14 days at 21-27° C in spring, remove gradually the glass cover as soon the plants will be well rooted (ca 1-2 weeks) and keep ventilated, no full sun for young plants! To make a cutting twist off a branch and permit it to dry out a couple of weeks, lay it on the soil and insert the stem end partially into the soil. Try to keep the cutting somewhat upright so that the roots are able to grow downward.