Donate now to support the LLIFLE projects.
Your support is critical to our success.
Since 4 Aug 2013
sponsored link
Accepted Scientific Name: Gymnocalycium saglione Britton & Rose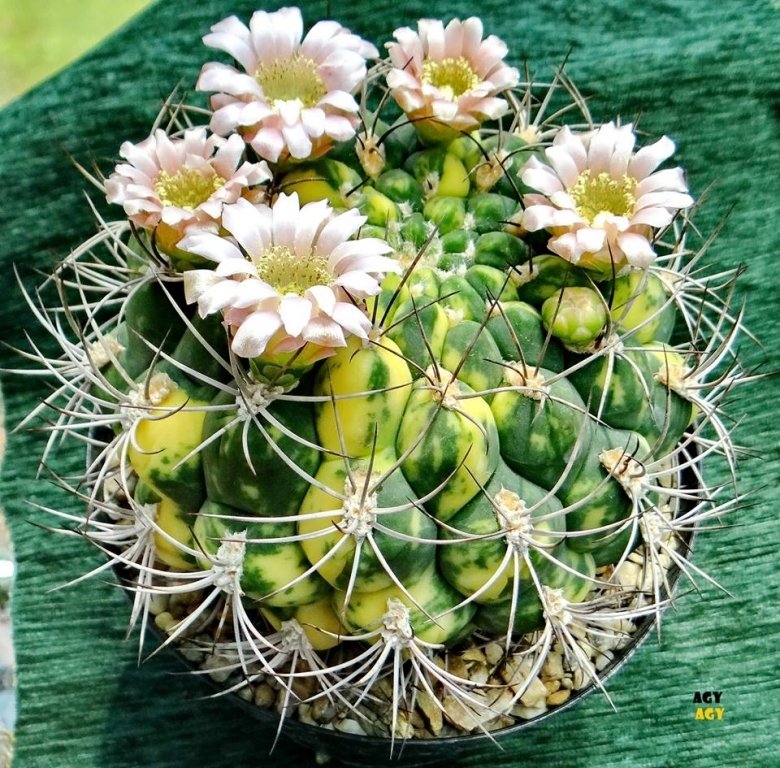 Gymnocalycium saglionis f. variegata Photo by: Agócs György
Origin and Habitat: Gymnocalycium saglionis has a wide range and is locally abundant in Argentina (Jujuy, Catamarca, La Rioja, Salta, San Juan, Tucumán). The variegated form is of garden origin (Nursery produced cultivar).
Synonyms:
Description: The typical Gymnocalycium saglionis is a solitary barrel cactus, rather flattened, often very large, with long spreading and sometimes recurved spines. They are a rich brown and form a pleasing contrast against the grey green body.
Variegated form: Variegated Gymnocalycium saglionis are cultivated for their beautiful stem that have sectors, patches or stripes with two colours, yellow and green. There are several forms of variegation. The extent and nature of the variegation can vary, and sometimes the plant will return to the green form. In others it is stable and does not change under normal conditions. Flowers are produced only on the crown of mature specimens. Variegated specimens are sometime grafted on stronger species, called the stock, that can be any number of different columnar cactus.
Stem: Flattened globose to shortly cylindrical more or less flattened up to 30 (40) cm in diameter, 15-30 cm tall (but often variegated specimens stay smaller), dull-green or blue-green variegated in yellow to orange-yellow or pink (depending on exposition to sun). Apex spineless.
Ribs: 10-32 according to the size of the plant, low, very broad, sometimes 4 cm. long, separated by wavy intervals, divided into large, low, rounded tubercles.
Areoles: About 2 to 4 cm apart, large, felted when young.
Spines: 8 to 10 on small plants but on old plants often 15 or more, 3-4 cm long, yellowish-brown, reddish or black becoming grey with time which contrast well against the green body at first ascending, afterwards more or less curved outward.
Central spines:1-3 almost straight
Radial spines: 10-15 bent against the stem.
Flowers: Broadly funnelform, white or pale pinkish, with reddish throat up to 3-4 cm long, 2-3 cm in diameter, with a very short flower's tube; inner perianth-segments spatulate, acute; scales of the ovary nearly orbicular, rounded, with a scarious margin. The flowers forms a crown on the plant apex and have a hard time coming through the dense mass of spines.
Blooming season: Appearing repetitively during the growing season.
Fruit: Red, globular.
Subspecies, varieties, forms and cultivars of plants belonging to the Gymnocalycium saglionis group
Notes: Variegation, albinism & schizochromism.
Variegation: A variegated plant has sectors, patches or stripes with two or more different colours, even distinct shades of green. Plants with variegated stems or leaves are often attractive and highly prized. In most species the stems or leaves are normally green, and variegated epidermis is an uncommon mutation, termed a chimera. A chimeral variegation is due to losing the ability to produce chlorophyll in some of the plant's tissue, so that this tissue is no longer green. Tissues lacking chlorophyll are usually white or pale yellow coloured (due to carotenoid pigments) or red (due to betalain or anthocyanin pigments) contrasting with the normal green tissue. There are several forms of variegation, depending on the tissues that have been affected. The variegation in some forms is unstable. The extent and nature of the variegation can vary, and sometimes the plant will return to the green form. In others it is stable and does not change under normal conditions. Because the variegation is due to the presence of two kinds of plant tissue, propagating the plant must be by a vegetative method of propagation that preserves both types of tissue in relation to each other.
Albinism: Every once in a while a plant exhibits albinism (completely lacking chlorophyll pigment). This means that its tissue is unable to carry out photosynthesis. The result is a completely cream-white plant. This plant will be weaker than a green plant, and albinism is generally a fatal trait (it can't produce its own food and it's not getting it from anything else). Without chlorophyll, the albino plant has no way to manufacture the food needed for survival and growth to maturity. This implies that these plants cannot survive on their own roots and necessitate being grafted on a normal green plant that provides food. Some of these albino plants are indeed very popular, and sought after by collectors.
Schizochromism: The yellow or red appearance of some plants is more precisely caused by another aberration called "schizochromism". Here, though, the specific green pigment (chlorophyll) is missing: every other pigment is present at normal levels. The dominant green colouration is lost, but the plant will still more than likely have normal other pigments that give the yellow or red overall appearance of stems and leaves.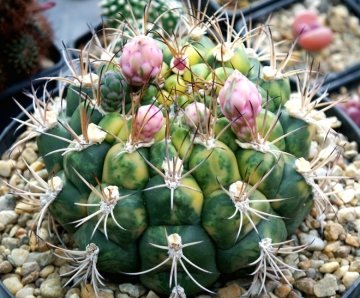 Variegated specimen. Rebutialand - Cactus collection
Photo by: Agócs György
Send a photo of this plant.
The gallery now contains thousands of pictures, however it is possible to do even more. We are, of course, seeking photos of species not yet shown in the gallery but not only that, we are also looking for better pictures than those already present.
Read More...
Cultivation and Propagation: Keep this plant almost dry in winter at a minimum temperature of 0°C, prefer a low pH compost otherwise growth will stop altogether. The plant tolerate extremely bright situations but are likely to suffer from sun scorch or stunted growth if over exposed to direct sunlight during the hottest part of the day in summer. Since they are big sized plants need plenty of space for their roots, repotting should be done every other year or when the plant has outgrown its pot.
This species makes a great landscape cactus in moderate climates.
Use: The fruits of this species are edible and used to make jam.
Propagation: Seeds (It don't produces offsets). Seed Collecting: Permit fruit to ripen, fruit must be significantly overripe before harvesting seed; clean and dry seeds