Donate now to support the LLIFLE projects.
Your support is critical to our success.
Since 4 Aug 2013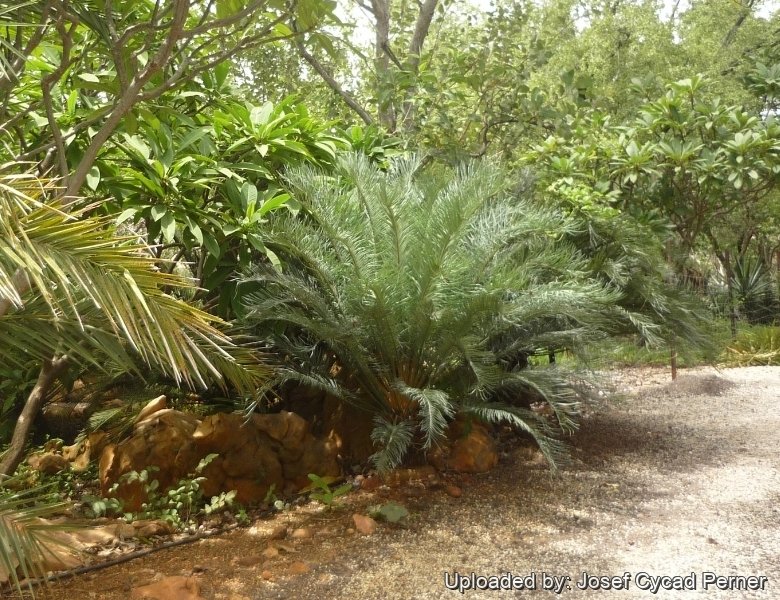 Cycas couttsiana Photo by: Josef Cycad Perner
Origin and Habitat: Cycas couttsiana is known from several populations in the southern Gregory Range of Queensland. Populations occur to the north of Hughenden. Number of Locations 8-10. Number of mature individuals 8000-10000.
Altitude range:* This species occurs as high as 700 metres above sea level.
Habitat and ecology: It occurs in open grassy woodlands on red sandy loams derived from basalt or dolerite, on flat to steeply sloping country together with outstanding eucalypts with a very rough yellow bark, most likely is Eucalyptus similis (Inland yellow jacket). In some areas Cycas couttsiana is the dominant plant. Generation Length 40 years. Male cones shed pollen and female sporophylls are receptive in November. Pollination is effected by small beetles in an obligate mutualistic relationships. There are no major threats, populations seem quite secure with little evidence of decline.
Synonyms:
Description: Cycas couttsiana (a.k.a. Cycas sp. 'Glen Idle Blue') is an ultra-blue cycad distinguished from other Australian species by the relatively broad, glaucous blue leaflets with slightly recurved margins, the persistent white or grey trichomes (fuzz), and its strongly glaucous-blue seeds. In cultivation, it was found that 'blue' cycas have the tendency to lose the blue sheen if replanted in different soils and colour change is apparently seasonal at least in a coastal environment, as new fronds resume the glaucous sheen. However it is obvious that the seasonal change does not occur if plants are in their natural habitat.
Derivation of specific name: The specific name honours Pat and David Coutts, cycad enthusiasts of Townsville, at the time leaseholders of 'Chudleigh Park' station, who brought this taxon to botanical attention and who were endeavouring to ensure its conservation in habitat.
Stems: Arborescent, usually 3-5 m tall, 14-20 cm diameter at narrowest point. However there are reports of one giant specimen growing on the deep soil area measuring height of 11.60 m with a single trunk having the visual appearance of the coastal Cycas media and the base at ground level had many age cracks between the old leaf bases. There are also several other plants measured in the vicinity of 6 m tall. This must be taken to be exceptional as the average height seems to be about 3 m.
Leaves (fronds): The mature frond are 100-130(-170) cm in length, up to 36 cm wide, at the widest part, strongly keeled with a distinct V-shape where the leaflets meet the rachis (opposing leaflets inserted at 30-90(-150)° on rachis(central stalk). Juvenille leaves are blue to blue-green, powdery and densely covered with greyish-white or orange-brown hairs. Leaflets (pinnae), 78-135 pairs, simple, straight (not arching) in profile, weakly discolorous, dull glaucous blue, with white tomentum persistent below. The median leaflets are 17-21 cm long, 4.5-6 mm wide and narrowed to 3-4.5 mm at the base. Rachis usually terminated by a spine. Petiole 17-21 cm long, pubescent with 20 to 25 pairs of spines, situated between the lower leaflets and the base of the petiole. The central nerve or vein of each leaflet is sunken above but prominent on the reverse side. Leaflet are rigid, stiff and revolute at the margins. Basal leaflets not gradually reducing to spines. A rusty-brown tomentum covers each side of the rachis.
Cataphylls: The cataphylls (Modified leaf, much reduced and thickened, serving to protect the apical meristem in cycads produced in flushes preceding the emergence of cones or leaves.) are linear, soft, densely floccose, persistent.
Male cones: Ovoid, 15-20 cm long, 7-9 cm in diameter. The microsporophylls (scales) arranged around the male cone are 30-35 mm long and 12mm wide, with a spine 8 mm long at the tip.
Female spike: When female inflorescences are present, the genus Cycas can easily be recognized by the loose structure of the inflorescence, as in all the other cycads genera the female inflorescences are compact cones. Instead Cycas couttsiana carry ovules and seeds on fleshy, leaf-like megasporophylls 16-26 cm long, the apical lobe lance-shaped, 40-60mm long, 20-30mm wide, and with an apical spine 15-25mm long at the tip; each with 4-6 ovules.
Seeds: Ovoid, 35-46 mm long and 28-38mm wide. Sarcotesta green to yellowish-brown or orange-brown, strongly pruinose, 3-4 mm thick; fibrous layer absent; sclerotesta smooth. Spongy endocarp absent.
Similar species: This species is similar in habit to Cycas brunnea and Cycas angulata, but the plants are less robust, dark brown trichomes are lacking, and male cones are smaller, ovoid and orange-brown. C. couttsiana also differs from Cycas angulata in being more glaucous, and having short, soft cataphylls. C. couttsiana is allied to Cycas cairnsiana but is taller growing and lacks the revolute leaf margins of that species. Cycas cupida can be distinguished by rusty brown hairs on the new leaves.
Bibliography: Major references and further lectures
1) Jones, D.L. "Cycads of the World", 2nd edn. Reed Books, Sydney, Australia. 2002.
2) Boris Lariushin "Cycadaceae Family" Lulu.com.
3) Whitelock, Loran M., "The Cycads", Timber press, 2002.
4) Haynes J.L, "World List of Cycads: A Historical Review", IUCN/SSC Cycad Specialist Group, 2012.
5) Bösenberg, J.D. 2010. Cycas couttsiana. The IUCN Red List of Threatened Species 2010: e.T41973A10614280. http://dx.doi.org/10.2305/IUCN.UK.2010-3.RLTS.T41973A10614280.en . Downloaded on 08 October 2015.
6) PACSOA contributors "Cycas couttsiana". In: Cycads. Palm and Cycad Societies of Australia (PACSOA). 24 November 2013 Web. 02 October 2015.
7) Hill, K.D. & Osborne, R.O. "Cycads of Australia." Kangaroo Press, Sydney. 2001
8) L. P. Butt "Cycas couttsiana" Palms & Cycads No. 27, Apr-Jun 1990.
9) Herbrecs "Cycas couttsiana", in BriMapper version 3.2.1. Queensland Herbarium. Accessed 16/12/2008. (2008).
10) Hill, K. "A preliminary account of Cycas (Cycadaceae) in Queensland". Telopea 5(1): 177-206, 1992.
11) Hill, K.D. in McCarthy, P.M. (Ed) "Flora of Australia" 48: 613, 1998.
12) A.Holland (2009-06-17 00:00:00) "Cycas couttsiana" in: The Atlas of Living Australia a node of the Global Biodiversity Information Facility (GBIF). <http://bie.ala.org.au/species/urn:lsid:biodiversity.org.au:apni.taxon:261760#> Web. 02 October 2015.
13) The Cycad Pages "Cycas couttsiana" Royal Botanic Gardens Sydney Written and maintained by Ken Hill 1998-2010 Maintained by Leonie Stanberg and Dennis Stevenson 2010-2012 <http://plantnet.rbgsyd.nsw.gov.au/cgi-bin/cycadpg?taxname=Cycas+couttsiana> Web. 02 October 2015.
Cultivation and Propagation: Cycas couttsiana is suited to tropical regions which have a seasonally dry climate. It is easy to grow, tolerating dry periods, but up to the time of this writing this species is not common in cultivation. Cycas couttsiana is best planted in the ground or a deep pot so its fast-growing taproot room can develop properly. Benefits of this plant include high tolerance to sun, drought, heat, cold and frost. According to Loran Whitelock, in The Cycads, "Frost is not uncommon in this cycad's habitat, and plants in cultivation have shown an exceptional tolerance to cold."
Growth rate: Usually slow growing, however good conditions can speed it up considerably. Because of its growth habit, fertilize only when terminal bud begins to swell, indicating the start of the annual growth cycle.
Exposure: It prefers bright light exposure; best with some protection from afternoon heat.
Soil: Needs a well drained spot, with deep soil, but will still thrive in less than ideal conditions.
Maintenance: Minimal; removal of offsets if desired, removal of spent fronds.
Use: Landscape as cultivated perennial in warm, coastal areas; House-plant or interior-scape, as container plant in cool areas, as well very well suited to bonsai culture.
Propagation: Seed or offshoots (or "pups"). The advantage of the "pups" is that you will know its sex, for seedlings you will have to wait several years until the plant flowers to find out. After fertile seeds are collected, they usually need several months of storage before the inner embryo is ready to germinate. Therefore, it is best to clean the seeds of external fruit and set them aside before attempting to propagate the seeds.