Donate now to support the LLIFLE projects.
Your support is critical to our success.
Since 4 Aug 2013
Conophytum minimum 'wittebergense' RR714, Klipfontein.
Origin and Habitat: Witteberg Mts., Western Cape, South Africa.
Altitude: 800 - 1100 metres above sea level.
Synonyms:
Common Names include:
CHINESE (中文):
墨小锥, 安珍, 清姬
JAPANESE (日本語):
コノフィツム・ウィッテベルゲンセ, ウィッテベルゲンセ
KOREAN (한국어):
위드버겐스
Description: Conophytum wittebergense is one of the innumerable ecotypes of the very variable Conophytum minimum. It is an outstanding species with tiny bodies marked with a network of dark red dots and lines on top. It show an incredible complexity of patterns and growers have indulged in unnatural selection and the best-marked forms are highly prized. Some of those are well-decorated with fantastic red lines and other are almost black, due to the lines becoming a solid mass. The small white flowers are nocturnal and highly scented. It is extremely decorative even without flowers.
Habit: It is a minuscule winter-growing, almost stemless, perennial leaf-succulent up to 3 cm tall and forms dense mats or cushions with time.
Bodies (paired leaves): Variable, small, tiny, less than 1 cm in diameter with a small growing cleft that doesn't reach right across the body.
Colours: Silvery-green, variously spotted with dark brownish-red or purple dots and lines which turn a beautiful bright red-black colouration during the resting period.
Flowers: Abundant nocturnal, small, whitish, strongly scented. The thin petals are white, pale yellow or slightly and form an almost star-like, spidery structure and very showy.
Blooming season: Blooms mostly in autumn (in cultivation in Europe August-November).
Fruits: Hygrochastic capsules.
Notes: It is closely related to its neighbouring species Conophytum joubertii, Conophytum ficiforme, Conophytum piluliforme, and to the widespread Conophytum truncatum.
Subspecies, varieties, forms and cultivars of plants belonging to the Conophytum minimum group
Bibliography: Major references and further lectures
1) Hammer, S. "The Genus Conophytum - A Conograph." Succulent Plant Publications, Pretoria.1993
2) Hammer, S. "Dumpling and His Wife: New Views of the Genus Conophytum." East Anglia Engraving Creative Colour Ltd, Norwich, England. 2002
3) Victor, J.E., "South Africa. In: J.S. Golding (ed.) Southern African Plant Red Data List." South African Botanical Diversity Network Report No. 14. SABONET, Pretoria. 2002
4) Opel, M. "Conophytum leaf structures. In Hammer: Dumpling and His Wife: New Views of the Genus Conophytum." East Anglia Engraving Creative Colour Ltd, Norwich, England. pp. 300-321. 2002
5) Gard. Chron., ser. 3 71: 307 1922
6) Heidrun E.K. Hartmann "Illustrated Handbook of Succulent Plants: Aizoaceae A-E" Springer, 2002
7) James Cullen, Sabina G. Knees, H. Suzanne Cubey "The European Garden Flora Flowering Plants: A Manual for the Identification of Plants Cultivated in Europe, Both Out-of-Doors" Cambridge University Press, 11/Aug./2011
8) Wikipedia contributors. "Conophytum minimum." Wikipedia, The Free Encyclopedia. Wikipedia, The Free Encyclopedia, 22 Mar. 2018. Web. 9 Sep. 2018.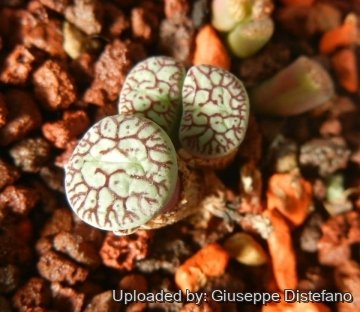 Conophytum wittebergense
Photo by: Giuseppe Distefano
Send a photo of this plant.
The gallery now contains thousands of pictures, however it is possible to do even more. We are, of course, seeking photos of species not yet shown in the gallery but not only that, we are also looking for better pictures than those already present.
Read More...
Cultivation and Propagation: Conophytum wittebergense is easy to grow, but like most, it will split and crack if overwatered (unsightly but usually not fatal). These plants grow on winter rain and head for summer dormancy. More or less dormant in summer.
Soil: They prefer a very porous potting mix to increase drainage. You can grow a plant in a 6-8 cm pot for years and have perfectly happy plants. For best results, use a shallow pot.
Repotting: Avoid to repot frequently. This plant may stay in the same pot for many years. Plants grown in larger containers have frequently relatively poor flowers. It might improve when the plants are given their own, small individual pots.
Watering: It requires little water; otherwise its epidermis breaks (resulting in unsightly scars). Water throughout the year although minimally in summer, (only when the plant starts shrivelling), but it will generally grow even in summer if given water. Water regularly in winter after the previous year's leaves have dried up. Requires good drainage.
Fertilization: The plants are fertilized only once during the growing season with a balanced fertilizer diluted to ½ the recommended strength.
Exposure: Keep cool and shaded from hot sun in mid-summer; it needs full sun or light shade in the other seasons.
Hardiness: Hardy to -2°C. Ensure a very good ventilation.
Pest & diseases: Conophytums are sensitive to mealybugs.
Rot: Rot is only a minor problem with Conophytums if the plants are watered and "aired" correctly. If they are not, fungicides won't help all that much. Care must be given in watering, keeping them warm and wet while growing, and cooler and dry when dormant.
Use: It is an excellent potted plant great for windowsill culture as well as in rock gardens. Indoors only in brightest position.
Propagation: It can be reproduced both by cuttings and seeds. Take the cutting from a grown-up mother plant. Each cutting must contain one or more heads, along with a fraction of root.