Donate now to support the LLIFLE projects.
Your support is critical to our success.
Since 4 Aug 2013
Antimima turneriana Photo by: K.k. Agrawal
Antimima turneriana's flower is hardly 6 mm size but attractive.
Origin and Habitat: Vanrhynsdorp, Western Cape, South Africa.
Type Locality: Vanrhynsdorp. Knersvlakte. "On the farm Varsrivier, owned by Mr V. A. Turner"
Habitat and ecology: Antimima turneriana grows in crevices of white quartz, exposed dolomite, or limestone. The climate in this area is very dry with annual rainfall less than 100 mm in winter. The species occurs sympatrically with Antimima dualis, Antimima evoluta, and Antimima fenestrata.


Synonyms:
Common Names include:
JAPANESE (日本語):
アンティミマ・ツリネリアナ
KOREAN (한국어):
벽어연 닮은것
PERSIAN (فارسی):
آنتیمیما
Description: Antimima turneriana is a low-growing, compact, tufted succulent plant making rounded mats or cushions with fat blue/green leaves all fuzzy, with no sharp edges. Flowers dark pink to purple solitary or in groups of three. It sheaths over in summer.
Derivation of specific name: It was named "turneriana" for Mr. V.A. Turner who owned the farm named Varsrivier in Van Rhynsdorp, where the holotype of Antimima turneriana was collected by Philip Albert Brand van Breda in 1963. (Etymological Dictionary of Succulent Plant Names; JSTOR)
Stems: Short, branched, often elongating in cultivation.
Leaves: In pairs, equal or unequal, naviculate with convex sides, keeled near the tip, joined to form a protective basal sheath 1/3 to 1/2 of the leaf length in alternate leaf pairs, free parts to 15 mm long, to 8 mm wide and broad, epidermis with slender papillae, wax cover of densely placed vertical platelets.
Flowers: Hardly 6 mm size, in ternate (3-flowered) cymes, rarely solitary, bracteoles basal, the free parts only short, carpels 5, petals pinkish-purple, in 5 groups at first, filamentous staminodes centrally collected. Staminodes and filaments apically purple, basally pink.
Fruits (capsules): 5- locular, top roundish, rims low, base bowl-shaped, covering membranes undulate and convex, parallel to their contact line radial protrusions of wing-shape, disintegrating later forming rows of long teeth, closing body white, big, knobby, expanding keels just not touching each other basally, valve wings at first as broad as the expanding keels, disintegrating later quickly
Seeds: Elongate pear-shaped, testa cells elongate, raised a little
Bibliography: Major references and further lectures
1) Antimima. In: Gideon Smith u.a.: "Mesembs of the World. Illustrated Guide to a Remarkable Succulent Group." Briza Publications 1998
2) H. E. K. Hartmann: "New combinations in Antimima (Ruschioideae, Aizoaceae)." In: Bothalia. Band 28, S. 67–82, Pretoria 1998
3) Antimima. In: Gideon Smith u.a.: "Mesembs of the World. Illustrated Guide to a Remarkable Succulent Group." Briza Publications 1998
4) Doreen Court "Succulent Flora of Southern Africa" CRC Press, 01/Jun/2000
5) Heidrun E.K. Hartmann "Illustrated Handbook of Succulent Plants: Aizoaceae A-E" Springer Science & Business Media, 2002
6) Raimondo, D., von Staden, L., Foden, W., Victor, J.E., Helme, N.A., Turner, R.C., Kamundi, D.A. and Manyama, P.A. 2009. "Red List of South African Plants." Strelitzia 25. South African National Biodiversity Institute, Pretoria.
7) Foden, W. & Potter, L. 2005. "Antimima turneriana" (L.Bolus) H.E.K.Hartmann. National Assessment: Red List of South African Plants version 2014.1. Accessed on 2014/11/10
Antimima turneriana
Photo by: K.k. Agrawal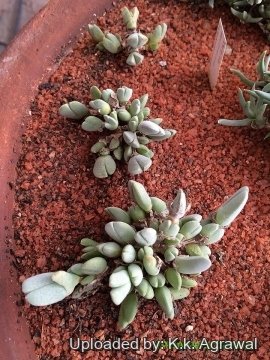 Antimima turneriana
Photo by: K.k. Agrawal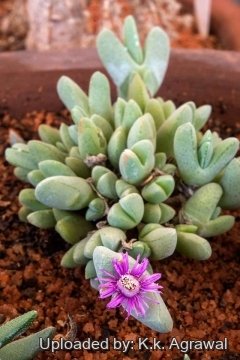 Antimima turneriana
Photo by: K.k. Agrawal
Send a photo of this plant.
The gallery now contains thousands of pictures, however it is possible to do even more. We are, of course, seeking photos of species not yet shown in the gallery but not only that, we are also looking for better pictures than those already present.
Read More...
Cultivation and Propagation: The Antimima turneriana is a "winter" grower which is most active from late winter until later spring and heading for summer dormancy. It is relatively easy to grow, but less forgiving than other Mesembs of excess water.
Soil: Requires good drainage as it is prone to root rot. It can grows outdoor in sunny, dry, rock crevices (protection against winter wet is required) It can also be cultivated in alpine house, in poor, drained soil. A mixture comprising 20 % pumice grit, 20% lava grit, 20% quartz grit, 20% coarse river sand and 20 % garden soil seems well suited.
Fertilization: Fertilize moderately during the growing season with diluted high potassium fertilizer.
Watering: Water minimally in summer, water more abundantly when they are growing in the autumn and spring.
Light: It needs a bright sunny or light shade exposure in winter, but keep cool and shaded in summer. With insufficient illumination bodies get thinner as a result of the lack of sun.
Hardiness: It prefer a very bright situation and will take a light frost (Hardy to -5°C) if it is in dry soil. USDA zones 9A-11.