Donate now to support the LLIFLE projects.
Your support is critical to our success.
Since 4 Aug 2013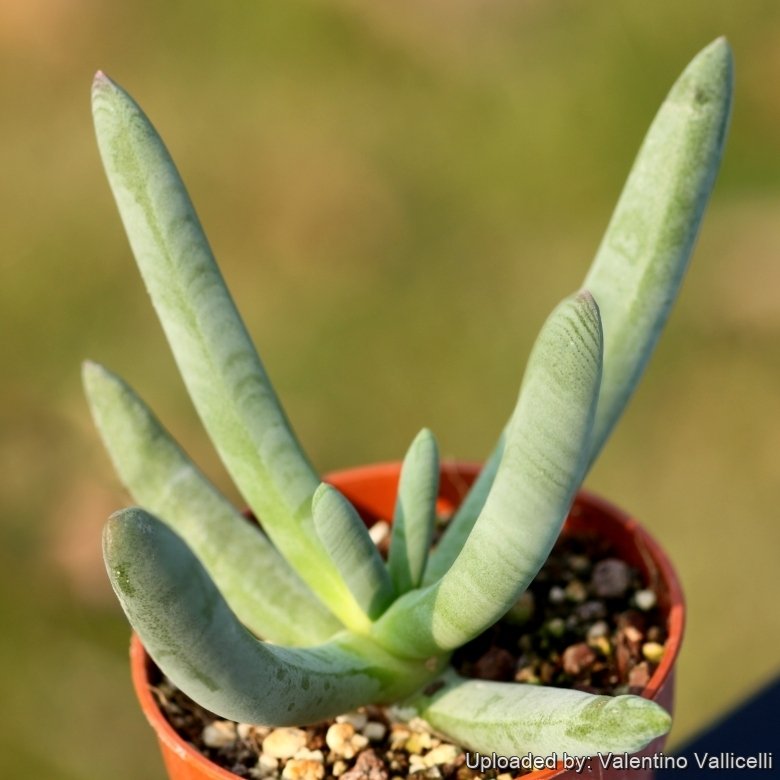 Cylindrophyllum comptonii Photo by: Valentino Vallicelli
Origin and Habitat: Western Cape (Ladismith, Montagu, and Swellendam), South Africa
Altitude range: 450 - 1290 metres above sea level.
Habitat and ecology: Cylindrophyllum comptonii occurs in the Visgat Apronveld on bare flats and ridges of shale-derived soil in monotypic stands or together with Conophytum joubertii. It is also found on the north facing slopes of the Plathuis Randteveld in a very arid environment where only a few drought resilient shrubs such as Granaat (Rhigozum obovatum) and succulents like Sosaties (Crassula rupestris) are present. The lack of species richness may be due to severe grazing pressure in the past, but it is hard to tell, as no common indicators of disturbance are present. Rainfall mainly in March and November. The population trend is stable.
Synonyms:
Description: Cylindrophyllum comptonii is a perennial-succulent with fingerlike leaves forming dense cushions to 13 cm high and 25 cm across, old leaves persisting between the fresh ones, which thus appear loosely arranged. It has very large, not particularly colourful silvery white to straw coloured flowers.
Derivation of specific name: For prof. Robert H. Compton (1886–1979), British botanist in Republic of South Africa.
Leaves: Erect to spreading. c. 8-10 cm long, 1 cm broad and thick, cylindric to slightly flattened, terete, indistinctly keeled, often a little incurved and acute to acuminate to the tip, greyish, often apically purplish soffused, covered densely by irregularly shaped platelets of wax, later blackish-green. The old leaves persistent for several years.
Flowers: Solitary, c. 7.5 cm across, silvery white to straw coloured, inner ones often white, filaments basally pink. Stalks c. 1.5 cm long. Bracteoles shaped like the foliage, and often considered as the uppermost leaves.
Blooming season: Summer.
Fruits (Capsules): 5-chambered, on a stalk sorter than the bracteoles, top of the capsule raised high with high rims in the centre, closing body medium big, knob-shaped, valve wings rectangular, almost double the width of the expanding keels. Capsules are hygrochastic, a mechanism whereby seeds are dispersed by raindrops. When it rains, the keels of the wet seed capsules push open valves. Raindrops hitting the open seed capsule splatter seeds in different directions, thus ensuring recruitment and the subsequent survival of the species. The high top of the fruit is similar to that of Cylindrophyllum calamiforme, which differs by the higher number of locules per capsule.
Seeds: About 1.3 mm long and 1 mm broad.
Bibliography: Major references and further lectures
1) Heidrun E. K. Hartmann "Handbook succulent plants: Aizoaceae A – E" Springer, 2002
2) Vlok, J. and Schutte-Vlok, A.L. 2010. "Plants of the Klein Karoo." Umdaus Press, Hatfield.
3) Burgoyne, P.M. 2006. "Cylindrophyllum comptonii L.Bolus." National Assessment: Red List of South African Plants version 2015.1. Accessed on 2015/12/17
4) Urs Eggli, Leonard E. Newton "Etymological Dictionary of Succulent Plant Names" Springer Science & Business Media, 29 June 2013
5) James Cullen, Sabina G. Knees, H. Suzanne Cubey "The European Garden Flora Flowering Plants: A Manual for the Identification of Plants Cultivated in Europe, Both Out-of-Doors and Under Glass" Cambridge University Press, 11 August 2011
6) "Cylindrophyllum comptonii L.Bolus". Ecology & Evolutionary Biology Plant Growth Facilities, University of Connecticut. August 31, 2012. <https://en.wikipedia.org/wiki/Cylindrophyllum_comptonii> Retrieved 17 Dec. 2015.
7) Wikipedia contributors. "Cylindrophyllum comptonii." Wikipedia, The Free Encyclopedia. Wikipedia, The Free Encyclopedia, 15 Sep. 2012. Web. 17 Dec. 2015.
8) Vlok, J.H.J., Cowling, R.M. & Wolf, T., 2005. "A vegetation map for the Little Karoo." Unpublished maps and report for a SKEP project supported by CEPF grant no1064410304 <http://gouritz.com/wp-content/uploads/2012/06/Vlok-et-al.-2005_Klein-Karoo-Vegetation-Report.pdf> Web. 17 Dec. 2015.
Cultivation and Propagation: It is a "winter" grower which is most active autumn and from late winter until later spring and heading for summer dormancy, and notoriously difficult to grow because it rot very easily, but keeps going over the summer too and don't need particular care .
Soil: It grows best in sandy-gritty soil and requires good drainage as it is prone to root rot. It can grows outdoor in sunny, dry, rock crevices (protection against winter wet is required) It can also be cultivated in alpine house, in poor, drained soil.
Fertilization: Feed it once during the growing season with a fertilizer specifically formulated for cactus and succulents (poor in nitrogen), including all micro nutrients and trace elements diluted to ½ the strength recommended on the label. It thrives in poor soils and need a limited supplies of fertilizer to avoid the plants developing excess vegetation, which is easily attacked by fungal diseases.
Watering: The Cylindrophyllums thrive in dry and desert regions and are able to stand extended periods of drought and require careful watering. Water minimally in summer, only when the plant starts shrivelling, water more abundantly when they are growing in the autumn and spring, but let the soil dry between soaking. Requires little water otherwise its epidermis breaks (resulting in unsightly scars). If grown in a container, bottom watering by immersing the container is recommended. It must have very dry atmosphere.
Light: It needs a bright sunny or light shade exposure in winter, but keep cool and shaded in summer.
Hardiness: It prefer a very bright situation and require a minimum temperature 5°C (But will take a light frost and is hardy down to -7° C for short periods if it is in dry soil). USDA zones 9A-11.
Uses: Container, rock garden.
Pests and diseases: It is vulnerable to mealybugs and rarely scale.
Propagation: Seed in autumn or (or rarely) cuttings. Take the cutting from a grown-up mother plant. Each cutting must contain one or more heads along with a fraction of root and permit to dry out a couple of days, lay it on the soil and insert the stem end partially into the soil. Try to keep the cutting somewhat upright so that the roots are able to grow downward. It is relatively difficult to root Cylindrophyllums from cuttings and generally pointless as well, so quick are they from seed.