Donate now to support the LLIFLE projects.
Your support is critical to our success.
Since 4 Aug 2013
sponsored link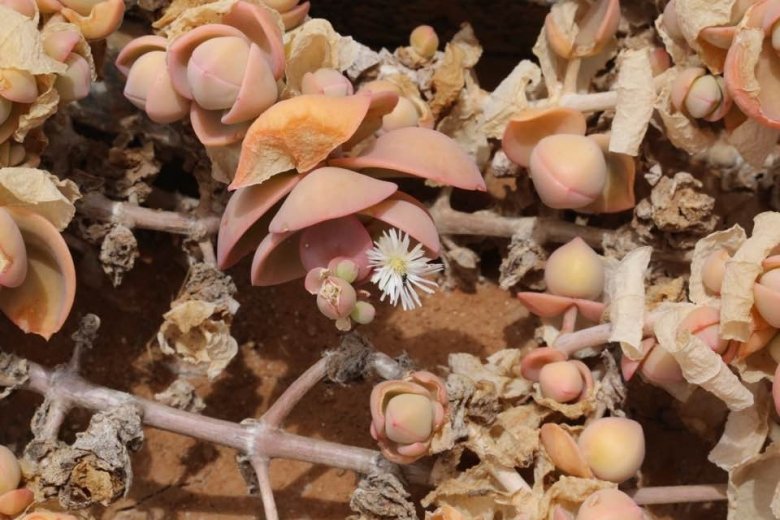 Prenia sladeniana Photo by: © Plantemania
In habitat.
Origin and Habitat: Prenia sladeniana is present widely in the winter rainfall areas of the Northern Cape (Richtersveld), and southern Namibia.
Habitat and ecology: Prenia sladeniana is common on the flanks of the mountains wher it covers large areas with its brick red leaves and its white flowers. They are pioneer plants which are also common on disturbed ground such as found along roads and airstrips. Prominent succulents in the same area include Ceraria fruticulosa, Ceraria namaquensis, Sarcocaulon crassicaule, and Sarcostemma viminale.
Synonyms:
Common Names include:
ENGLISH:
rambling vygie
AFRIKAANS (Afrikaans):
Skotteloor, klapiesvy
Description: Prenia sladeniana are ground hugging succulents with broad, flat, three-sided, pinkish leaves with red margins. The waxy, papillate leaves may tuft centrally, the plant producing flowering branches up to 400 mm long. Flowers are white (rarely pink) and appear from spring to autumn.
Stems: Firm creeping, vertically compressed (internodes barely visible). Prenia sladeniana also have the ability to transport stored water between leaves along the growth axis.
Derivation of specific name: Between 1908 and 1913, Professor H.H.W. Pearson organised five or six expeditions from Cape Town to Namaqualand, Namibia and Angola, with financial support from the Percy Sladen Memorial Fund. At least two species, Aloe sladeniana and Prenia sladeniana (Mesembryanthemaceae), were discovered on these expeditions and named after the financial bene­factor.
Bibliography: Major references and further lectures
1) Raimondo, D., von Staden, L., Foden, W., Victor, J.E., Helme, N.A., Turner, R.C., Kamundi, D.A. and Manyama, P.A. 2009. "Red List of South African Plants. "Strelitzia 25. South African National Biodiversity Institute, Pretoria.
2) Burgoyne, P.M. 2006. Prenia sladeniana (L.Bolus) L.Bolus. "National Assessment: Red List of South African Plants" version 2015.1. Accessed on 2017/03/09
3) TüffersAV, Martin CE, von Willert DJ.1995. "Possible water movement from older to younger leaves and photosynthesis during drought stress in two succulent species from South Africa, Delosperma tradescantioides Bgr. and Prenia sladeniana Bol. (Mesembry anthemaceae)." Journal of Plant Physiology 146: 177–182.
4) W. Richard J. Dean, Suzanne Milton "The Karoo: Ecological Patterns and Processes" Cambridge University Press, 24 June 1999
5) Doreen Court "Succulent Flora of Southern Africa" CRC Press, 01 June 2000
6) Sakkie Rothmann, Theresa Rothmann "The harsh & forbidden Sperrgebeit rediscovered: a tourist guide to the diamond coast, Lüderitz, Oranjemund, Aus, Rosh Pinah, and the border regions" ST Promotions, 1999
7) Veld & flora, Volumi 79-83 Botanical Society of South Africa., 1993
8) Aloe sladeniana - Plants of southern Africa: floristic information 1.1http://posa.sanbi.org/flora/results_browse.php?src=FloraSA&taxon=genno=2206,spno=236
9) Vinay Shah "Last Month's Meeting " British Cactus & Succulent Society Branch Secretary, Southampton & District Branch Newsletter May 2008
10) H. Herre "DANS LE RICHTERSVELD à la Recherche des Plantes Succulentes (1939)" Cactus (Paris) 15 Septembre 1954
Cultivation and Propagation: Prenia sladeniana has white flowers and is not cultivated much.