Donate now to support the LLIFLE projects.
Your support is critical to our success.
Since 4 Aug 2013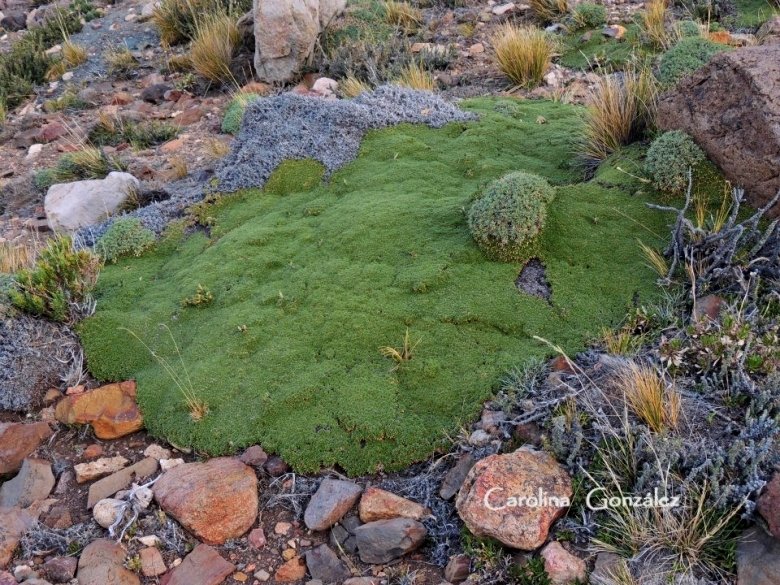 Azorella monantha Photo by: Carolina González
Origin and Habitat: Azorella monantha occours in Chile (Coquimbo Magellan) and Argentina in the Andes and Patagonia extraandina, Mendoza, Neuquen, Black River, Chubut, Santa Cruz, Tierra del Fuego and the Falkland Islands, frequent.
Altitude range: From near at seal level in Tierra del Fuego (at 55° S) to 3000-3600 metres elevation in the Andes of central Chile (33° S), according to latitude.
Habitat and ecology: Azorella monantha is an important element of the temperate Andino-Fuego-Patagonian steppe vegetation, it compliments and continues southwards the role of Azorella compacta. It grows in exposed places on summit flats, rocky slopes, heath scrub, grasslands, gravelly, stony or sandy alpine and desert steppe. In the high Andes A. monantha grows dominantly as roughly flat and thin cushions from 10 to over 100 cm diameter hugging the rock to avoid wind chill and conserve heat and moisture. In some areas the cushions may cover as much as 30% of the surface of plant patches. Some alpine species also grow on these cushions more favourably than on the surrounding bare soil. Nonetheless, these microclimatic conditions could facilitate the establishment of non-native species such as the Taraxacum officinale as well. In some areas, cushions of A. monantha coexist with cushions of Laretia acaulis.
Synonyms:
See all synonyms of Azorella monantha
Accepted name in llifle Database:
Azorella monantha
Clos
Fl. Chil. [Gay] 3: 79 1848
Synonymy: 7
Common Names include:
ARABIC ( لعربية ):
أزورلة جليدية
SPANISH (Español):
Leña de piedra
Description: Azorella monantha is a flat and tightly knit dioecious long-lived cushion species, that occur as broad carpets that grow over all manner of objects including rocks, debris and other plants. This species does not lose its foliage during the winter, and usually blooms in Summer (February). Despite the specific epithet monantha, it often had more flowers. It is similar to Azorella compacta from which it is separated both geographically and very significantly in its very white fringed bract and leaf base margins and pale, creamy-yellow flowers of which there may be up to three per rosette. Mature plants also tend not to mound up or spread quite so dramatically.
Cushions: Compact, very hard , flat or somewhat convex, often more than a metre in across.
Leaves: Sessile or subsessile, reflex, entire, lamina 3-10 x 1-2 (3) mm linear or oblong, decurrent at base leaf, glabrous or, rarely, fibrillose in the beam.
Inflorescences: Umbels 1-5-flowered, sessile, bracts with marginal cilia abundant, very fine. The flowers are hermaphrodite (have both male and female organs) and are pollinated by Insects.
Fruit: 3.5-5.5 x 2.5 to 4.5 mm, ovoid to obovoid, more or less compressed.
Note: Azorella monantha grows very slowing, about 1.5 cm per year, and the growth of mats does not occur at equal rates in all directions.
Bibliography: Major references and further lectures
1) Boris Lariushin "Apiaceae Family" Volume 2 Lulu.com
2) Atta-ur-Rahman "Studies in Natural Products Chemistry" Volume 34 Elsevier, 23 giu 2008
3) Lohengrin A. Cavieresa, Constanza L. Quiroza, Marco A. Molina-Montenegroa, Alejandro A. Muñoza, Anibal Pauchardb "Nurse effect of the native cushion plant Azorella monantha on the invasive non-native Taraxacum officinale in the high-Andes of central Chile" Perspectives in Plant Ecology, Evolution and Systematics Volume 7, Issue 3, 6 December 2005, Pages 217–226
4) L. A. Cavieres, C. L. Quiroz and M. A. Molina-Montenegro "Facilitation of the non-native Taraxacum officinale by native nurse cushion species in the high Andes of central Chile: are there differences between nurses?" Functional Ecology Volume 22, Issue 1, pages 148–156, February 2008
5) "Azorella monantha" The Alpine Garden Society <http://encyclopaedia.alpinegardensociety.net> web 30 Mar. 2015.
6) Kleier C, Trenary T, Graham EA, Stenzel W, Rundel PW. (2015) "Size class structure, growth rates, and orientation of the central Andean cushion Azorella compacta." PeerJ 3:e843 https://dx.doi.org/10.7717/peerj.843
7) Méndez E. 2011. "Growth and covering of Azorella monantha Clos (Apiaceae) in the high Central Andes of Mendoza, Argentina." Revista de la Facultad de Ciencias Agrarias, Universidad Nacional de Cuyo 43(1):219-229
8) Christoper Brickell (Editor-in-chief): "RHS A-Z Encyclopedia of Garden Plants." Third edition. Dorling Kindersley, London 2003
9) Usher, G. (1974) "A Dictionary of Plants Used by Man." Constable, London, UK, 619 pp. Wellman, F.L. (1977)
Azorella monantha
Photo by: Carolina González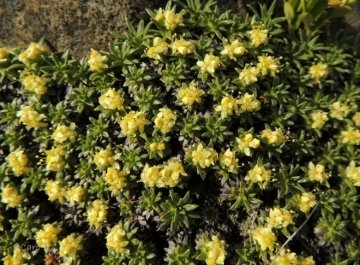 Azorella monantha
Photo by: Carolina González
Cultivation and Propagation: Azorella monantha is cultivated in alpine houses and rockeries and prefer a sunny situation.
Soil: The substrate should be gritty, well-drained and comparatively poor, both acid, neutral and basic (alkaline) and moderately moist.
Hardiness: They easily tolerate temperatures down to -18°C.
Exposure: It cannot grow in the shade.
Pests and Diseases: Honeydew, galls and distorted leaves are a sign for an infestation with aphids. Fine webs on the plants indicate an infestation with red spider mites. These sap-sucking insects mainly appear under glass.
Propagation: This species is propagate by sowing seed in a cold frame in autumn or by cuttings in spring. When the seedling are large enough to handle, prick the seedlings out into individual pots and grow them on in the greenhouse for at least their first winter. Plant them out into their permanent positions in late spring or early summer, after the last expected frosts.