Donate now to support the LLIFLE projects.
Your support is critical to our success.
Since 4 Aug 2013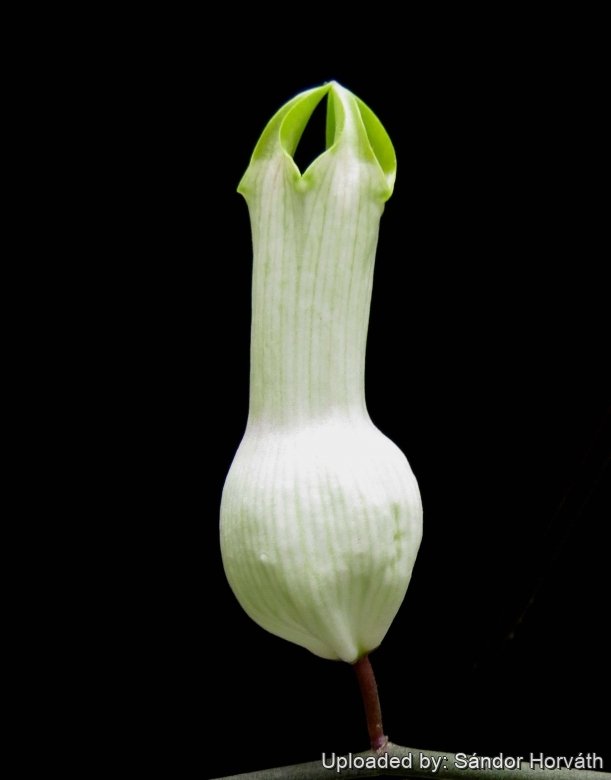 Ceropegia ampliata Photo by: Sándor Horváth
Origin and Habitat: South Africa. Southern Cape from Oudtshoorn, Graaff-Reinet and Humansdorp eastwards to Natal, extending northward to Transvaal and ultimately to Tanzania (var. oxyloba Huber) and Madagascar (subsp. madagascariensis Lavranos). This species, like most ceropegias, are widespread but with low population densities.
Habitat and ecology: This species occurs in Karroid scrub (Hot, dry savanna) in the dryish valleys on stony hillsides, twining in other vegetation. When not flowering, the plant is very difficult to detect among the surrounding vegetation.
Synonyms:
See all synonyms of Ceropegia ampliata
Accepted name in llifle Database:
Ceropegia ampliata
E.Mey.
Comm. Pl. Afr. Austr. (Meyer) 194 1838
Synonymy: 3
Common Names include:
ENGLISH:
Bushman's pipe, Elephantine ceropegia
AFRIKAANS (Afrikaans):
Boesmanpypblom, Boesmanpyp, Boesmanspyp
Description: Ceropegia ampliata (Bushman's pipe) is a fairly vigorous and floriferous twining or scrambling perennial herb with a succulent stem arising from a fleshy rootstock. Plants occasionally branch at the nodes and can grow up to 4 mm thick and 2 metres and more in length. The leaves are shed early and the stem is the main organ used for photosynthesis. This is one of the most visually striking and readily recognisable species in the genus with peculiar flask-shaped flowers, with segments joined at their tips to form a emerald green cage-like structure. The tube is straight or slightly curved, with a balloon-like inflation at the base. The tube is creamy white with pale green striping and with a narrow purple band around the mouth of the basal inflation on the inside. The corolla tube and segments are quite variable in the size (usually about 5-7 cm long).
Derivation of specific name: The epithet ampliata is derived from the Latin word that means to be enlarged.
Stems: Perennial, succulent, twining or scrambling up to 2 m and more in length, leafless at the time of flowering, glabrous, sometimes with longitudinal grooves and capable of producing auxiliary tufts of roots from nodes in contact with soil.
Rootstock: Rootstock fleshy, producing a tuft of more or less succulent roots from germinating seed. In contrast the roots tha form at the nodes where the stem touches the soil surface are fibrous.
Leaves: Rudimentary, only seen at the young tips of the stems, soon deciduous, minute, 2-3 mm long, lanceolate, acute, glabrous.
Flowers: 2–4 together, extra-axillary at the nodes, successively developed. Pedicels 6-15 mm long, glabrous. Sepals 3-5 mm long, lanceolate, acuminate, glabrous. Corolla 50-70 mm long. Corolla-tube straight or slightly curved, 25-50 mm long, 8-12 mm in diameter, cylindric and slightly or not at all inflated at the base, 5 cm long, globosely and somewhat lobulate-inflated and about 20 mm in diameter and 22 mm long, at the base, narrowed, cylindric and 12-13 mm in diameter up to the mouth, not dilated at the apex, pale green, with a narrow purple transverse band at the top of the inflation inside, glabrous outside, covered inside with long simple hairs, longer and more matted at the purple band and above than in the lower part. Lobes 8-20 mm long, 5-6 mm broad at the base, lanceolate from a deltoid base, acute, erectly connivent and connate at the tips, replicate or with reflexed margins, glabrous on both sides and not ciliate, mainly bright green, spotted with darker green. Corona basin cup-shaped, equally 10-toothed 5 x 2) with teeth deltoid, acute, 1 mm long, hairy on inner surface. Inner corona-lobes arising from basal tube 4-5 mm long, very slenderly filiform, connivent-erect, dorsally-connected by vertical plates to the outer corona at the base.
Blooming season: Summer-autumn, in habitat plants flower mainly between December and March. The flowers open one after the other.
Fruits (follicles:):*** Green, sometimes speckled purplish. The follicles are usually in pairs, but very often only one of them develops and the other is aborted. Each follicle contains numerous seeds and as the fruit bursts open when it dries out, the seeds are dispersed by floating on the wind with their tufts of silky white hairs.
Notes: Flies generally pollinate ceropegias. The special tubular structure of the flowers is specifically adapted to capture the pollinators. On the inside of the tube (especially at the mouth before the basal inflation) hairs are found, all of them directed downwards. When a pollinator enters the cage and moves down the tube, the stiff hairs make it difficult, if not impossible, to move out again. The insect is thus almost forced to move further down where a very specialized structure containing the pollen mass is housed. In the flower, pollen sacks get attached to the bodies of the pollinators. After about four days, the flowers start to wilt. When this happens, the hairs become lax and the pollinator can leave its cage, pollination taking place when it enters another flower.
Bibliography: Major references and further lectures
1) G N. E. Brown "Flora Capensis", Vol 4, 1909
2) J.P. Roux "Flora of South Africa", 2003
3) Batten, A. "Flowers of southern Africa." Southern Book Publishers, Johannesburg.1988.
4) Dyer, R.A. "Asclepiadaceae (Brachystelma, Ceropegia, Reocreuxia)". Flora of southern Africa 27, part 4. Botanical Research Institute, Pretoria. 1980
5) Dyer, R.A. "Ceropegia, Brachystelma and Riocreuxia in southern Africa". Balkema, Rotterdam.1983.
6) Fabian, A. & Germishuizen, G. "Wildflowers of northern South Africa". Fernwood Press, Vlaeberg, Cape Town.1997
7) Oliver, I.B. "Grow succulents-a guide to the species, cultivation and propagation of South African succulents." Kirstenbosch Gardening Series. National Botanical Institute, Cape Town.1998
8) Onderstall, J. "Transvaal Lowveld and Escarpment including the Kruger National Park." South African Wildflower Guide 4. Botanical Society of South Africa.1984
9) Van Jaarsveld, E. "Indigenous house plants-climbers and trailers". Veld & Flora 85: 34-36. 1999
10) James Cullen, Sabina G. Knees, H. Suzanne Cubey "The European Garden Flora Flowering Plants: A Manual for the Identification of Plants Cultivated in Europe, Both Out-of-Doors and Under Glass" Cambridge University Press, 11 August 2011
11) "Ceropegia ampliata E.Mey." in: Plantzafrica <http://www.plantzafrica.com> Stoffel Petrus Bester, National Herbarium, Pretoria May 2004 <http://www.plantzafrica.com/plantcd/ceropegamp.htm> Web. 6 January. 2016
12) Scott-Shaw, C.R. "Rare and threatened plants of KwaZulu-Natal and neighbouring regions." KwaZulu-Natal Nature Conservation Service, Pietermaritzburg. 1999
13) Foden, W. & Potter, L. 2005. "Ceropegia ampliata E.Mey. var. ampliata." National Assessment: Red List of South African Plants version 2015.1. Accessed on 2016/01/06
14) Coombs, G., A.P. Dold, and C.I. Peter. "Generalized fly-pollination in Ceropegia ampliata (Apocynaceae: Asclepiadoideae): The role of trapping hairs in pollen export and receipt." Plant Systematics and Evolution 296: 137–148. 2011
15) Gerrit Germishuizen "Transvaal Wild Flowers" Macmillan South Africa (Publishers), 1982
16) "Flowering Plants of Africa" 4: t. 140, 1924
17) Archer. "Kenya Ceropegia scrapbook," 89-92, 1992
18) Sajeva & Costanzo. "Succulents: the illustrated dictionary." 62, 1995 ù
19) John Manning "Field Guide to Wild Flowers of South Africa, Lesotho and Swaziland" Struik Nature, 2009
20) Focke Albers, Ulrich Meve "Illustrated Handbook of Succulent Plants: Asclepiadaceae: Asclepiadaceae", Volume 4 Springer Science & Business Media, 2002
Ceropegia ampliata
Photo by: Sándor Horváth
Send a photo of this plant.
The gallery now contains thousands of pictures, however it is possible to do even more. We are, of course, seeking photos of species not yet shown in the gallery but not only that, we are also looking for better pictures than those already present.
Read More...
Cultivation and Propagation: Ceropegia ampliata grows best in tropical or subtropical climates. It is seldom cultivated and is grown mainly by collectors used an ornamental vine and makes also a good room plant. It is best used as a container plant under roofed patios (lapas), on verandas, balconies of flats or any other place in and around the house where space is restricted. Unfortunately, despite their beauty, the flowers do produce an unpleasant scent, which attracts flies acting as pollination agents. The strength of the scent is very variable and in some plants it is undetected by the human nose.
Exposure: It need partial shade or filtered sun. Shade is sometimes provided in hot climates.
Substratum: The plants like a rich, porous, well-drained soil mix, with extra leaf mould added but aren't usually too picky as to soil type.
Watering: During the growing season (March-August), the plants are watered on a regular basis, making sure that they never dry out completely with an occasional spray over the foliage. In late August, water is restricted to about once a week until January. Night temperatures at this time should be about 10° C. In January or February, watering is stopped for a period of 4 weeks. In March, regular watering is resumed.
Fertilization: They are fertilized on a monthly basis with a balanced fertilizer during active growing phase.
Hardiness: Will tolerate temperatures to 45° C, but prolonged cold will damage or kill the plant.
Propagation: In its natural environment, root development of Ceropegia ampliata is stimulated when the nodes touch the soil. The plant is thus easily grown from cuttings. Make sure the cutting contains a few nodes, let it dry out for a few days after which it can be planted. If available, plants can also be easily grown from seed.