Donate now to support the LLIFLE projects.
Your support is critical to our success.
Since 4 Aug 2013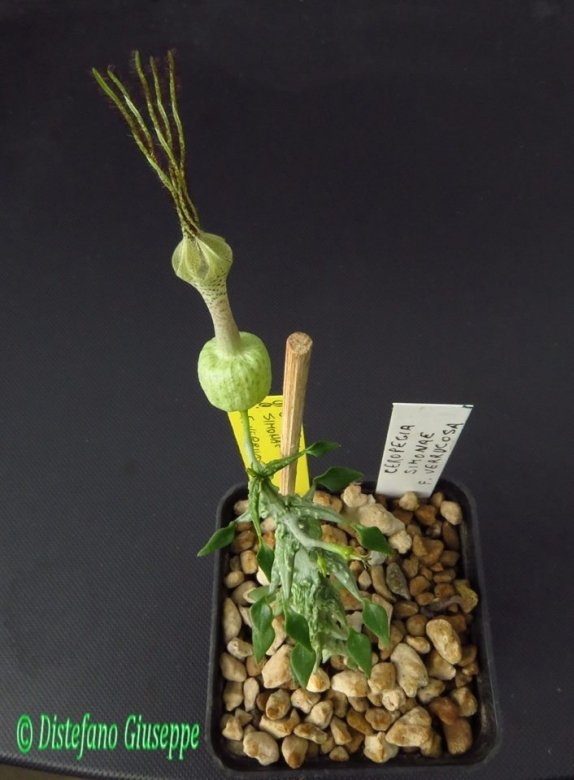 Ceropegia simoneae Photo by: Giuseppe Distefano
Origin and Habitat: Totiara near Tsihombe-Ihado in the south of Madagascar.
Habitat and ecology: Ceropegia simonae grows in a very hot and dry area in sandy-clayey soil.
Synonyms:
Description: Ceropegia simoneae is a curious Malagasy succulent Ceropegia with a most remarkable flower, especially when still in bud with the fine, feathery, corolla-lobes coiled together. It belongs to the so called dimorphic ceropegias where Ceropegia petignathii also belongs to. The member of this group of Ceropegias, have very different looking vegetative and reproductive stems. The vegetative stems of C. simoneae are quadrangular, oddly warty, compressed on two opposed sides, and then again staggered on the other 2 sides, etc. and look like lizards. Some people would call them "like dead branches", but don't be fooled; they are obviously not dead. On the contrary the flowers are born on fine cylindrical stems that develop on top of the vegetative stem and, as the flower grows, the main stem wrinkles. The stems are soft to the touch grey-green or grey-violet (depending on sun exposure), green stemmed clones (a.k.a. green form) and very warty clones (a.k.a verrucose form) are known in cultivation. The pollinators (flies) are attracted by the long narrow corolla lobes which move easily in the wind.
Derivation of specific name: Named for Simone Petignat who discovered this ceropegia in the south of Madagascar.
Stems: Creeping-decumbent from a small tuber, acutely 4-angled, compressed, less than 1 cm thick, greatest width at the nodes because of descending elongated podaria (leaf bases), grey-green or grey-violet, more or less verrucose. The vegetative stems are normally thick, but when they start to flower, they elongate and become thin cylindrical.
Leaves: Shortly petiolate, dark green, succulent, narrowly ovate, acuminate, approx 5 mm long, 3 mm wide, pointing downwards, margins with hooked hairs.
Inflorescences: From twining cylindrical stems. Peduncle fleshy, 1 -7 cm long. Inflorescence cymose, few-flowered. Pedicels 1 cm long. Sepals narrowly triangular, 3 mm long. Corolla 6 - 7 cm long, grey-green, blotched with purple. Corolla inflation inversely bulbous to obovoid, 8 - 10 mm long, 6-7 mm across, inside dark wine-red. Cl tube narrowed abruptly to about 3 mm in the middle, mouth widening again to 8 mm in diameter. Corolla lobes 2-2.5 cm, narrowly linear and folded back along the midrib, with dense purple hairs, tips free, spiralling and pendulous. Corona nearly sessile, greenish-white, blotched with purple, approx. 3 x 3 mm, shallowly bowl-shaped, outside hairy. Ceropegia simonae flower mainly in autumn and winter.
Bibliography: Major references and further lectures
1) Focke Albers, Ulrich Meve "Illustrated Handbook of Succulent Plants: Asclepiadaceae" Springer Science & Business Media, 06 December 2012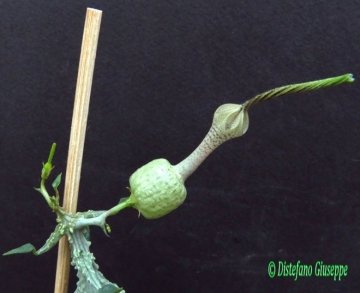 Ceropegia simoneae
Photo by: Giuseppe Distefano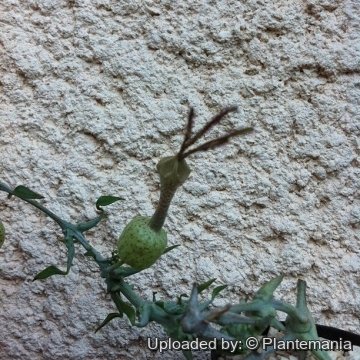 Ceropegia simoneae
Photo by: © Plantemania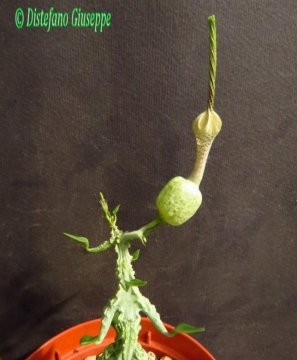 Ceropegia simoneae
Photo by: Giuseppe Distefano
Ceropegia simonae green form
Photo by: © Plantemania
Cultivation and Propagation: Ceropegia simonae is one of the most demanding species especially in winter.