Donate now to support the LLIFLE projects.
Your support is critical to our success.
Since 4 Aug 2013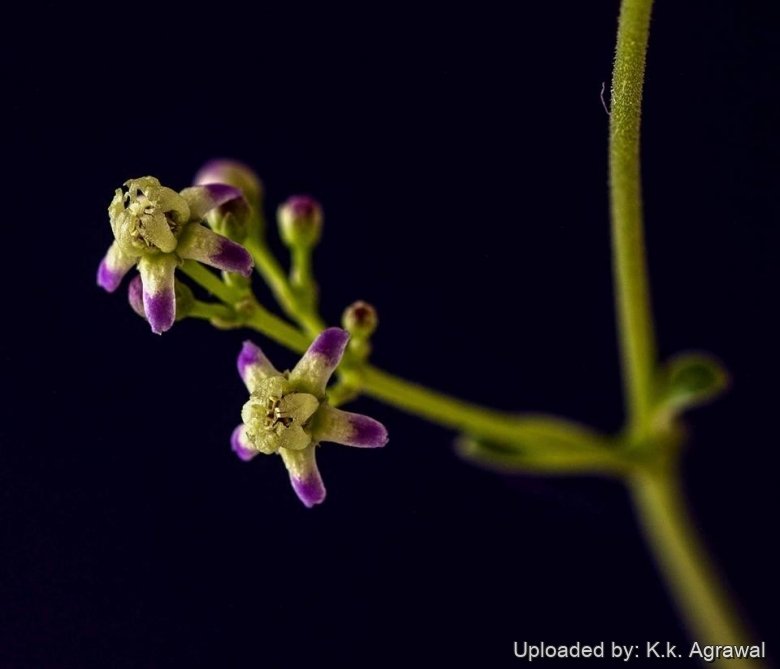 Schlechterella abyssinica Photo by: K.k. Agrawal
Origin and Habitat: Somalia, Ethiopia, Kenya, Uganda
Altitude range: Up to c. 1650 metres above sea level.
Habitat and ecology: This species grows in full sun and in partial shade, usually in rather bare, often stony, ground of dry hill slopes in Acacia – Commiphora scrub.
Synonyms:
Description: Schlechterella abyssinica is a slender climber arising from a swollen perennial tuberous root-stock (caudex). Shoots are annual or perennial, twining, up to 1,5 metre long, scaberulous. The leaves are opposite, narrowly obovate to obovate, up to 9,5 cm long and 3,5 cm wide dull green. The petiole is short (c. 3 mm long). The flowers are small, dark violet, violet, magenta or mottled green.
Tuber (caudex): Woody, carrot-like to oblong, 10–25 cm long, 5–10 cm in diameter
Aerial stems: Sympodial, annual or perennial, suberect or twining, up to 1.5 m long slightly rough to the touch. Internodes up to 1.3 cm. long, rarely longer.
Leaves: Opposite. Petiole 2-4 mm long. Blade narrowly obovate to obovate, 2(4-)-5(9.5) cm long (10-)12–35 mm broad, dull green, dotted, with more or less recurved, acute to obtuse and mucronate tip. Base cuneate.
Inflorescences: Axillary and terminal, lax, paniculate, slightly pubescent, with 3-5 monochasial branches of about 5 flowers each; peduncles 2–14(-20) mm long; pedicels 1-3(-5) mm long. Bracts minutes oval to triangular and persistent.
Flower. Calyx lobes 1–1.2 mm long, 0.6–0.7 mm broad, narrowly triangular-elliptical, with jagged - ciliate margins. Corolla bell-shaped, glabrous. Tube 1.7–2 mm long. Corolla lobes spreading, contorted, (1-)1.7–2 mm long, 0.8–1 mm broad, obovate, obtuse, dark violet, violet, magenta or mottled green. Corona-lobes tongue-shaped, 0.75-1.5 mm long, fused basally, with 3- or 5-fid tips, connivent over gynostegium, white to greenish-white or pale green. Anthers triangular.
Staminal filaments 0.1 mm long, filiform.
Fruits (follicles): Paired, horizontal to erect, very narrowly ovoid with tapering tip, 40-60 mm long 8 mm accoss, glabrous or or slightly rough to the touch , brown.
Remarks: Schlechterella distinguish from related genus Raphionacme for the more delicate, short-lived flower, with pollen in 2 pollen-masses (pollinia) on each translator/anther. All 35 species of Raphionacme are characterized by pollen grains loosely arranged in tetrads on the anthers.
Bibliography: Major references and further lectures
1) J. Venter et. al., "Flora Somalia", Vol 3, 2006 [updated by M. Thulin 2008]
2) Focke Albers, Ulrich Meve, "Illustrated Handbook of Succulent Plants: Asclepiadaceae" Springer Science & Business Media, 6 December 2012
3) "Flora of Ethiopia: Canellaceae to Euphorbiaceae" National Herbarium, Biology Department, Science Faculty, Addis Ababa University, 2003
4) "Excerpta Botanica: Taxonomica et chorologica", Volume 53, Fischer, 1990
5) "Notes from the Royal Botanic Garden, Edinburgh", Volume 45 H.M. Stationery Office, 1989
6) Sir William Jackson Hooker, "Hooker's Icones Plantarum", Volume 36 Bentham-Moxon Trustees, 1962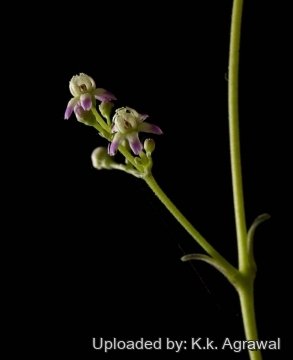 Schlechterella abyssinica
Photo by: K.k. Agrawal
Schlechterella abyssinica
Photo by: K.k. Agrawal
Cultivation and Propagation: The tuber is edible.