Donate now to support the LLIFLE projects.
Your support is critical to our success.
Since 4 Aug 2013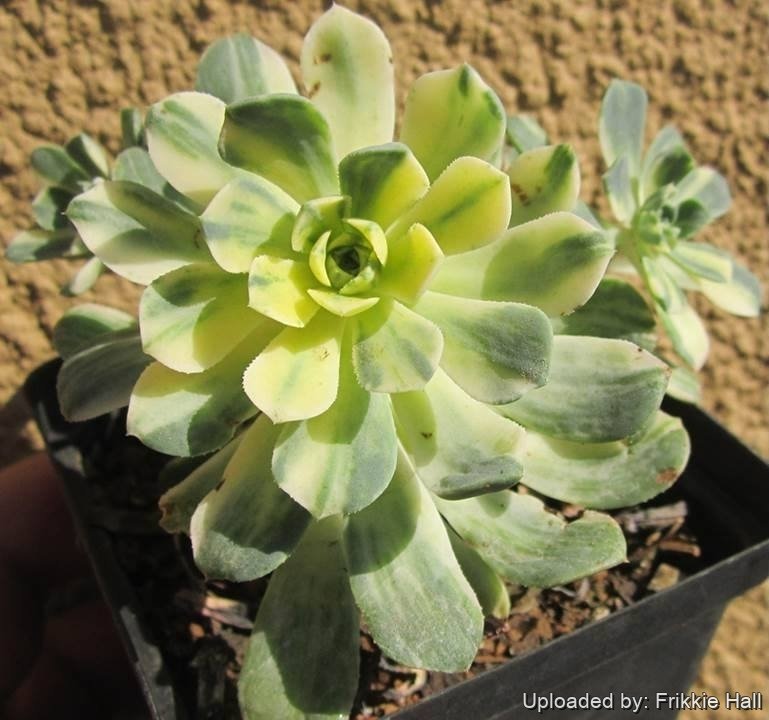 Aeonium castello-paivae cv. Variegata Photo by: Frikkie Hall
Origin and Habitat: The natural green form of Aeonium castello-paivae is native to the Canary Islands.
Synonyms:
Description: Aeonium castello-paivae cv. Variegata, also known as Aeonium cv. Suncup, is a most delightful evergreen, variegated cultivars with succulent rosettes, in pale green splashed with creamy white, forming compact clumps to about 30 cm tall and wide, and has been erroneously sold in the past under the name of Aeonium cv. Abbey Brook. It's also being distributed as Aeonium torulosum (not a valid name.). It is one of the smaller species of aeonium but produces multiple offsets. With Aeonium "Suncup" almost every offset is different.
Rosettes: Up to about 10 cm in diameter.
Leaves: Variegated cream, green and yellow, developing pink margins when grown in full sun.
Flowers: White.
Blooming season: Summer.
Cultivation and Propagation: Aeonium castello-paivae cv. Variegata is hardy, compact, and has beautiful foliage, making it a fantastic addition to gardens or collections. It is excellent as a container plant that can be brought inside if temperatures fall below -5° C or in the garden anywhere temperatures don't allow plants to freeze.
Soil Needs: Well-drained
Water Needs: Occasional, low, drought tolerant, dry in summer.
Exposure: Sun, part sun, part shade
Hardiness: Tender soft succulent. Frost hardy to mid USDA zone 9.
Propagation: This cultivars can be propagated by cuttings made from soft stem. Allow to callous over before planting. It is slow to root.