Donate now to support the LLIFLE projects.
Your support is critical to our success.
Since 4 Aug 2013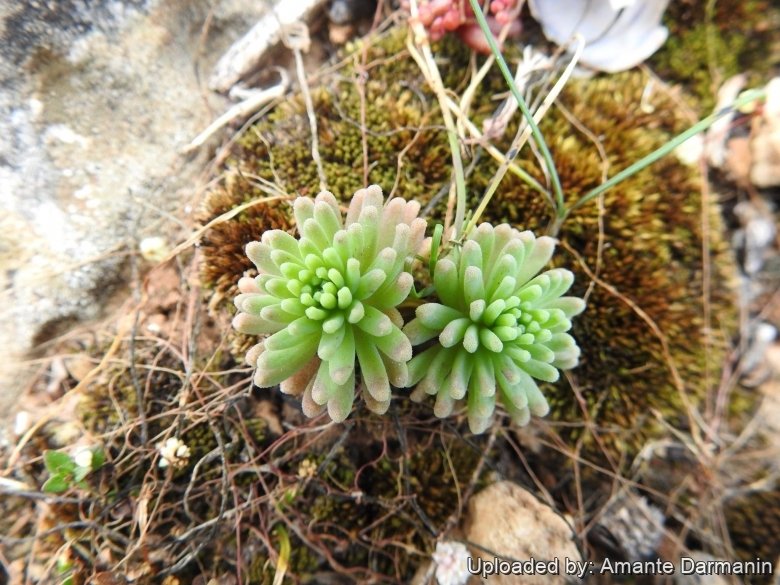 Sedum rubens Photo by: Amante Darmanin
Wied il-Ghasel, Mosta. 13/3/17
Origin and Habitat: Sedum rubens is widespread in central and southern Europe as well as North Africa, Canary Islands (probably introduced), Asia Minor and the Near East.
Altitude range: 0-2000 metres above sea level.
Habitat and ecology: Widespread, on stony ground and dry habitats, on various soils. Sedum ruhens sometimes ocean sympatrically with Sedum eriocarpum. Under such circumstances fertile hybrids is observed. In Malta it is scarce to frequent in garigue and arid rocky ground. Sedum caespitosum also occurs but is less frequent. It is similar but hairless and the leaves are ovate to egg-shaped.
Synonyms:
See all synonyms of Sedum rubens
Accepted name in llifle Database:
Sedum rubens
L.
Sp. Pl. 432 1753.
Synonymy: 16
Common Names include:
ENGLISH:
Red Stonecrop
FRENCH (Français):
Sédum rougeâtre, Orpin rougeâtre, Crassule rougeâtre
GERMAN (Deutsch):
Rötlicher Mauerpfeffer, Rötliche Fetthenne
ITALIAN (Italiano):
Borracina arrossata
MALTESE (Malti):
Sedum Ahmar, Beżżul il-baqra ħamra
SWEDISH (Svenska):
åkerfetknopp
Description: Sedum rubens is a small erect therophyte (annual herb), 2-15 cm, glandular-hairy especially in the upper parts, greyish-green, usually glaucous, and eventually becomes reddish. The flowering-stem is branched 2 to four times above and bears several white or rarely pink flowers in spring. The flowers are star-shaped, have 5 white pinkish petals with a deep red keels, and are held in a 2-4 branched, leafy inflorescence. Fruits are also hairy, pointed at tip, star-shaped.
Leaves: The leaves are in whorls of 4, alternate in the upper parts, succulent, elongate, semi-cylindrical (flat at the upper surface) 10-20 mm long.
Inflorescence: Pubescent bracteate cymes with 2-4 branches, with 1 bract per flower.
Flowers: Up to 9 mm across, 5-merous, sessile, with 5 stamens (rarely with additional stamens, up to 10). Sepals broadly sessile, basally connate, 1 mm long, triangular, equal, acute. The petals are white to rarely pink, about 5 mm long, with a pointed tip, most often keeled, sharply acuminate, usually erect during anthesis. Filaments white as long as the calix, usually papillate at the base; Anthers small, globose, red or yellowish, usually opening before or at anthesis. Style short. and are glandular-hairy on the outer side.
Blooming season: March to June.
Fruit: Brown, divergent from the base and suberect in the upper parts, glandular-pubescent, tuberculate.
Seeds: Ovoid, costate, shiny dark brown to black.
***Chromosome number:** 2n (variable) = 20, 40, 40, 40 - 42, 60, 76, 80, 94, 100, ± 110. The polyploid form is larger and less branched and perhaps becomes more strongly flushed with red and yellow than the type.
Bibliography: Major references and further lectures
1) Urs Eggli "Illustrated Handbook of Succulent Plants: Crassulaceae" Springer Science & Business Media, 06 December 2012
2) Henk 't Hart, Urs Eggli "Sedums of Europe - Stonecrops and Wallpeppers" CRC Press, 01 June 2003
3) "Poligrafo. Giornale di scienze lettere ed arti. - Verona, Tipogr. del Gabinetto lett. 1830-" Tipogr. del Gabinetto lett., 1839
4) Alex Casha "Flora of the Maltese Islands" Lulu.com, 18 July 2015
5) Sedum rubens, The Alpine Garden Society, web: http://encyclopaedia.alpinegardensociety.net/plants/Sedum/rubens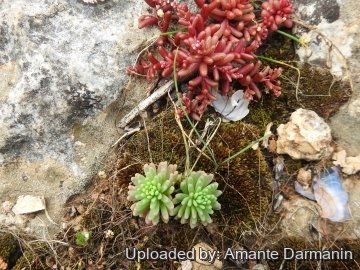 Sedum rubens, growing with S. caeruleum. Wied il-Ghasel Mosta. 13-3-17
Photo by: Amante Darmanin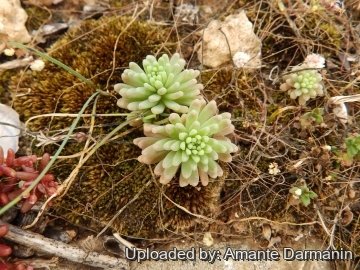 Sedum rubens, growing with S. caeruleum. Wied il-Ghasel Mosta. 13-3-17
Photo by: Amante Darmanin
Cultivation and Propagation: Sedum rubens is an annual herb with extremely short crop times (9-11 weeks) with low grower inputs. It is a great accent plant for mixed containers, pots and rock gardens.It is heat and drought tolerant.
Exposure: Sun.
Soil: Use a well-drained, growing substrate.
Fertilization: Sedum does not require high fertilization levels. Use a complete balanced slow release fertilizer (3-9 months), iron-chelate, micronutrients.
Propagation: Seeds. Sow directly into final pot. The seeds are very tiny and should be mixed with finest sand or talcum for an even sowing. Do not cover with compost, only press them gently on the ground, keep seed in constant moisture (not wet) with temperatures of about 18-20°C. Germination usually occurs in 10-18 days. Keep in cooler conditions after germination occurs. Eventually transplant after 4-5 weeks. Outdoors it seeds itself on to stone walls and into gravel.