Donate now to support the LLIFLE projects.
Your support is critical to our success.
Since 4 Aug 2013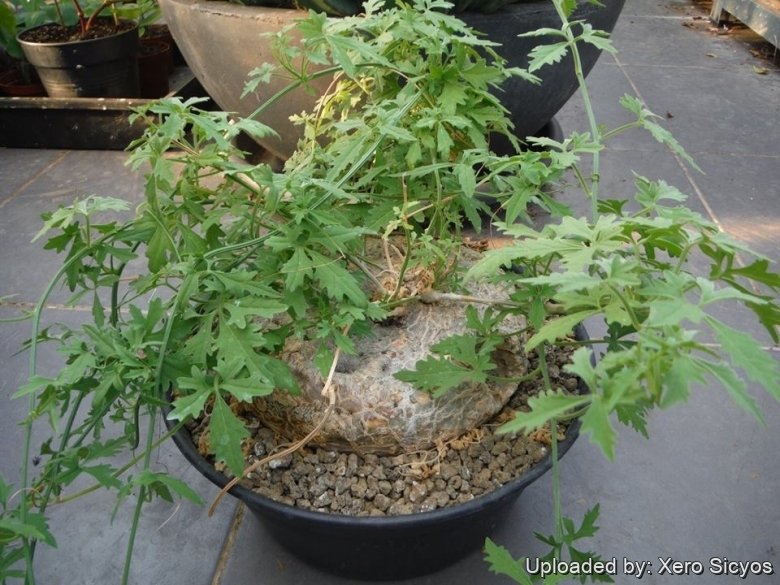 Zygosicyos tripartitus Photo by: Xero Sicyos
It is a wonderful and strange-looking caudiciform. It belongs to the Cucurbitaceae a family of plants, including the well known pumpkin, the watermelon and the melon.
Origin and Habitat: Endemic to Anosys (Toliara Province), south west Madagascar (West Indian Ocean). Zygosicyos tripartitus is known only from 2-5 localities.
Altitude range: 200-800 metres above sea level.
Habitat: Zygosicyos tripartitus grows in rich soil in subarid mountain slopes among gneissic rocks. It get little water and not much sun.
Synonyms:
Description: Zygosicyos tripartitus (Xerosicyos tripartitus) is an edangered Madagascan perennial, caudiciform plant, with creeper vines characterized by tendrils. It produces a bun-shaped caudex covered in a much fissured corky rind. This species produces stems bearing 3-lobed leaves with distinctive wavy margins but variable in shape, as is typical for the Cucurbitaceae (cucurbit family). The plants are dioecious (Male/Female) and the flowers generally are small and greenish-yellow. This is perhaps the best of the geophytic cucurbits. This member of the Cucurbitaceae was described by Jean-Henri Humbert in 1945.
Derivation of specific name: 'tripartitus' Latin 'tri-', three; and 'partitus', partite; i.e. with three parts, for the three-foliolate leaves.
Caudex: Spherical to globose-flattened, with silver-grey corky bark, 15-30 centimetres thick. During the growing season the caudex plumps and fills out, in contrast to its shrunken appearance in the Spring.
Annual stems: Z. tripartitus produces several annual vines, that are green, slightly woody, scarcely succulent, more or less 5-angled, thin, pubescent which stay leafy at least in mild areas. Hairs on the stem simple, glandular. Internodes 4-6 cm long. Tendrils thin, opposite leaf base, up to 10 cm long, tip often bifurcate. The vine can scramble into a ruffled shrub, the vines are about 1 metre long.
Leaves: Tiny, membranous, 3-lobed or 3-foliate, axly arranged, variable in shape, grey-green to green, pubescent, median segment 25-30 mm long, 8 - 10 mm wide, lateral segments with 2-3 lobes. Petiole 5-20 mm long. Petiole base articulated. The leaves are semideciduous, and may look quite spindly in spring when the plants emerge from dormancy.
Flower: Solitary or few on short axillary lax racemes, zygomorphic, about 4-6 mm across, green-yellow, and not very large or significant. Bracts absent.
Male flowers: Pendulous. Sepals ca. 2 mm long. Petals 4, narrowly lanceolate, 10-14 mm long, 1-1.5 mm wide, pale green, glabrous. Stamens 4, fused for half or all their length: Pedicels 2-3 cm long.
Female flowers: Pendulous, solitary or 2 per peduncle. Hypanthium obconical, slightly compressed. Petals shorter than in male. Staminodes 4. Styles 2, short, erect, slightly divergent.
Fruits: Pendulous, obconical, about 2 cm clong, glabrous, pale yellow at maturity, apex broadly emarginate
Seeds: 2.
Bibliography: Major references and further lectures
1) Urs Eggli "Illustrated Handbook of Succulent Plants: Dicotyledons" Springer Science & Business Media, 2002
2) Rauh, W. "Succulent and Xerophytic plants of Madagascar." Vol II. Strawberry Press, Mill Valley 1998
3) "The New Plantsman" Royal Horticultural Society, 1998
4) Urs Eggli, Leonard E. Newton "Etymological Dictionary of Succulent Plant Names" Springer Science & Business Media, 29 June 2013
5) Tropicos.org. Missouri Botanical Garden. 28 Aug 2015 <http://www.tropicos.org/Name/100367779> © 2015 Missouri Botanical Garden - 4344 Shaw Boulevard - Saint Louis, Missouri 63110
Zygosicyos tripartitus
Photo by: Cactus Art
Zygosicyos tripartitus
Photo by: © Plantemania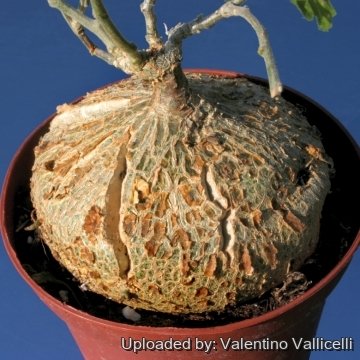 Zygosicyos tripartitus
Photo by: Valentino Vallicelli
Zygosicyos tripartitus
Photo by: © Plantemania
Zygosicyos tripartitus
Photo by: Cactus Art
Zygosicyos tripartitus
Photo by: Cactus Art
Zygosicyos tripartitus
Photo by: Valentino Vallicelli
Send a photo of this plant.
The gallery now contains thousands of pictures, however it is possible to do even more. We are, of course, seeking photos of species not yet shown in the gallery but not only that, we are also looking for better pictures than those already present.
Read More...
Cultivation and Propagation: This plant can take a good deal of water during active growth, and should be watered only when not dormant. Keep dryish in winter. This plant should be over-wintered in the greenhouse at temperatures over 12°C (avoid letting temperatures drop lower than 5° C). Use a very draining but rich soil, and not too much sun. Errors in cultivation may produce unsightly holes in the tuber.
Reproduction: Can be reproduced both by cuttings and seeds. Cuttings don't normally grow caudexes (but sometimes do!)