Donate now to support the LLIFLE projects.
Your support is critical to our success.
Since 4 Aug 2013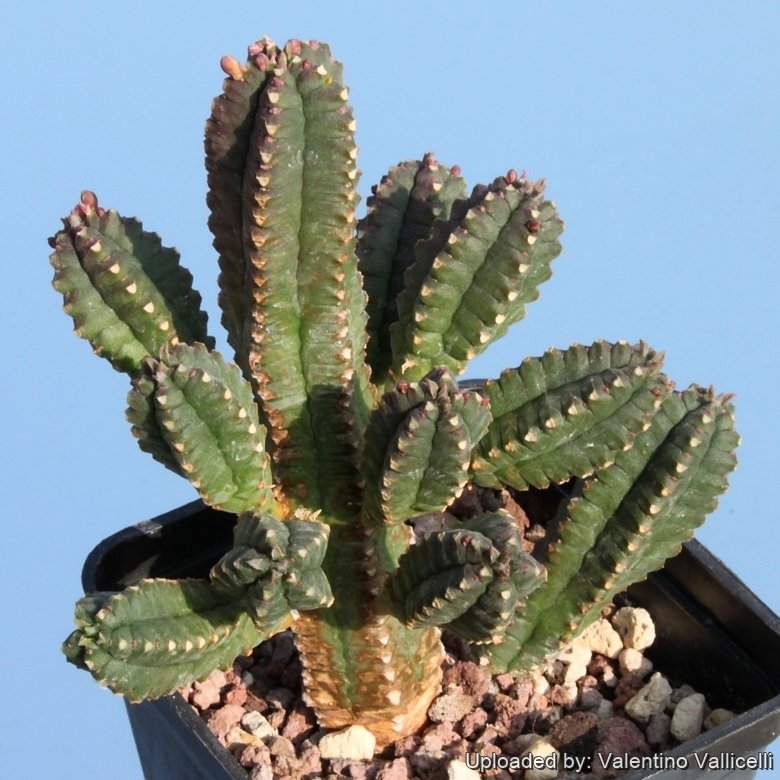 Euphorbia jansenvillensis Photo by: Valentino Vallicelli
Adult plants form long, thin rhizomes which form new plants where they emerge at the surface, quite a considerable distance away from the mother plant.
Origin and Habitat: Eastern and Western Cape, South Africa. The plant was found in 1932 by A. J. van Zyl le Roux at the outskirts of Jansenville (Great Karoo), Further distribution is the Uitenhage District, 3 km from Kleinpoort on the Steydtlerville road.
Habitat: Grows under the protection of other succulents and shrubs. It is often found growing along with Euphorbia coerulescens.
Synonyms:
Description: Euphorbia jansenvillensis is a succulent dioecious shrublets with waxy, tubular succulents stems that hug the ground and propagate by stolons.
Stem: The subterranean partially underground primary shoot forms short runners, which appear above the ground as upright, 5-ribbed shoots 15 to 30 cm long and 1,5-2 cm thick. Base tapering into a short stalk, ribs with small, crowded tubercles. Seedlings branches or segments repeatedly laterally from the main stem and later becomes decumbent due to their thin necks. Adult plants form long, thin rhizomes which form new plants where they emerge at the surface, quite a considerable distance away from the mother plant. The epidermis of this plant in cultivation, however, tends to become hard and cork-like, making the plant rather unseemly.
Rootstock: Euphorbia jansenvillensis has a reduced underground stem that produces rhizomes.
Leaves: Very short up to 2 mm long.
Roots: Fibrous roots.
Flowers: Cyathia solitary crowded at branches tips; peduncles 1 mm long, bracts below the cyathium, few up to 4 x 2 mm broad. Cyathia approximatively 3 mm in diameter. Nectar glands separate yellow-green, margin crisped; Ovary subsessile.
Similar species: Euphorbia tubiglans from the Little Karoo in the Western Cape is similar to Euphorbia jansenvillensis. The aerial stems look similar to those of E. jansenvillensis. but are only up to 8 cm long, and sprout from a noticeably turnip-shaped underground tuberous organ which hardens and cracks with age, unusual in E. tubiglans is the abrupt constriction at the base of the stem into a very narrow neck which joins the branch stem to the tuber. The involucral glands are distant, erect, deltoid and yellowish-green. This species is similar to, if not the some as, E. jansenvillensis.
Bibliography: Major references and further lectures
1) Werner Rauh "The Wonderful World of Succulents: Cultivation and Description of Selected Succulent Plants Other Than Cacti" Smithsonian Institution Press, 1984
2) Urs Eggli "Illustrated Handbook of Succulent Plants: Dicotyledons" Volume 2. Springer, 2002
3) The Euphorbia Journal 8: 94 (1992)
4) A. White, A. Dyer, B. L. Sloane "The Succulent Euphorbieae (Southern Africa)" I-II -1941
Euphorbia jansenvillensis
Photo by: Silvio Fantuzzi
Euphorbia jansenvillensis
Photo by: Cactus Art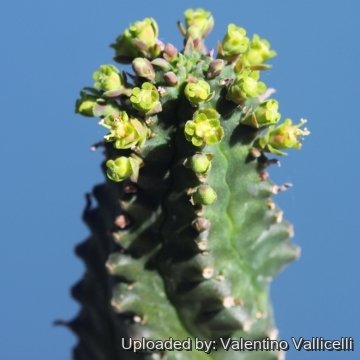 Euphorbia jansenvillensis
Photo by: Valentino Vallicelli
Euphorbia jansenvillensis
Photo by: Valentino Vallicelli
Euphorbia jansenvillensis
Photo by: Valentino Vallicelli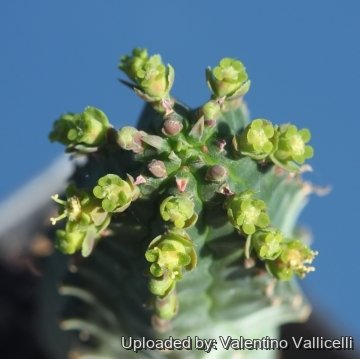 Euphorbia jansenvillensis
Photo by: Valentino Vallicelli
Cultivation and Propagation: Euphorbia jansenvillensis is an easy to grow ornamental species suited for any well drained soil in half or full sun.
Growth rate: It is a relatively fast growing species, but it it possible to increase the speed of growth to some extent by providing adequate amount of water, warmth, and fertilizer during the active growing season, but it's susceptible to rotting if too wet and do not like a lot of water when it is on rest.
Soil and pots: It likes pots with generous drain holes, needs a very airy potting medium which mainly consists of non organic material such us clay, pumice, lava grit, and only a little peat or leaf-mould,
Fertilization: Need a perfect fertilizer diet in summer. Use preferably a cacti and succulents fertilizer with high potassium content including all micro nutrients and trace elements or slow release fertilizer.
Exposure: This plant has an good heat tolerance, and need light shade exposures, it grows well even in full sun, but tolerate moderate shade, and a plant that has been growing in shade should be slowly hardened off before placing it in full sun as the plant will be severely scorched if moved too suddenly from shade into sun. The colour of this plant is much more marked if grown in full sun.
Watering: Euphorbia jansenvillensis is an opportunistic grower, water regularly when it is growing. No water should ever be allowed to stand around the roots. Keep almost completely dry in winter. However this spurge will tolerate dryness and can even thrives in poor, dry soils, but do better when grown in nutrient-rich soils with regular watering.
Hardiness: Tender. This spurge cannot tolerate any frost and can be difficult to get it to look its best without a good amount of heat and sun and so it is only really suited to the tropics. It can be grown outdoors in frost-free climates.
Rot: Rot it is only a minor problem with Euphorbias if the plants are watered and "aired" correctly. If they are not, fungicides won't help all that much.
Maintenance: Re-pot every two years and trim off the dead 'arms'.
Known hazards: The latex/sap is poisonous and can cause skin rash, itching and general discomfort, and they should be handled with caution, particularly when pruning.
Propagation: The plant can be reproduced by seeds or cuttings. The plant may be propagated by branch cuttings. If you remove an offset, remember to let it dry for some days, letting the wound heal (cuttings planted too soon easily rot before they can grow roots). Lay it on the soil and insert the stem end partially into the substrate. Try to keep the cutting somewhat upright so that the roots are able to grow downward. It is better to wash the cut to remove the latex.