Donate now to support the LLIFLE projects.
Your support is critical to our success.
Since 4 Aug 2013
sponsored link
Accepted Scientific Name: Euphorbia heterospina S.Carter
Kew Bull. 42(2): 389 (1987).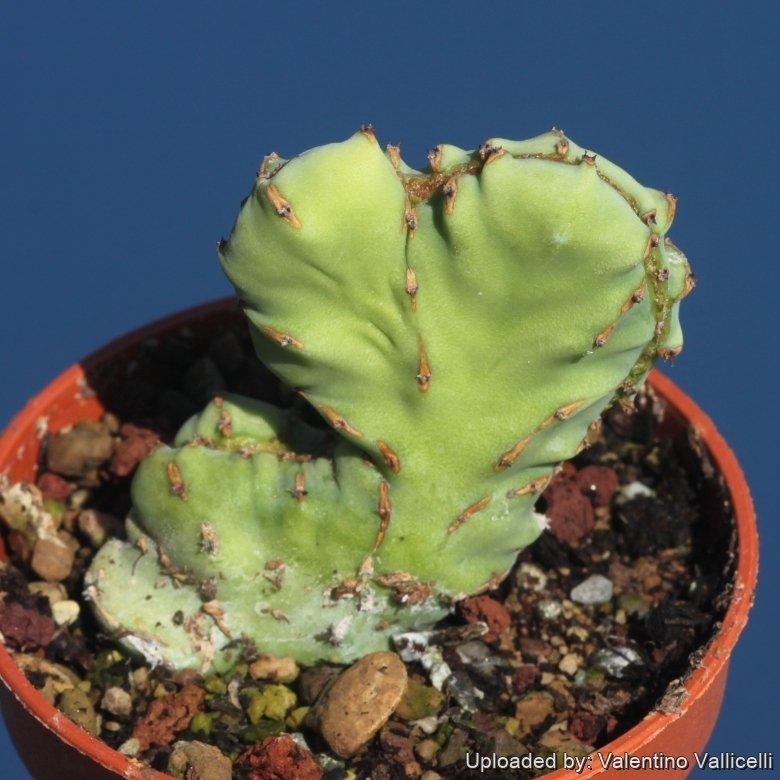 Euphorbia heterospina f. cristata Photo by: Valentino Vallicelli
Origin and Habitat: Garden origin (Nursery produced cultivar)
Synonyms:
See all synonyms of Euphorbia heterospina
Description: Euphorbia heterospina is a slim-stemmed succulent shrub erect to subscandent up to 3,5 m tall, quite untidy and laxly branched. The peculiar feature of this species are the spines that varies in size and are longer on the lower part of the stems and progressively shorter at the summit of the plant, hence the specific epithet "heterospina" (different spine)
Branches: Viny, 4-5 angled, 1-2 cm thick, mid-green, with slight variegation, slightly constricted at irregular intervals into segments 20-60 cm long, angles with shallow teeth 0,5-3 cm apart.
Crested form: A crested form is known in cultivation, it develops a thin flattened light-green crowded cluster and forms in time a large cushion-like twisted mass.
Spineshields: Oblong, joined in a continuous or nearly so horny margin 1-3 mm wide on older Branches. In the crested form the horny margin is not continuous.
Spines: Varying in size, up to 1 cm at plant base, progressively shorter above approx.1-1,5 mm long. The crested form has only short spines.
Stipular spines: Up to 1 mm.
Inflorescences: Cymes solitary, simple one forked; peduncles 1-3 mm long. Cyathia 5 mm in diameter, yellow to reddish with crimson undersides; nectar glands oblong, touching.
Fruits: Deeply lobed, approximatively 3,5 long and 6 mm broad. Green becoming reddish. Pedicel up to 6 mm, slightly recurved.
Seeds: Subglobose, approximatively 2 mm in diameter, slightly tuberculate.
Subspecies, varieties, forms and cultivars of plants belonging to the Euphorbia heterospina group
Euphorbia heterospina

S.Carter

: has erect to subscandent viny branches up to 3,5 m tall. The spines are longer on the lower part of the stems and progressively shorter at the summit of the plant. Distribution: Eastern Uganda and western Kenya.

Euphorbia heterospina subs. baringoensis

S.Carter

: has shorter stems up to 2 m tall; branches uniformly blue-green with red Cyathia and fruits. Distribution: Western and central Kenya.

Euphorbia heterospina f. cristata

hort.

: Crested form.
Bibliography: Major references and further lectures
1) Urs Eggli "Illustrated Handbook of Succulent Plants: Dicotyledons" Volume 2. Springer, 2002
2) Henk Beentje, Joy Adamson, Dhan Bhanderi "Kenya trees, shrubs, and lianas" National Museums of Kenya, 1994
3) Susan Carter Holmes "Euphorbia heterospina" Kew Bulletin 42: 389. 1987
4) Gabriëlla Harriët Schmelzer "Medicinal plants" 2008 ISBN: 9057822040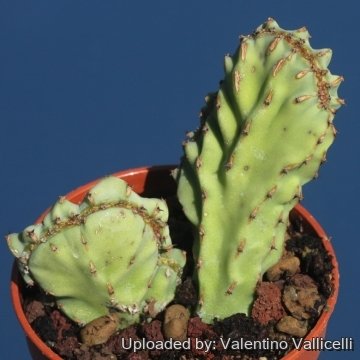 Euphorbia heterospina f. cristata
Photo by: Valentino Vallicelli
Send a photo of this plant.
The gallery now contains thousands of pictures, however it is possible to do even more. We are, of course, seeking photos of species not yet shown in the gallery but not only that, we are also looking for better pictures than those already present.
Read More...
Cultivation and Propagation: Euphorbia heterospina is seldom cultivated as an ornamental but easy to grow.
Growth rate: It is a relatively fast growing species, but it it possible to increase the speed of growth to some extent by providing adequate amount of water, warmth, and fertilizer during the active growing season, but it's susceptible to rotting if too wet and do not like a lot of water when it is on rest.
Soil and pots: It likes pots with generous drain holes, needs a very airy potting medium which mainly consists of non organic material such us clay, pumice, lava grit, and only a little peat or leaf-mould.
Fertilization: Need a perfect fertilizer diet in summer. Use preferably a cacti and succulents fertilizer with high potassium content including all micro nutrients and trace elements or slow release fertilizer.
Exposure: This plant has an excellent heat tolerance, and need light shade exposures, it grows well even in full sun too, and a plant that has been growing in shade should be slowly hardened off before placing it in full sun as the plant will be severely scorched if moved too suddenly from shade into sun.
Watering: Water regularly during the active growing season. No water should ever be allowed to stand around the roots. Keep almost completely dry in winter. However this spurge will tolerate dryness and can even thrives in poor, dry soils, but do better when grown in nutrient-rich soils with regular watering.
Hardiness: Tender. This spurge cannot tolerate any frost and can be difficult to get it to look its best without a good amount of heat and sun and so it is only really suited to the tropics. It can be grown outdoors in frost-free climates.
Rot: Rot it is only a minor problem with Euphorbias if the plants are watered and "aired" correctly. If they are not, fungicides won't help all that much.
Crested growth: Unlike 'monstrous' varieties of plants, where the variation from normal growth is due to genetic mutation, crested growth can occur on normal plants. Sometimes it's due to variances in light intensity, or damage, but generally the causes are unknown. A crested plant may have some areas growing normally, and a cresting plant that looks like a brain, may revert to normal growth for no apparent reason. If you have any of the crested part left you need to remove the normal growth and leave the crested part behind this will need to be done regularly. If too long or untidy it should be restarted from cuttings.
Known hazards: The latex/sap is poisonous and can cause skin rash, itching and general discomfort, and they should be handled with caution, particularly when pruning.
Propagation: The plant can be reproduced by seeds or cuttings. The plant may be propagated by branch cuttings. If you remove an offset, remember to let it dry for some days, letting the wound heal (cuttings planted too soon easily rot before they can grow roots). Lay it on the soil and insert the stem end partially into the substrate. Try to keep the cutting somewhat upright so that the roots are able to grow downward. It is better to wash the cut to remove the latex.