Donate now to support the LLIFLE projects.
Your support is critical to our success.
Since 4 Aug 2013
sponsored link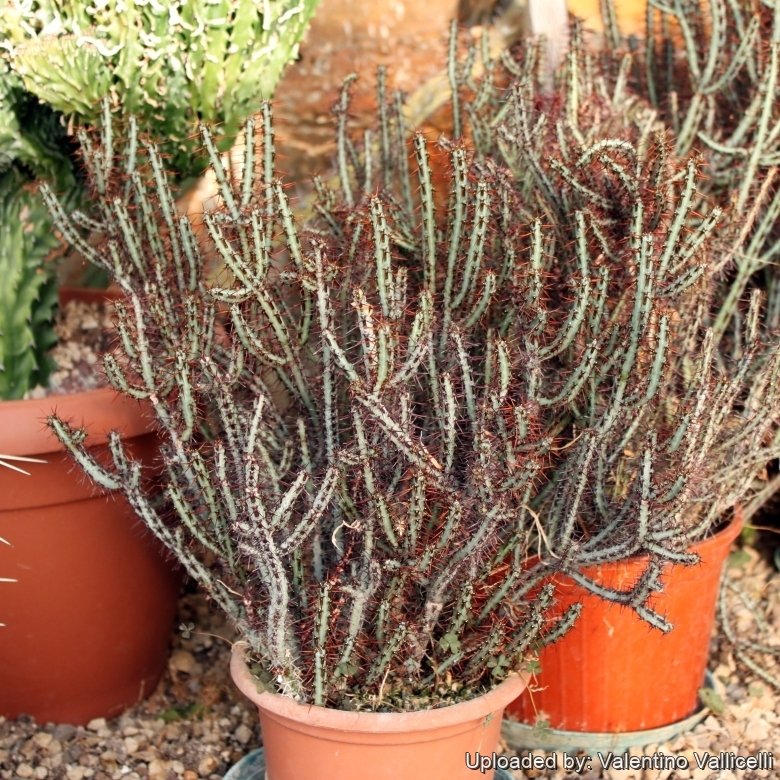 Euphorbia aeruginosa Photo by: Valentino Vallicelli
Origin and Habitat: Republic of South Africa, Mpumalanga, formerly known as the Eastern Transvaal (Northern slopes of the Soutpansberg in the Northern Province and throughout the length of the Limpopo valley)
Altitude range: 305-885 metres above sea level.
Habitat: It grows rock crevices.
Synonyms:
Common Names include:
ENGLISH:
Spurge, Miniature Saguaro
RUSSIAN (Русский):
Молочай аэругиноза
Description: Euphorbia aeruginosa is a very decorative spiny, succulent, forming dwarf, shrubs 15-30 cm in height (up to 40 cm recorded north of Punda Milia) and a subterranean caudex. Branches bluish-grey or brownish-green with many brownish spines. Branching occurs at or below ground level and above too. Its name, which means 'verdigris', refers to the coppery-green branches which have contrasting reddish-brown spines. This species, like the closely related Euphorbia schinzii, shows considerable variation.
Habit: E. aeruginosa has a thickened main stem (continuation of the main root) forming a somewhat thickened, but not tuberous, body, mostly buried in the ground and much branched at soil level. Plants growing in full sun on rocky slopes form compact clumps from a single low stem, whereas plants growing in deep shade in humus tend to be almost prostrate, with thinner branches and longer, thinner, red spines.
Roots: Thickened merging into the stem.
Stems: Repeatedly-branching. Branches bluish-grey or copper-green, subcylindric, terete to 15 cm long, 5-7.5 mm in diameter, indistinctly 4-5 angled, often spirally twisted.
Spine shield: Obovate, to 7 x 3 mm, in 4 slightly spiral series, separate, stout, horny, rusty brown in colour.
Spines: Two, paired up to 2 cm long, and also often a basal spine to 1.5 mm long.
Stipular Spines: Two small above the spines less than 4 mm long.
Inflorescences (cymes): Solitary, simple, sessile.
Flowers (cyathia): Small bright yellow c. 3 mm in diameter; nectar-glands oblong, just touching.
Blooming season: Rows of beads of tiny bright yellow flowers dot the stems making a cheery sight in late winter to spring.
Fruits (capsules): Obtusely lobed, 3 mm in diameter, subsessile containing three large seeds.
Seeds: Tuberculate.
Bibliography: Major references and further lectures
1) Doreen Court "Succulent Flora of Southern Africa" CRC Press, 01/Jun/2000
2) Urs Eggli "Illustrated Handbook of Succulent Plants: Dicotyledons" Springer, 2002
3) Alfred Byrd Graf "Exotica, series 4 international: pictorial cyclopedia of exotic plants from tropical and near-tropic regions" Roehrs Co. Publishers, 1985.
4) White, A., Dyer, R.A. & Sloane, B.L. "The succulent Euphorbieae" Abby Garden Press. Pasadena, California. 1941
5) David Hardy, Anita Fabian, Gerrit Germishuizen "Succulents of the Transvaal" Southern Book Publishers, 1992
6) Volker Buddensiek: "Sukkulente Euphorbien." Ulmer, 1998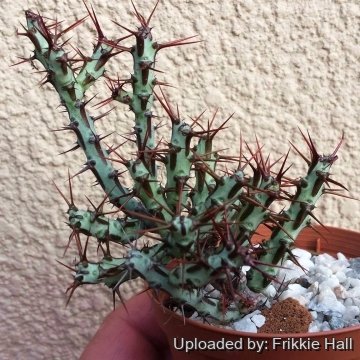 Euphorbia aeruginosa
Photo by: Frikkie Hall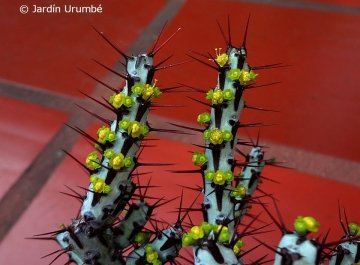 Euphorbia aeruginosa
Photo by: Alexander Arzberger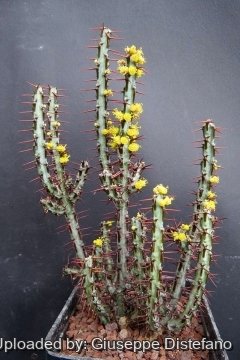 Euphorbia aeruginosa
Photo by: Giuseppe Distefano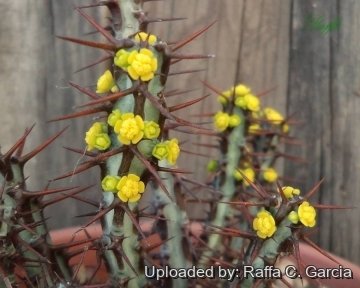 Euphorbia aeruginosa
Photo by: Raffa C. Garcia
Euphorbia aeruginosa
Photo by: Raffa C. Garcia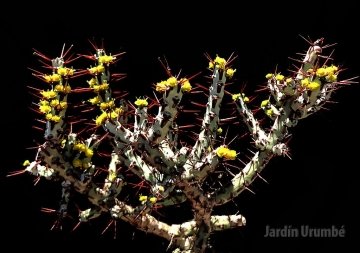 Euphorbia aeruginosa
Photo by: Alexander Arzberger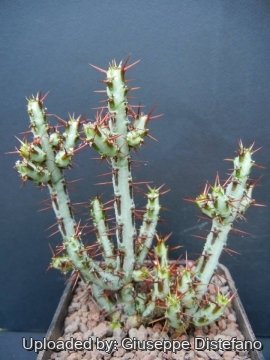 Euphorbia aeruginosa
Photo by: Giuseppe Distefano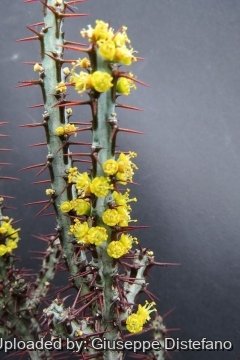 Euphorbia aeruginosa
Photo by: Giuseppe Distefano
Cultivation and Propagation: Common and relatively easy to grow plant for pot culture. It grows well in a very draining mineral potting substrate, but it isn't picky about soil. The area where this plant is native receives rains both in winter and summer, so it can be watered moderately all year around (except in the coldest month of the winter, as it rot easily ,especially if over-wet). During the summer, they enjoy average feeding and watering. When dormant in winter, keep it totally dry at or around 4°C, even though it seems to tolerate light frosts well. Mature healthy plants are tough and can also be grown outside where frost is not too severe, but when left out it is more sensitive to frost. They do need a lot of light to keep their compact growth-form, but different clones vary in their tolerance of full sunshine. The plants that are not kept in full sun grow faster, but became untidy and may need support as they get larger, or branches fall off. But if grown in the protection of light shade, the thick purple spines of this low-growing clumping columnar plant have the best colour. Sometimes, in really hot full sun all day long, a plant will bleach out a bit. It soon grows into a large, many stemmed specimen, and it can fill a 30 cm bowl. It is also a prolific bloomer, and makes a spectacular specimen.
Propagation: It is propagated by cuttings or seeds. It branches enthusiastically, and offsets are readily available. If you remove an offset, remember to let it dry for a week or so, letting the wound heal (cuttings planted too soon easily rot before they can grow roots). It is better to wash the cut to remove the latex. The seed can be sown just under the surface in normal seedling trays in a sandy seed mix. Germination usually occurs within 1 - 3 weeks.
Warning: As with all other Euphorbias, when a plant get damaged it exudes a thick white milky sap known as latex. This latex is poisonous and may irritate skin. Pay extreme attention not to get any in your eyes or mouth.
Cultivated plants must be handled carefully.