Donate now to support the LLIFLE projects.
Your support is critical to our success.
Since 4 Aug 2013
sponsored link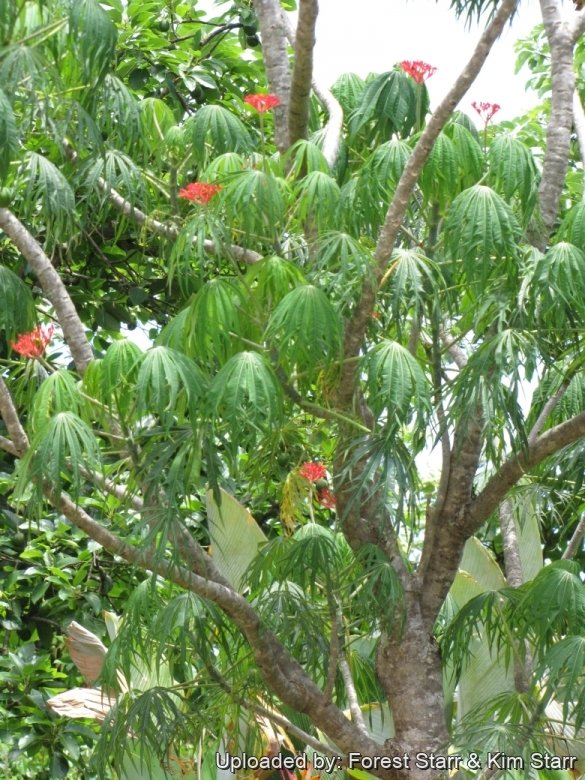 Flowers and leaves at Haiku, Maui, Hawaii (USA). June 17, 2009.
Origin and Habitat: Jatropha multifida is native to the West Indies and naturalizes in southern Florida, South-west Texas, Mexico and southwards to Brazil, but widely planted as an ornamental in Africa and in many tropical and subtropical countries and often persistent after cultivation.
Altitude range: Sea level to around 1400 meres.
Synonyms:
See all synonyms of Jatropha multifida
Common Names include:
ENGLISH:
Jatropha Tree, Spanish physic-nut, Spanish physic nut, Coralplant, Coral bush, Coralplant nettlespurge, Guatemala rhubarb, Coral plant, French Physic Nut Bush, Physic Nut, French physicnut, Physicnut, Purging nut, Small physicnut
AFRIKAANS (Afrikaans):
Blompapaja
BENGALI (বাংলা):
Bherenda
BOLLOM SO (Bullom So):
katawo-lε
EDO or BINI (Ẹ̀dó):
Ebósa
FRENCH (Français):
Arbre au corail, , Médicinier d'Inde, Papaye sauvage (Haiti), Médecinier multifide, Médecinier des Indes (Haiti), Corail, Bouquet-corail, Médecinier espagnol, Arbre corail, Botuje, Bouquet corail, Petit médicinier, Noisetier purgatif, Médicinier bâtard, Médicinier d'espagne
FULA or FULANI (Fulfulde, Pulaar, Pularl):
Kidi
GOLA (Gola):
Bσtεmbã, Kata-wuli
HAITIAN CREOLE (Kreyòl ayisyen):
Papay multifid, Medsinye panyhl
IGBO (Asụsụ Igbo):
Olulu idu
KONO (Kɔnɔ):
Kata-kσnε
KRIO (Krio):
Fig-not
KUNA (Kuna):
kar onoged
LIMBA and HULIMBA (Yimba):
Kusigbσro
MANDINKA or MANDING ((Mandi\'nka kango لغة مندنكا):
Baju
MENDE (Mɛnde yia):
Kata, Kata-wulo
SPANISH (Español):
Avellana-purgante-de-Santo Domingo, Yuca cimarrona (Dominican Republic), Paraguay), Tartago emético (Colombia, Tártago (Puerto Rico), Piñón vómico (Cuba), Dominican Republic), Piñón extranjero (Cuba, Piñón de España (Dominican Republic), Pilon extrangero (Dominican Republic), Maná (Puerto Rico), Estético vegetal (Venezuela), Don Tomas (Puerto Rico), Chicasquil (Costa Rica), Coral (Colombia), ceibilla (Cuba), Castaño purgante (Cuba), Cabalongo (Mexico), Emetico, Flor-de-coral, Tartago, Santa Ana, Purgante-de-España, Piñiol-de-cumaña, Pino-de-coral
SUSU (Sosoxui):
Bakhεnε, Bakhanε
TEMNE or THMNE (KʌThemnɛ):
An-kidi, ε-nσŋkσ
YALUNKA or YALLONKA (Jalunga):
kidi-safu-na
YORUBA (èdè Yorùbá):
Lóbòtújè, Làpálàpá, Bòtújè-pupa, Bòtújè
Description: The coral plant (Jatropha multifida) is a glabrous, eglandular, succulent-type, evergreen or deciduous shrub or small tree, which grows 1.5 to 3 m tall, but occasionally as high as 5(-6) metres. It is cultivated in many tropical gardens for true beauty of its scarlet flowers and round strongly incised leaves. The flowers appear in bunches during the summer.
Stem: The older stems are relatively thick (up to 8 in diameter) and either somewhat succulent or softly woody with a smooth grey or brownish bark with raised lenticels, but green in the young new growth. Branchlets thick that exude a copious milky or clear caustic, poisonous sap if cut or damaged.
Roots: Long and tuberose.
Leaves: Alternate, simple, deeply palmately-lobed, roundish in outline borne on long petioles near the tips of the branches. Blade 15-30 cm long and broad bright green above, glaucous beneath; petiole 10-20 cm long, subtended by a distinctive multifid (fringed) stipule to about 1.5-2 cm long, the segments setaceous. Lobes 7 to 12 long-acuminate and prominently veined; the larger of which may reach up to 20 cm in length and 9 cm in width, may also be toothed or dissected into narrow, pointed segments and confluent into a narrowly cordate basal disk; lateral nerves numerous. They are very similar to the leaves of some species of Manihot.
Flowers: Small, bright-red borne in a long-stalked dense corymbiform to subcapitate, flat-topped inflorescence up to 25 cm long arising from the top of the main stem and often held high above the foliage. Peduncle up to 22 cm long. Male and female in the same branched cluster, petals coral-red, sepals not petal-like. Flowers do not all open at once, so the cluster looks red for a considerable time.
Male flowers: pedicels up to 1 cm long, calyx 2 mm long; calyx lobes 1 mm long, ovate, rounded and fringed or entire at the apex, red. Petals 5 × 2 mm, oblong-oblanceolate, rounded, scarlet. Disk glands 5, free, rounded; Stamens 8, 4 mm long, filaments free, anthers 2 mm long sagittate at the base.
Female flowers: Solitary on the primary and secondary axes of the cyme. Sepals and petals as in the male, but about 1.5 times larger. Pedicels 2 mm long. Dsk 2.5 mm in diameter, flattened, 5-lobed, with lobes rounded-truncate. Ovary 3 × 2 mm, triangular to ellipsoid. Styles 2.5 mm long, united at the base, stigma's head 2-lobed.
blooming season: The plants blossom and fruit sporadically throughout the year.
Fruits (capsules): Bright yellow, consistently trilocular to pyriform 1.5-4 cm long and wide (2.5 × 2.8 cm when dried), narrowing at the base, truncate or depresse at the apex, the lobes slightly keeled smooth and green when young, turning yellow, and becoming almost black at maturity, slowly dehiscent to subdrupaceous; each capsule usually contains 3 seeds. Though these fruits have a sweet and pleasant taste, they are highly poisonous.
Seeds: Oval, approx. 17 × 15 × 13 mm buff, brown mottled, ecarunculate.
Bibliography: Major references and further lectures
1) Forest & Kim Starr "Jatropha multifida (Coral plant)". Plants of Hawaii. <http://www.starrenvironmental.com>. Web. 27 Sep. 2014.
2) Wikipedia contributors. "Jatropha." Wikipedia, The Free Encyclopedia. Wikipedia, The Free Encyclopedia, 14 May. 2014. Web. 27 Sep. 2014.
3) Whitelaw Ainslie "Materia Medica of Hindoostan, and Artisan's and Agriculturist's Nomenclature" Government Press, 1813
4) D. Jesse Wagstaff "International Poisonous Plants Checklist: An Evidence-Based Reference" CRC Press, 07/Jul/2008
5) Keith Kirsten "Gardening with Keith Kirsten" Struik, 10/Sep/2001
6) A. J. Oakes, James Owsley Butcher "Poisonous and injurious plants of the U.S. Virgin Islands" Agricultural Research Service, U.S. Dept. of Agriculture, 1962
7) M.M. Grandtner, Julien Chevrette "Dictionary of Trees, Volume 2: South America: Nomenclature, Taxonomy and Ecology" Volume 2 Academic Press, 21/Sep/2013
8) Donald G. Barceloux "Medical Toxicology of Natural Substances: Foods, Fungi, Medicinal Herbs, Plants, and Venomous Animals" John Wiley & Sons, 07/Mar/2012
9) Gil Nelson, Christopher J. Earle, Richard Spellenberg "Trees of Eastern North America" Princeton University Press, 27/Jul/2014
10) S. Carter, M. G. Gilbert, and M. Thulin "Flora Somalia" Vol 1 1993
11) A. Radcliffe-Smith Flora Zambesiaca, Vol 9 Part 4 1996
12) J. G. Baker, with additions by C. H. Wright. "Flora of Tropical Africa" Vol 6 Part 1, 1913
13) Burkill, H.M. "The useful plants of west tropical Africa" Vol 2 1985.
Flowers and leaves at Paia, Maui, Hawaii (USA). April 29, 2009.
Photo by: Forest Starr & Kim Starr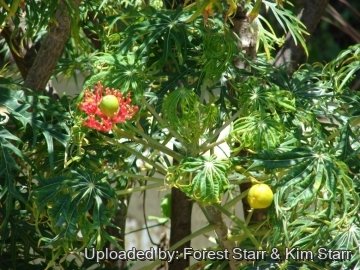 Fruit and leaves at Paia, Maui, Hawaii (USA). April 29, 2009.
Photo by: Forest Starr & Kim Starr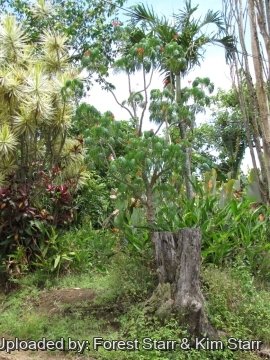 Habit at Haiku, Maui, Hawaii (USA). June 17, 2009.
Photo by: Forest Starr & Kim Starr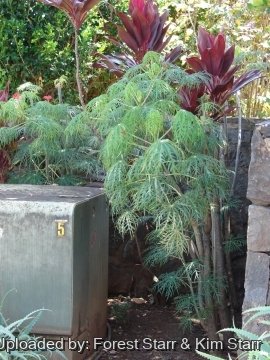 Habit at Paia, Maui, Hawaii (USA). April 29, 2009.
Photo by: Forest Starr & Kim Starr
Flowers and leaves at Haiku, Maui, Hawaii (USA). June 17, 2009.
Photo by: Forest Starr & Kim Starr
Send a photo of this plant.
The gallery now contains thousands of pictures, however it is possible to do even more. We are, of course, seeking photos of species not yet shown in the gallery but not only that, we are also looking for better pictures than those already present.
Read More...
Cultivation and Propagation: The coral plant (Jatropha multifida) is a spectacular shrub in bloom, which is most of the year an adaptable species that does best in drier tropical areas and is tolerant of poor and dry soils. The plants thrive equally well in full sun or partial shade; they may be grown successfully on shallow and deep soils, in high and low rainfall belts, and in exposed, windblown sites. It develops in a fashion similar to a straggling shrub unless pruned, but it can be pruned to a single trunk and cultivation is uncomplicated, but a weed, nevertheless! It shoots its seeds all over the place. And it's a really tricky plant to wipe when the garden becomes inundated with this Jatropha. Undesired plants may be easily pulled up by hand when young. Careful when planting this in a warm climate!!!
Growth rate: They can grow fast.
Exposure: Full sun to partial shade.
Soil: The plant grows best on fertile and well-drained soils with good aeration. Root growth is reduced on heavy soils, but the plant can grow in wastelands and grows on almost any terrain, even on gravelly, sandy and saline soils. It can thrive in poor and stony soils. For pot culture a gritty, very free-draining compost is suitable, and clay pots help the plants to dry out between watering. Re-pot every 2-3 years. Mulch may be put underneath to reduce weeds.
Fertilization: Jatropha respond well to fertilizer. A balanced, slow-release general purpose fertilizer may be applied once or twice a year especially before new growth begins in spring.
Waterings: They like only a short winter's rest and should be kept almost completely dry during the winter months. A regular watering schedule should be followed which helps in deep extensive root system. If the soil is allowed to be dry for too long root loss could follow but equally the same result would occur if the plants are both wet and cold. From March onwards the plant will begin to grow and watering should be increased gradually until late May when the plant should be in full growth. Water regularly during the summer so long as the plant pot is allowed to drain and not sit in a tray of water. During hot weather you may need to water the plants more frequently so long as the plant is actively growing. From late September watering should be reduced to force the plant to go in to a state of semi dormancy, by October you should be back in to the winter watering regime. The shrub tends to become thin if it is watered too much.
Hardiness: Tender, protect from frost. Temperature spring to autumn: nocturnal at least 18°C and diurnal up to 38°C. Wintering: nocturnal 12°C and diurnal 20°C or more. USDA zone(s) 10-11. The coral plant is damaged by frost and is considered marginal in zones 9B and 10A, if damaged by a cold winter it will eventually start growing quickly once it emerges from the base. This plant does great potted and moved into the house or garage for the winter.
Aerosol salt tolerance: This species is not very salt tolerant.
Pruning: Prune to remove dead branches and leaves for a cleaner appearance in the landscape. However if it's not pruned on a regular basis it will grow out of control. As a large bush it becomes top heavy with growth and flowers and barren of them at the bottom (very leggy looking). Repeatedly prunings also help to encourage new growth. The flowers only develop terminally (at the end of a stem), so a good ramification (plants presenting many branches) produces the greatest amount of flowers. Prune preferably in spring by one-third to keep growth compact, but as the coral plamt blooms on the current year's growth it can be pruned at any time of the year. Easy to prune to desired shape and height. You may also remove the lower branches to convert into a small tree or used in espalier.
Pest and diseases: The use of pesticides is rarely necessary, due to the pesticidal and fungicidal properties of the plant but occasionally bothered by mites, scales, mealybugs and superficial leaf miner.
Garden uses: Small tree, foundation, shrub border, edges, accent, specimen, butterfly and bird gardens. The coral plant makes a fine container plant on the patio or at poolside. Use showy coral plant to create a colourful focal point near patios and outdoor living areas.
Propagation: It is usually propagated from semi hard wood cuttings taken in spring or by seed.
Warning: The coral plant (Jatropha multifida) contain the toxic protein curcin (also called jatrophin) and has toxic properties similar to those of physienut (See Jatropha curcas L.) Ingestion of the sweet, pleasant-tasting seeds causes severe, myalgias, lethargy, hypotension and gastroenteritis manifest by profuse vomiting, diarrhea, and abdominal cramps along with burning of the throat. The gastrointestinal symptoms begin within 30 minutes to several hours of ingestion, and the severity of the vomiting and diarrhea can cause significant dehydration in children. When a plant get damaged it exudes a thick white milky sap known as latex. This latex is particularly dangerous for the eyes, skin and mucous membranes. So pay extreme attention not to get any in your eyes or mouth. Cultivated plants must be handled carefully.
Traditional uses: It Africa Jatropha multifida is as an object of superstition. It is said that it keep off snakes. The leaves and leaf-sap are purgative, but not so violently as of Jatropha curcas. In the Antilles it is said that 10–12 leaves lightly cooked and eaten in a salad provide a non-griping purge. Leaves and fruit are boiled and taken internally or used externally in a bath as a febrifuge in Nigeria, and an infusion of young leaves is used for most urinary complaints. Root-bark and the roots are ground up as a wound-dressing, and the root is taken internally for worms and, with salt added, for gonorrhoea in Nigeria. The root produces long tubers which can be eaten like tapioca root (Manihot esculenta) after roasting. The seeds are strongly purgative, have a nutty flavour and there are records of fatalities from eating them. A single one is sufficient to produce violent illness. Seed-oil has been used as an illuminant. Latex has been used in the Caribbean on cancers.