Donate now to support the LLIFLE projects.
Your support is critical to our success.
Since 4 Aug 2013
sponsored link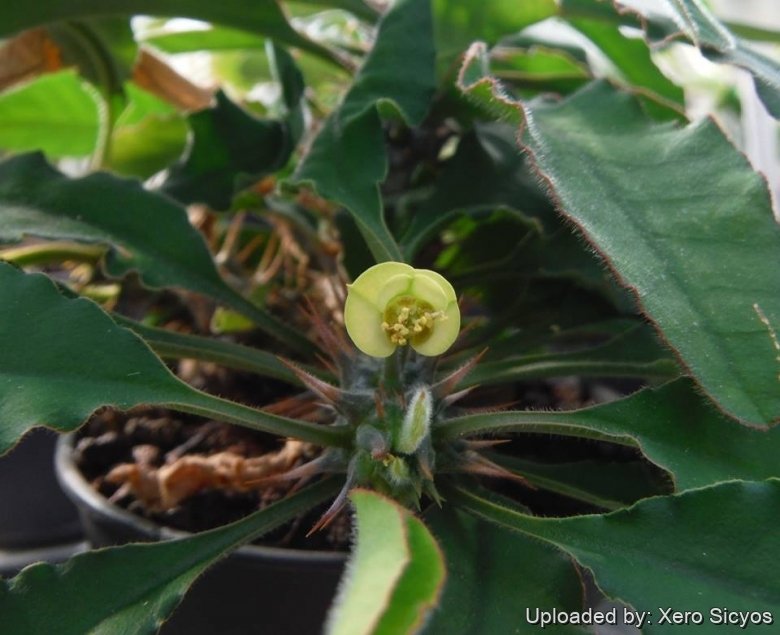 Euphorbia razafindratsirae Photo by: Xero Sicyos
Origin and Habitat: Euphorbia razafindratsirae, described in 2002, is known only from the single type specimen, collected near Tongobory (Latitude 23° 30' N, longitude 44° 20' E.), South-west Madagascar. The Tulear area is rich in micro-endemic species and its surrounding habitats are heavily degraded and destroyed by human activities. The exact range of this species is unknown, however, the area has been well visited by botanists.
Altitude range: ca. 275 metres above sea level.
Habitat and Ecology: Dry South-western xerophytic thickets of Madagascar. This species is threatened by habitat degradation, fire, habitat clearing for charcoal, collection for horticultural purposes.
Synonyms:
Description: Euphorbia razafindratsirae is a choice miniature in the E. milii group. It forms a dwarf shrublet with horizontally spreading branches with a surprisingly ample caudiciform base. The plant is a low grower with pencil thick branches bearing tiny spines. When in leaf, the foliage is oblong, with wavy margins and slightly pubescent. The chartreuse to reddish cyathia, similar to those of the related Euphorbia hoffstaeteri, are formed during winter dormancy when the plant is leafless. In summer it is partly shrouded by the pubescent, undulate-margined leaves. The caudex will form underground but can be elevated above the soil. It gets quite thick, to about 5 cm in time.
Derivation of specific name: razafindratsirae has been named in honor of Alfred Razafindratsira, Madagascan plant collector and owner of a succulent plant nursery.
Bibliography: Major references and further lectures
1) Haevermans, T. 2004. Euphorbia razafindratsirae. The IUCN Red List of Threatened Species 2004: e.T44436A10903499. http://dx.doi.org/10.2305/IUCN.UK.2004.RLTS.T44436A10903499.en. Downloaded on 08 December 2016.
2) Lavranos, J. 2002. "Sur deux nouvelles euphorbes de Madagascar". Succulentes 25(3):3-8
3) Urs Eggli, Leonard E. Newton "Etymological Dictionary of Succulent Plant Names" Springer Science & Business Media, 29 June 2013
4) "ISI 2007-20. Euphorbia razafindratsirae Lavranos" Published in the Cactus and Succulent Journal, Vol. 79 (2), March - April, 2007 downloaded 8 December 2016 from: <http://www.huntington.org/BotanicalDiv/ISI/ISI2007/2007-20.html>
Cultivation and Propagation: Euphorbia razafindratsirae is an attractive, but slow growing species available from several sources for enthusiasts. Like all the other species from Madagascar, this plant needs a temperature of at least 10°C (50°F) in winter and will do better if kept even warmer. An occasional light watering in winter will prevent excess dehydration. Rare in cultivation.
Growth rate: It is a slow growing long lived plant and once established, it will be content in its position and with its soil for years.
Exposure: A very very light and warm place in full sun is highly appreciated, but can tolerate moderate shade, and a plant that has been growing in shade should be slowly hardened off before placing it in full sun as the plant will be severely scorched if moved too suddenly from shade into sun.
Soil: It does best in a mineral soil, good drainage is essential.
Watering: Water sparingly during the summer months and keep dry in winter. In the short growing season it likes ample water and in this period it grows rather quickly, though not for a long time. When not in growth it is killed right away, when given too much water.
Frost Tolerance: Tender, it needs frost protection. Recommended minimum temperature is 12 °C or even above.
Propagation: It is propagated from seed sown during spring or summer. Germination occurs within 3 weeks. Sowing seed of this self fertile species is the surest method of growing typical offspring and seedlings are in the first season relatively easy to grow. Thanks to its freely branching habit it can be propagated by rooting cuttings of the branches. It can be grafted as well.
Warning: As with all other euphorbias when a plant get damaged it exudes a thick white milky sap known as latex. This latex is poisonous and particularly dangerous for the eyes, skin and mucous membranes. So pay extreme attention not to get any in your eyes or mouth. Cultivated plants must be handled carefully.