Donate now to support the LLIFLE projects.
Your support is critical to our success.
Since 4 Aug 2013
Accepted Scientific Name: Ledebouria cooperi (Hook.f.) Jessop
J. S. African Bot. 36: 247 (1970).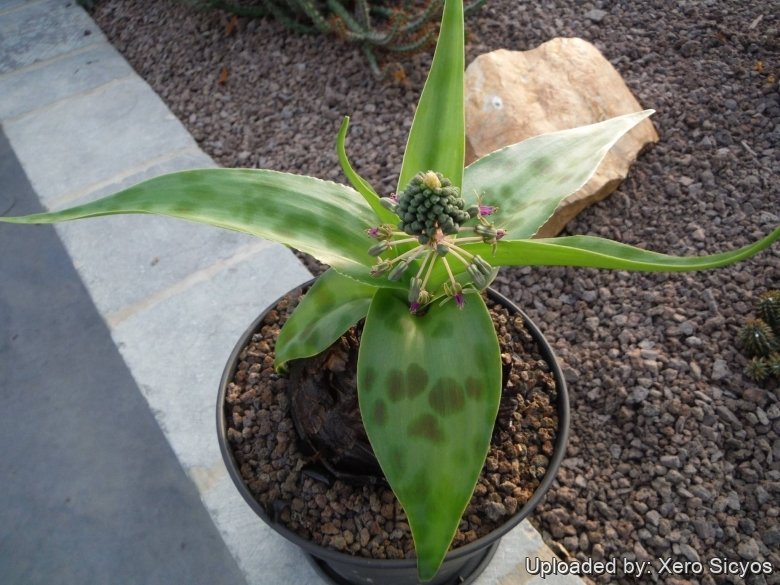 Scilla saturata Photo by: Xero Sicyos
Origin and Habitat: South Africa. Orange Free State.
Habitat and ecology: Scilla saturata forms "large colonies in marshes and marshy grassland, up to c. 1980 m." [3] "Plants tend to grow in clusters in shady, damp grasslands" [4].
Synonyms:
See all synonyms of Ledebouria cooperi
Accepted name in llifle Database:
Ledebouria cooperi
(Hook.f.) Jessop
J. S. African Bot. 36: 247 (1970).
Synonymy: 21
Common Names include:
ENGLISH:
Wild squill
ZULU (isiZulu):
Icubudwana, Icukudwane
Description: Scilla saturata, is one of the morphological or geografical forms of Ledebouria cooperi which is a widespread and morphologically variable taxon. Ledebouria is only a very recently formed genus. Previously, most of the plants belonging to this genus were classified as Scilla species. Scilla saturata consists of a very small bulb with a long slender leaf. The leaves that are visible above the ground look much like coarse grass while the bulbs, at their biggest, are only about 1-2 cm in diameter. The flowers colour is given as varying between deep mauve and light purple-rose or entirely green and they protrude from a short stem [4] [5] [9].
Bulb: Ovoid to subglobose, with dark, papery scales, or not well developed, 12-18 mm in diameter. It is of interest that a method of vegetative reproduction is provided by the shoots which arise from the axils of the lower bulb-scales [4].
Leaves: 1-5, linear, lanceolate, more or less acuminate, oblong or ovate, (3-)10-20(-25) cm long, (1-)6-8(-20)mm broad at the middle, narrowed gradually to a clasping petiole 2.5-5 cm long, upper surface rather uniformly green, lower surface green with longitudinal purple striations, and with purple spots toward the base.
Inflorescence: Peduncle slender, 7-15 cm long, more or less erect; raceme dense, oblong, 2.5-4(-5) cm long, 18-25 mm in diameter, with up to about 50 flowers. Central pedicels 4-8 mm long, lower flowers cernuous (dropping).
Flowers: Perianth campanulate, segments bright pink to mauve-purple inside and out, less frequently pink with a green keel, or entirely green,3-4 mm long; stamens nearly as long as the perianth. Filaments linear, bright purple, anthers yellow.ovary globose, stipitate [1] [5].
Subspecies, varieties, forms and cultivars of plants belonging to the Ledebouria cooperi group
Bibliography: Major references and further lectures
1) J. G. Baker "Flora Capensis", 1897
2) The Bulletin of the African Succulent Plant Society, Volumi 7-8 African Succulent Plant Society., 1972
3) Annals of Kirstenbosch Botanic Gardens, Volume 15 National Botanic Gardens, 1987
4) Gardeners Chronicle & New Horticulturist Haymarket Publishing, 1937
5) Baileya, Volumi 18-20 L. H. Bailey Hortorium, New York State College of Agriculture and Life Sciences, Cornell University, 1971
6) Pooley, E. 2003. "Mountain flowers: a field guide to the flora of the Drakensberg and Lesotho." Natal Flora Publications Trust, Durban.
7) Raimondo, D., von Staden, L., Foden, W., Victor, J.E., Helme, N.A., Turner, R.C., Kamundi, D.A. and Manyama, P.A. 2009. "Red List of South African Plants". Strelitzia 25. South African National Biodiversity Institute, Pretoria.
8) Hankey, A.J. & Victor, J.E. 2005. Ledebouria cooperi (Hook.f.) Jessop. "National Assessment: Red List of South African Plants" version 2017.1. Accessed on 2017/04/02
9) "Extractives from the Hyacinthaceae" Chantal Koorbanally BSc. (HONS) (Natal) Submitted in partial fulfillment of the requirements for the degree of Master of Science in theDepartment of Chemistry,University of Natal, Durban 2000
Cultivation and Propagation: Scilla saturata "apparently favours damp places" and "do respond to regular watering although they are resistant to quite prolonged periods of drought" [2] [10].