Donate now to support the LLIFLE projects.
Your support is critical to our success.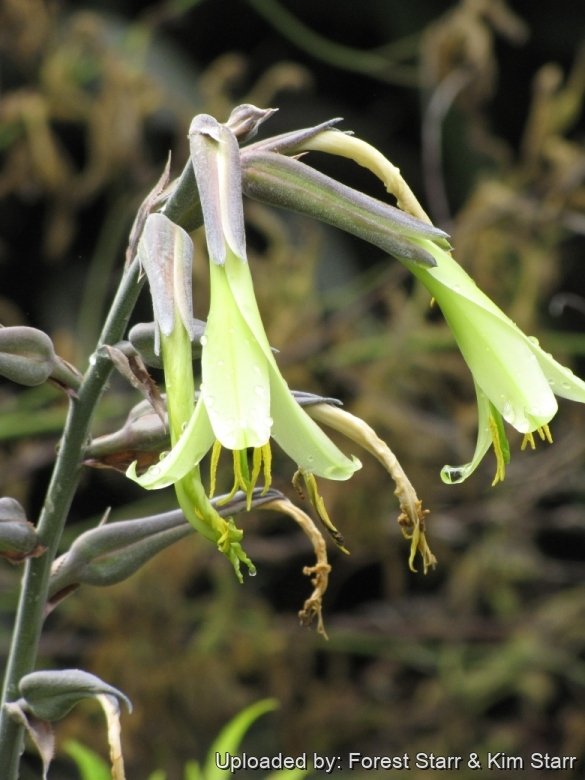 Puya mirabilis Photo by: Forest Starr & Kim Starr
Flowers at Enchanting Floral Gardens of Kula, Maui, Hawaii (USA). August 03, 2010.
Origin and Habitat: Northern western Argentina and Bolivia (Cochabamba).
Synonyms:
See all synonyms of Puya mirabilis
Accepted name in llifle Database:
Puya mirabilis
(Mez) L.B.Sm.
Phytologia 16: 461 (1968)
Synonymy: 4
Common Names include:
ENGLISH:
Puya
Description: Puya mirabilisSN|28782]]SN|28782]] is a fast growing terrestrial bromeliad that produce offsets freely and forms large grassy clumps of rosettes up to around 60 cm tall and 3 m wide (but usually in containers their size is reduced to about 30-40 cm tall). Plants are not particularly decorative and just looks like a tuft of grey-green stiff grass but produces nice tall green flowers and are interesting in that they don't resemble most bromeliads.
Habit: Almost stemless, suckering, forming a large bulbous base with several tufts of grass-like leaves (rosettes) sprouting from various points on top, the leaves recurves back giving the plant the look of a comet.
Leaves: Numerous, 60-75 cm long, bright shiny-green to silvery brown, linear, grass-like, stiff, curving, slightly prickly at their base. The spines are not sharp or stiff as in some bromeliads (but can still stick you if you're not careful).
Inflorescence: Very tall relative to the size of the plant, stiff, ascending, about 60-90 or more cm tall. Flowers up to 15 per stem, funnelshaped, elegant, flaring, resembling some species of gladiolus, chartreuse to pale lime green up to10 cm long held in fuzzy purple-grey to grey-blue calyxes. Plants are self-compatible produce seed freely.
Blooming season: Autumn.
Bibliography: Major references and further lectures
1) Forest & Kim Starr "Puya mirabilis(Puya)". Plants of Hawaii. <http://www.starrenvironmental.com>. Downloaded on 20 August 2014.
3) Wikipedia contributors. "Puya mirabilis." Wikipedia, The Free Encyclopedia. Wikipedia, The Free Encyclopedia, 6 Jul. 2014. Web. 18 Sep. 2014.
3) David H. Benzing "Bromeliaceae: Profile of an Adaptive Radiation" Cambridge University Press, 06/Apr/2000
4) Klaus Kubitzki, H. Huber "Flowering Plants. Monocotyledons: Alismatanae and Commelinanae (except Gramineae)" Springer Science & Business Media, 27/Aug/1998
5) "Botanica: The Illustrated A-Z of Over 10,000 Garden Plants and how to Cultivate Them" Mynah, 1997
6) Francisco Oliva Esteva, Julián Alfred Steyermark "Bromeliaceaes of Venezuela: native and cultived" Armitano, 1987
7) Cal Lemke. "Puya mirabilis Bromeliaceae." Cal's Plant of the Week. <http://www.plantoftheweek.org/week479.shtml> University of Oklahoma Department of Botany & Microbiology. Web. 18 Sep. 2014.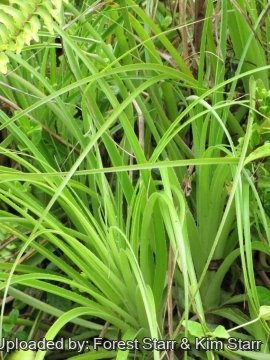 Leaves at Enchanting Floral Gardens of Kula, Maui, Hawaii (USA). August 03, 2010.
Photo by: Forest Starr & Kim Starr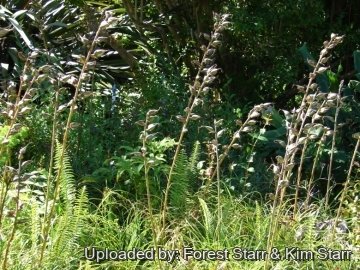 Infructescences at Enchanting Floral Gardens of Kula, Maui, Hawaii (USA). October 24, 2007.
Photo by: Forest Starr & Kim Starr
Cultivation and Propagation: Puya mirabilisSN|28782]]SN|28782]] is a compact and carefree fast growing bromeliad not parcularly ornamental most of the year, but one of the fastest blooming.
Growing substrate: This bromeliad needs a well drained soil mix comprising equal parts of well rotted compost, coarse river sand (or pumice) and loam and can remain in the same position for many years.
Watering: It enjoys regular moisture, once per week during the summer growing period, but reduce watering in winter to once every two or three weeks, but like all Puyas, it's very tough and drought tolerant. Requires complete and perfect drainage. Give it excellent drainage.
Feeding: Apply a very weak liquid feed every month or so over the growing season and a mild solutions (one-quartet strength) of foliar fertilizer at 3-month intervals to both garden and container plants. Apply fertilizer to leaves, roots, and reservoir.
Hardiness: USDA Zones: 9-11, Hardy to -6° C. North of Zone 9, this bromeliad is grown in containers that must be overwintered indoors.
Pest & diseases: No serious insect or disease problems. Watch for aphids and scale. Mealybugs infestations are also a frequent problem. Rot may develop if soil is kept too moist.
Tip: Remove old leaves from plant base and dead flower spikes only. Remove older plant crown when it begins to fade. Container grown plants should be re-potted every other year for good growth when new growth starts in the spring, but only need to be divided every seven or eight years when flowering performance starts to diminish.
Use: In warm and temperate climates grow it as a groundcover or accent. in desert or alpine gardens, mixed borders, courtyard gardens, raised beds and rockeries. The plant makes a good potted plant and can be bonsaied it can also be cultivated as a house plant or patio container filler.
Propagation: Puya mirabilisSN|28782]]SN|28782]] is propagated by division of offsets and from seed. The offsets can be detached and repotted when they have reached the dimension of one third of the mother plant. Be sure to provide high humidity for a month after propagating the offsets. Fresh seed germinates in as little as 14 days from sowing. remove seeds from inflorescence and lay them uncovered on a bed of of pumice grit; keep constantly but moderately moist. Starting from the seed, 2-4 years are needed for the blossoming, very quick for a Puya, whilst at least 2 years are needed by division.