Donate now to support the LLIFLE projects.
Your support is critical to our success.
Since 4 Aug 2013
Accepted Scientific Name: Vriesea geniculata (Wawra) Wawra
Bot. Ergebn. 156 (1866) Wawra
Vriesea glaziouana Photo by: Forest Starr & Kim Starr
Flowering habit at Enchanting Floral Gardens of Kula, Maui, Hawaii (USA). August 03, 2010.
Origin and Habitat: Brazil, State of Rio de Janeiro, it is endemic to a small area near Copacobana.
Habitat: Vriesea glaziouana is a lithophytic plant that grows on rocky cliffs near sea level mostly or in cracks on the rocks with little organic matter. Each plant establishes its own micro habitat, with the gradual build up of humus, mosses and lichens around the root system providing a store of water and nutrients in addition to the reserves held in the copious leaf bases and vases. Three other large rupicolous species are often found in the same mountains, Vriesea nahoumii, Vriesea imperialis and Vriesea regina. However, each of these species occupies a different part of the ecosystem.
Ecology: It is often pollinated by bats that fly between the isolated populations, but also attract a profusion of other flying animals like bees, butterflies and birds.
Synonyms:
See all synonyms of Vriesea geniculata
Accepted name in llifle Database:
Vriesea geniculata
(Wawra) Wawra
Bot. Ergebn. 156 (1866)
Synonymy: 7
Description: Vriesea glaziouana is one of the largest bromeliads of the world flowering several metres high. The long-lasting flower stalk is very showy and resembles an ornate, upright chandelier.
Rosette: Basal, broad funnel form with about 50 leaves congregate at the base to form a broad "tank" that accumulates water and forest debris for nourishment. Mature rosette produce one or few small "pup" plants at their base. After flowering, the rosette will degrade and eventually die, allowing the young pup offshoots to replace it.
Sheaths: Broadly elliptic, leaflike, 25 cm long and 17 -19 cm wide, densely and minutely brown-lepidote on both sides, pale coloured.
Leaves: 65-100 cm long, 9-14 cm wide, suberect-arcuate narrowly triangulate-attenuate, not narrowed at base, glabrous and green on both sides but the inner ones with narrow, white-cretaceous cross-bands.
Scape: Very thick, about 100 cm long, 2-3 cm in diameter, rigid, erect, longer than the leaves. Reddish to red, glabrous; with suberect bracts, concealing the scape, distinctly longer than the internodes, reddish and white-cretaceous toward base, green toward apex, the basal ones foliaceous, the upper ones resembling the basal primary bracts.
Inflorescence: Paniculate, erect, sub-densely bipinnate, 70-90 cm long, 50-60 cm in diameter, floral branches 12-15, not geniculate, the basal ones up to 30 cm long, with 12-20 flowers. Floral bracts suborbicular, broad rounded, not at all incurved nor inflated, obtuse carinate, to 28 mm long et 35 mm wide, shorter than the sepals.
Flowers: Suberect to spreading, distichous, up to 95 mm long, very fragrant; Sepals slightly acute, to 35 mm long, not at all carinate. Petals from milky to yellowish, barred, to 33 mm longer than the sepals, with one ligule in 2 parts. Stamens equalling the petals but exposed at anthesis; Anthers linear, 15- 18 mm long, base and apex obtuse, fixed near the base; style surpassing the anthers, ca. 10 cm long; Stigma simple-erect, white, blades spreading 3 mm long. Peduncle 10-13 cm long, about 8 mm in diameter, rigid, reddish, glabrous, bearing 2 to 3 sterile bracts.
Blooming season: Early to mid-spring over a 5-month flowering period.
Fruits: Capsule.
Seeds: Seeds with coma. Be aware that in vrieseas the seeds will float on the wind if you don´t bag the seed heads, but there is variation in the distance which seeds of various species will be carried by the wind. Vriesea geniculataSN|28787]]SN|28787]] and Vriesea regina appear to have heavier seeds which do not float as far on the wind.
Bibliography: Major references and further lectures
1) Forest & Kim Starr "Vriesea glaziouana (Bromeliad)". Plants of Hawaii. <http://www.starrenvironmental.com>. Downloaded on 20 August 2014.
2) David H. Benzing "Bromeliaceae: Profile of an Adaptive Radiation" Cambridge University Press, 06/Apr/2000
3) Klaus Kubitzki, H. Huber "Flowering Plants. Monocotyledons: Alismatanae and Commelinanae (except Gramineae)" Springer Science & Business Media, 27/Aug/1998
4) Ulrich Baensch, Ursula Baensch "Blooming bromeliads" Tropic Beauty Publishers, 1994
5) Smith, L.B. & R. J. Downs. "Tillandsioideae (Bromeliaceae)" Part II. Flora Neotropica, Monograph 14(2): 663–1492 1977.
6) Giuseppe Mazza "Vriesea glaziouana" Foto Mazza http://www.photomazza.com > Web. 19 Sep. 2014.
7) "Flora Neotropica" Ed.14, Part 1 Organization for Flora Neotropica, 1974
8) Reinert, F. and S.T. Meirelles. "Water acquisition strategy shifts in the heterophylous saxicolous bromeliad, Vriesea geniculata (Wawra) Wawra." Selbyana 14: 80–88 1993
9) Christoper Brickell (Editor-in-chief) "RHS A-Z Encyclopedia of Garden Plants." Third edition. Dorling Kindersley, London 2003
10) Adda Abendroth "VRIESEAS AROUND TERESOPOLIS, BRAZIL" The Bromeliad Society Buletin" 17(3): May-June 1967
11) Wikipedia contributors. "Vriesea." Wikipedia, The Free Encyclopedia. Wikipedia, The Free Encyclopedia, 6 Jul. 2014. Web. 18 Sep. 2014.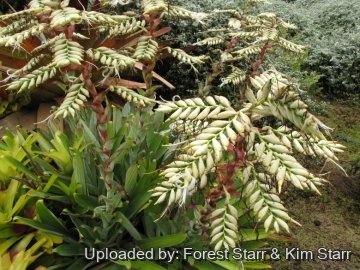 Flowering habit at Enchanting Floral Gardens of Kula, Maui, Hawaii (USA). August 03, 2010.
Photo by: Forest Starr & Kim Starr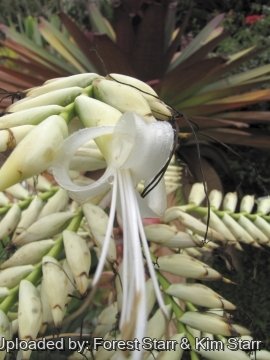 Flower at Enchanting Floral Gardens of Kula, Maui, Hawaii (USA). August 03, 2010.
Photo by: Forest Starr & Kim Starr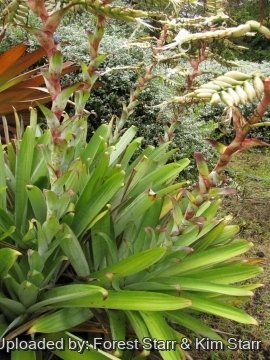 Flowering habit at Enchanting Floral Gardens of Kula, Maui, Hawaii (USA). August 03, 2010.
Photo by: Forest Starr & Kim Starr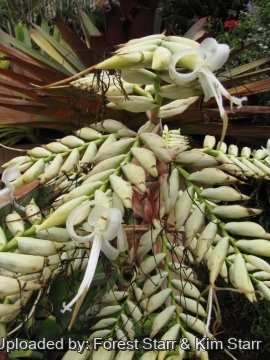 Flowering habit at Enchanting Floral Gardens of Kula, Maui, Hawaii (USA). August 03, 2010.
Photo by: Forest Starr & Kim Starr
Cultivation and Propagation: Vriesea glaziouanaSN|28790]]SN|28790]] is a bromelid of remarkable ornamental value, and of great landscape effect, due to its very informal foliage and the showy colour of the long summer inflorescence which lasts for some months. In late summer the flowering has finished, but colourful fruits start to develop in their place. These enlarge throughout the summer, adding their own purple splash of colour to the garden. In garden situations it is easily grown as a terrestrial or container plant, it is very durable and seems to thrive without a great deal of care.
Growing substrate: This bromeliad is typically grown in the ground in virtually any soil, but prefer free draining soil or in containers filled with very aerated, gravel/rock and rich of organic substance substrata. Perfect drainage is a must. It is easily transplanted; however, it can also be grown in a garden bed, where it will form big specimens.
Exposition: In the garden Vriesea glaziouanaSN|28790]]SN|28790]] grow well in full sun with direct mid-day sun in hot summer climates, but will also grows equally well in half sun where it will get morning sun. Full sun produces the best leaf colour and form, even with the green types. In tropical conditions some burning may occur in the middle of summer, but in temperate climates burning is rare, unless the plants have not been acclimatised before planting out. Too much shade will cause leaves to look thin and leggy.
Watering: It enjoys constant moisture from rain or sprinkler and with high local humidity. In summer the plants grow best with high humidity. In summer if the temperatures are over the 18°C, some distilled water can be left in the central cavity formed by the rosette of leaves, renewing it frequently to avoid the formation of a mosquito larvae nest, whilst with lower temperatures and in winter it is better to leave it dry, thus avoiding possible rottenness. In presence of dry air and high temperatures, humidity can be incremented with nebulisations, whilst in winter with low temperatures it is better to leave it quite dry for avoiding possible rottenness.
Feeding: Apply a very weak liquid feed every month or so over the growing season and a mild solutions (one-quartet strength) of foliar fertilizer at 3-month intervals to both garden and container plants. Apply fertilizer to leaves, roots, and reservoir.
Salt aerosol hardiness: They are completely resistant to salt spray and wind, coping with near cyclone conditions even when planted in an exposed position.
Hardiness: It must be grown in a frost-free situation in open air in in the tropical and humid subtropical climates, with temperatures which it is good to keep over the 10° C, best 20-24°C. However its cultivation can be tried also in the warm temperate climates, in sheltered position, as it is surprisingly cold hardy, coping with up to frosts of several degrees. However young plants may be frost burnt. Winter hardy to USDA Zones (9b-)10-11. North of Zone 10 this bromeliad is usually grown in containers that must be overwintered indoors.
Pest & diseases: No serious insect or disease problems. Watch for aphids, thrips and scale. It is susceptible to mosquitos that will sometimes breed in the pools of water that are trapped between the leaves. Mealybugs infestations are also a frequent problem. Rot may develop if soil is kept too moist.
Tip: Remove old leaves from plant base and dead flower spikes only. Remove older plant crown when it begins to fade.
Use: The plant can be cultivated When planted against plants with darker foliage, it really stands out. The common cultivar 'Rubra' has burgundy leaf undersides and occasionally flushes of red on upper leaf surfaces, depending on the individual plant.
Propagation: From seed, pups and tissue culture. When the flower fades, pups appear from axillary gemmae between the leaves near the base of the plants. The offsets can be detached and repotted. Be sure to provide high humidity for a month after propagating the offsets.
The seeds can be removed from the inflorescence and placed uncovered on a bed of crushed tree fern fibres; keep constantly but moderately moist. Starting from the seed, 9 -15 years are needed for the blossoming, whilst at least 7 years are needed by division. The wide scale reproduction for commercial purposes is done by micro-propagation. Of course tissue culture and pup production, being vegetative, ensures that the plants will be the same colour as their mother. Tissue culture can produce unlimited numbers of plants, but even pup production is prolific.