Donate now to support the LLIFLE projects.
Your support is critical to our success.
Since 4 Aug 2013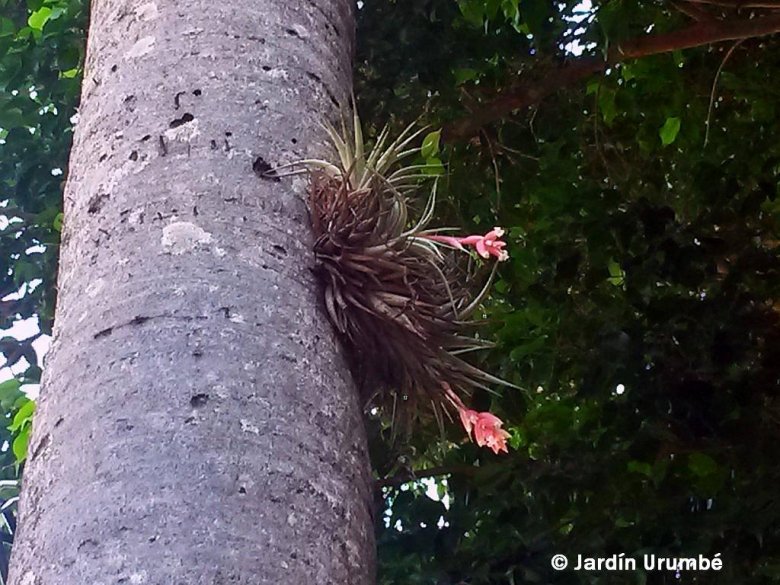 Tillandsia recurvifolia Photo by: Alexander Arzberger
Origin and Habitat: Bolivia, Eastern Brazil, Paraguay, Uruguay, northeastern Argentina.
Altitude range: Up to 2200 metres above sea level.
Habitat and ecology: Tillandsia recurvifolia grows as an epiphite on trees and other plants in tropical dry areas but will grow on almost anything.
Synonyms:
See all synonyms of Tillandsia recurvifolia
Common Names include:
ENGLISH:
Tillandsia, airplant
Description: Tillandsia recurvifolia is a is a remarkably pretty and deliciously small, stemless, epiphyte bromeliad with very glaucous and very much recurved leaves that grows in clusters without soil and without roots over trees and shrubs. It can reach heights of 15 to 30 centimetres. The long-lasting, inflorescence is an almost sessile and nearly ovate spikes of white flowers that force back the rose coloured bracts and protrude a very little beyond them.
Rosettes: Often spiralled to one side.
Leaves: Radical leaves deltoid, entire and sessile, copious densely imbricating at their broad base and thence becoming lanceolate-subulate 7-10 cm long channelled thickly clothed with minute scales which give them a hoary silvery, lepidote and very glaucescent appearance the interior and superior leaves which immediately surround the inflorescence are more erect less glaucous but broader in proportion to the length at their base.
Inflorescence: Scape very short leafy terminated by a broad ovate spike or capitulum of flowers laxly imbricated with, brilliantly colored, large broad oblong very acute rose to carmine-red coloured scales or floral bracts sometimes with white lepidote tips.
Flowers:* The white flowers force back the rose coloured bracts and protrude a very little beyond them. Calyx of three erect imbricating almost mucronate sepals nearly as long the corolla united into a tube at the base. Petals pure white with a spathulate limb and broad white claws. Stamens as long as the claws. Filaments linear subulate crisped and tortuose above the middle Anthers small linear. Ovary ovate tapering into a thickened style and terminated by three cuneate nearly erect stigmas [1].
Fruits: Septicidal capsules.
Bibliography: Major referemces and further lectures
1) William Curtis "The Botanical Magazine: Or, Flower Garden Displayed Etc", Volume 87 Couchman, 1861
2) Ulrich Baensch, Ursula Baensch "Blooming bromeliads" Tropic Beauty Publishers, 1994
3) "Magazine of Horticulture, Botany, and All Useful Discoveries and Improvements in Rural Affairs", Volume 27 Hovey., 1861
4) Supasak Noomak, Juntakan Taweekun, and Kuaanan Techato "The Annual Trend of Solar Radiation Reduction through the Air Plant Green Roof in the South of Thailand" Int'l Journal of Advances in Agricultural & Environmental Engg. (IJAAEE) Vol. 3, Issue 1 (2016) ISSN 2349-1523 EISSN 2349-1531
5) Walter Erhardt, Erich Götz, Nils Bödeker, Siegmund Seybold "Der große Zander". Eugen Ulmer KG, Stuttgart 2008, ISBN 978-3-8001-5406-7. (Ger.)
6) Christoper Brickell (Editor-in-chief): "RHS A-Z Encyclopedia of Garden Plants". Third edition. Dorling Kindersley, London 2003, ISBN 0-7513-3738-2.
7) Tillandsia recurvifolia 14 August 2013, at 08:02. in: Hortipedia web: http://en.hortipedia.com/wiki/Tillandsia_recurvifolia
Cultivation and Propagation: Tillandsia recurvifolia is dwarf in habit with glaucous recurved leaves and small white flowers which are surrounded with bright rose colored scales or bracts. It is easy to grow but sensitive to salts (alkaline water). They are suited for conservatories, as well as suited as indoor plant. When cultivated as an epiphyte the plants are mounted on a piece of bark or a branch (e.g. Taxus or Thuja) and the roots are wrapped in Sphagnum moss. This air plant has beautiful silvery leaves and can tolerate high light levels.
Fertilization: For healthy growth apply a liquid fertilizer low in nitrogen at ¼ concentration monthly during growth.
Watering: Mist regularly in summer.
Exposition: In summer the plants prefer protection from hot midday sun.
Uses: Tillandsia recurvifolia is a kind of air plant which can be used as green roof. The increasing of green space by growing such plants on the roof can help in the reduction of temperature in the house. The plant can survive from using the dust in the air as fertilizer without demanding from soil and also can using moisture in the air as water. [4]
Hardiness: They tolerate temperatures only above at least 1°C (USDA zone 10), bot for safe cultivation in winter temperature in winter should be 15°C.
Pest and diseases: Honeydew, galls and distorted leaves are a sign for an infestation with aphids.
Propagation: This species may be increased by division. Also by sowing in spring at 27 °C.