Donate now to support the LLIFLE projects.
Your support is critical to our success.
Puya raimondii
Notizbl. Bot. Gart. Berlin-Dahlem 10: 213 1928.
Family: BROMELIACEAE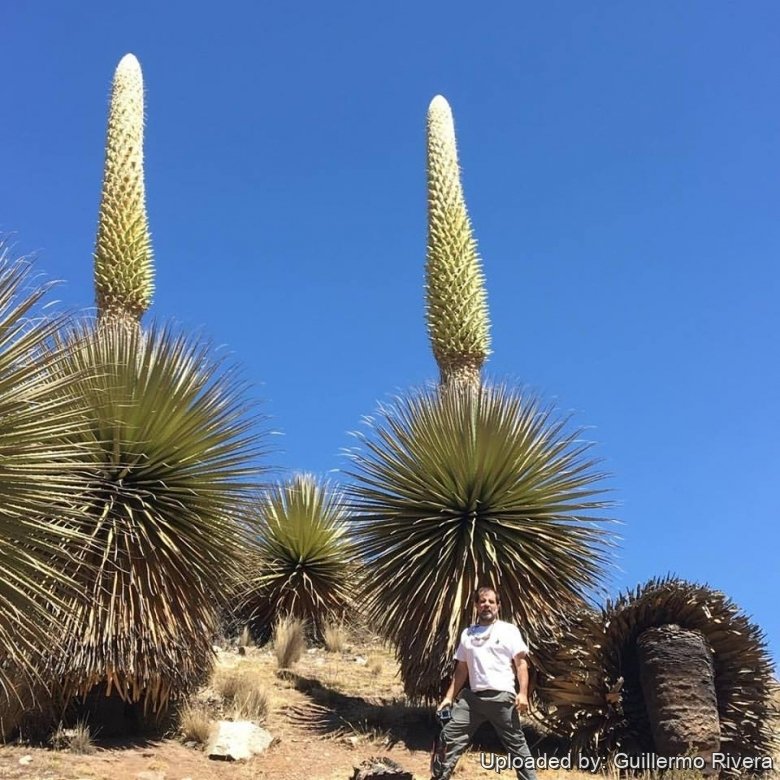 Puya raimondii Photo by: Guillermo Rivera
Origin and Habitat: Puya raimondii occurs in often very isolated and usually small populations from Peru to Bolivia. Communities frequently number a few hundred individuals or less, but can range up to perhaps 30,000 plants. In Titankayoc in southern Peru's Ayacucho, however, there is a site of several thousand hectares which contains, depending on source, an estimated 250,000 to at least 450,000 plants. Outside its habitat, there appear to be no more than two dozen mainly small specimens in perhaps half a dozen botanical gardens. The number of these plants in Peru may number 800,000 individuals. Bolivia is estimated to have 30,000-35,000 plants [3].
Altitude range: This species ranges from 3,000 m up to 4,800 m (both extremes occur in Bolivia)
Habitat and ecology: Puya raimondii grows at hight altitudes where, air temperatures range from very cold (as low as -20ºC or less) to an estimated maxima of 8–24ºC. Precipitation, as rain, hail or snow falls mainly from October to March (summer). The ground is almost invariably rocky and usually sloping and friable. Drainage requirements or an inability to compete with other flora in more fertile land may account for the rarity of P. raimondii in damp gullies although a few specimens have been seen close to standing water. In the wild, these plants seem to be exceedingly choosy about where they grow. Still less clear is why a plant known to thrive in very different ex-situ conditions confines itself to a single spot on a mountainside when surrounded by seemingly similar terrain; or why population densities can vary considerably among and within communities. The plant is monocarpic and in habitat seeds only once in about 40 to 80 or more years before dying (In cultivation in warmer and more favourable climates it may bloom in only 30 years). The mother plant gives all for her offspring – every bit of energy is pumped into the next generation of seeds. Although a mature Puya will produce 8–12 million seeds and viability is usually good, inclement montane conditions at the time of dispersal can result in few if any germinations. Moreover, seeds can begin to lose germinating ability after a few months and are also susceptible to damping-off. Because of these factors, a century-old plant may not reproduce at all and will, botanically, have lived in vain. The species is officially considered endangered in Peru. The Puya is susceptible to threatening events because its communities are generally small and very isolated from each other. The major risk in most communities is due to human impact including repeated fires to generate or maintain pasture land and usage as fuel or building material by local populations [3] [19].
Synonyms:
See all synonyms of Puya raimondii
Accepted name in llifle Database:
Puya raimondii
Harms
Notizbl. Bot. Gart. Berlin-Dahlem 10: 213 1928.
Synonymy: 2
Common Names include:
ENGLISH:
Queen of the Andes, Queen of the Puna Spanish, Puya de Raimondi
CANTONESE (粵語):
普雅花
CHINESE (中文):
萵氏普亞鳳梨
CZECH (Čeština):
Puja Raimondova
ESTONIAN (Eesti):
Raimondi puia
FINNISH (Suomi):
Puija
ITALIAN (Italiano):
regina delle ande
JAPANESE (日本語):
プヤ・ライモンディ
POLISH ( Polski):
Puja Raimondiego
PORTUGUESE (Português):
Titanca, Puia
QUECHUA (Runasimi / Qhichwa simi):
Puya, Kara, Tikatika, Santun, Qishqi, Puwa, T'ikanka, Chukiqayara, Titanka
RUSSIAN (Русский):
Пуйя Раймонди
SPANISH (Español):
Puya de Raimondi, puya titanca
UKRAINIAN (Українська):
Пуйя Раймонда
Description: Puya raimondii is not only the largest of the Puya species, but also the largest and most impressive representative species of bromeliad and it comes into bloom at upwards of 50 to 80 years or more of age. They are a very large plant that can reach 3 m tall in vegetative growth, with a rosette of around a hundred sword-like leaves up to 1.5 meters in length topping a trunk up to 1.2 meters thick. They have intimidatingly barbed leaves, which dies after its one and only flowering. It blooms for several month, sending up a stalk of fairy-tale proportions.The trunk, peduncle and inflorescence together can reach as much as 15 meters in total height. The sluggish growth and the fact that it flowers once in a lifetime are the cause, among others, of it seeming to face extinction. [1] [2]. Puya raimondii is rivalled only by members of the Ceroxylon alpinum palm genus as the most spectacular high-Andean plant [3].
Derivation of specific name: The specific name of raimondii commemorates the 19th-century Italian scientist Antonio Raimondi who discovered this species and published it as Pourretia gigantea in1874 [5][6] but the book had little distribution outside Peru and the plant remained unknown to the larger world. In 1928, the name was changed to Puya raimondii by the German botanist Hermann Harms [7] when he saw the earliest known photograph of the species, and realized that something remarkable had been overlooked. He prepared a fresh description because Raimondi's description was deficient in several ways.
Inflorescence: A spiciform panicle 5 to 7 meters in length and even 9 meters with a width of 1.5 meters [22], and bearing between 8,000 [20] and 20,000 [21] flowers, and a total of six million seeds from each plant. Like most bromeliads, it is a monocarp and dies soon after flowering and fruiting.
Bibliography: Major references and further lectures
1) F.Vandenbroeck. "The genus Oroya" Succulenta 4.60.1980
2) "The Chileans '87" Volume 13 Number 45
3) Lambe, A. 2009. Puya raimondii. "The IUCN Red List of Threatened Species 2009": e.T168358A6482345. http://dx.doi.org/10.2305/IUCN.UK.2009-2.RLTS.T168358A6482345.en. Downloaded on 09 April 2017.
4) Brako, L. and Zarucchi, J.L. 1993. "Catalogue of the flowering plants and gymnosperms of Peru." Monographs in Systematic Botany from the Missouri Botanical Garden 45: 1-1286.
5) CDC (Centro de Datos para la Conservación). 1998. "Estado de conservación de Puya raimondii (Harms): evaluación y sugerencias para un plan de acción." CDC-Bolivia (Centro de Datos para la Conservación/TROPICO), La Paz.
6) Fjeldså, J. and Kessler, M. 1996. "Conserving the biological diversity of Polylepis woodlands of the highland of Peru and Bolivia." NORDECO, Copenhagen.
7) Givnish, T.J. Millam, K.C., Evans, T.M., Hall, J.C., Pires, J.C., Berry, P.E. and Sytsma, K.J. 2004. "Ancient vicariance or recent long distance dispersal? Inferences about phylogeny and South American – African disjunction in Rapateaceae and Bromeliaceae based on n dhF sequence data." International Journal of Plant Sciences 165: S35-S54.
8) Hartmann, O. 1981. "Puya raimondii cada vez son menos." Boletín de Lima 10: 79-83.
9) Horres, R., Zizka, G., Kahl, G. and Weising, K. 2000. "Molecular phylogenetics of Bromeliaceae: Evidence from trnL (UAA) intron sequences of the chloroplast genome." Plant Biology 2: 306-315.
10) Ibisch P., Dingler B., Obando, G., Soria A. and Beck S. 1999. "Puya raimondii (Harms) in Bolivien — ein Fall für den Artenschutz? Sonderheft Die Bromelie".
11) Kaiser R. 2004. "Vanishing flora—lost chemistry: the scents of endangered plants around the world." Chem. Biodiversity 1(1): 13-27.
12) Müsch, R. 1996. "Plans to save Puya raimondii in Bolivia". Plant Talk 19 (October 96): 23.
13) Rivera, C.A. 1985. "Puya raimondii Harms." Boletìn de Lima 38: 85-91.
14) Sgorbati, S., Labra, M., Grugni, E., Barcaccia, G., Galazo, G., Boni, U., Mucciarelli, M., Citterio, S., Benavides Iramátegui, A., Venero Gonzales, S. and Scannerini, S. 2003. A "Survey of Genetic Diversity and Reproductive Biology of Puya raimondii (Bromeliaceae), the Endangered Queen of the Andes".
15) Terry, R.G., Brown, G.K. and Olmstead, R.G. 1997. "Examination of subfamilial phylogeny in Bromeliaceae using comparative sequencing of the plastid locus ndh" F. American Journal of Botany 84: 664-670.
16) Venero, J.L. and de Macedo, H. 1983. "Relictos de bosques en la puna del Perú." Boletín de Lima 30: 19-26.
17) Villiger, R. 1981. "Rodales de Puya raimondii y su protección." Boletín de Lima 10: 84-91.
18) El Perú, vol. 1, page 297. "Puya. Una espinosa realidad (Puya. One Thorny Reality)"
19) Martin Cardenas April 1988 "The Inflorescence", newsletter of the South Bay Bromeliad Associates.
20) Antonio Raimondi, "EL PERU" (Lima: Imprinta del Estado, 1875) Vol. 1 pp. 295-297.
21) Anthony Huxley, "PLANT AND PLANET" (New York: Viking 1974) p. 143.
22) Janet Marinelli, "PLANT" (New York: D.K. Publishing, 2005) Photo p. 415 with adult human figure.
Cultivation and Propagation: Puya raimondii is thought to require very specific growing conditions: high
altitude, dry winters, and excellent drainage [19]. But it proven able to grows and even thrive in quite different conditions (low altitude, high humidity, high temperature) in which maturity can be reached in half the time needed in the wild, that makes the plant a candidate for a range of environments. [3]