Donate now to support the LLIFLE projects.
Your support is critical to our success.
Since 4 Aug 2013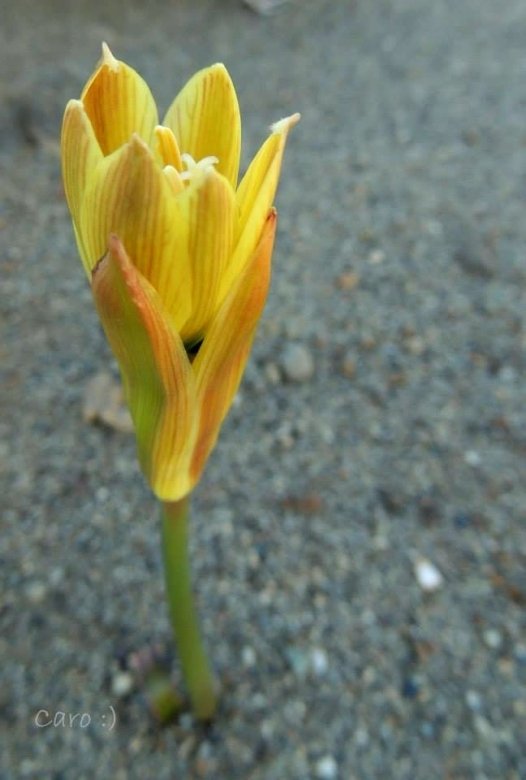 Rhodophiala mendocina Photo by: Carolina González
In habitat. (Neuquén province, Argentina)
Origin and Habitat: Rhodophiala mendocina is native to Mendoza and northern Patagonia (Neuquen) in Argentina.
Altitude range: 1000-2000 metres above sea level.
Habitat: In Mendoza it is found in dryish volcanic sandy places.
Synonyms:
See all synonyms of Rhodophiala mendocina
Accepted name in llifle Database:
Rhodophiala mendocina
(Phil.) Ravenna
Pl. Life 26(1): 87. 1970
Synonymy: 3
Common Names include:
SPANISH (Español):
Cebolla de zolla, Azucena del campo, Cebolla de la zorra
Description: Rhodophiala mendocina is a summer growing perennial herbaceous geophyte 12-25(-30) cm tall. It produces umbels of cool goblet shaped lime-yellow flowers before the leaves.
Bulb: 4-6 cm long, up to 4 cm across covered in dark tunics. Neck up to 18 cm long.
Leaves: 1-3 appearing after the flowers (exceptionally before flowering), up to 20-(25) cm long, 3-5 mm wide, linear, pointed and channelled.
Inflorescence: Flower stalk 10-15 cm long x 5-7 mm in diameter bearing 3-5 flowered spathes. Spathe 4-5 cm long, dirty white, divided into two bracts. Rhodophiala andicola is similar, but this species produce 1 flowered spathes.
Flowers: Crowded, erect, zygomorphic, with unequal pedicels up to 2.5 cm long sulphur to lime-yellow with a green base, open goblet shaped, 30-42 mm long. Outer tepals 40-45 mm long, 12-13 mm wide, the innermost somewhat smaller. Stamens unequal. Anthers 3-5 mm long. Style straight, stigma divided into three lobes, each up to 1.5 mm long.
Blooming season: Summer.
Fruit: Capsule.
Seeds: Black, flat, up to 9 mm in diameter.
Bibliography: Major references and further lectueres
1) Traub, H. P. 1956. "The genera Rhodophiala Presl and Phycella Lindl.: key to the species and synonymy." Pl. Life 12(1): 67–76.
2) Zuloaga, F. O., O. Morrone, M. J. Belgrano, C. Marticorena & E. Marchesi. (eds.) 2008. "Catálogo de las Plantas Vasculares del Cono Sur (Argentina, Sur de Brasil, Chile, Paraguay y Uruguay)." Monogr. Syst. Bot. Missouri Bot. Gard. 107(1): i–xcvi, 1–983; 107(2): i–xx, 985–2286; 107(3): i–xxi, 2287–3348.
3) Diego Cabral "Plantas nativas de Mendoza" 2009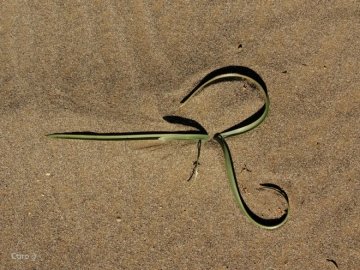 Rhodophiala mendocina
Photo by: Carolina González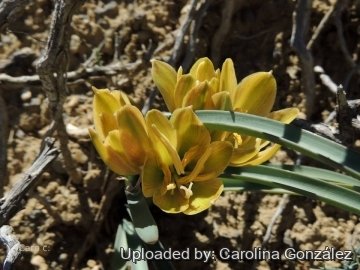 Rhodophiala mendocina
Photo by: Carolina González
Cultivation and Propagation: Rhodophiala mendocina is certainly a beautifully delicate plant that merits cultivation. Lots of light and good drainage are a must.
Soil: It should be potted in a mixture of peat sand and loam and protected in a cold frame.
Water: Do not over water.
Maintenance: Deadhead the flowers and only keep the seed pods you will require for further propagation of your Rhodophiala. This will prevent the bulb to age too soon.
Use: They make superb rock garden plants as well as being perfect for pots and containers.
Propagation: It may be propagated by seeds and probably by division of bulbs. Sow them during autumn, in a mix of equal parts of compost, regular garden soil and sharp river sand. Cover this mix with a layer of sand, distribute the seeds and spread some more sand over them to barely cover the seeds. Place your sowing pan in a cold frame or cold greenhouse if you have heavy rain in your area. If you have snow, place the sowing pan outdoors and let nature do its work. The seedlings can be transplanted once they are 5 cm tall.