Donate now to support the LLIFLE projects.
Your support is critical to our success.
Since 4 Aug 2013
Ornithogalum narbonense Photo by: Amante Darmanin
Southern star of Bethlehem. Armier, Malta. 22-03-2017
Origin and Habitat: Ornithogalum narbonense is one of the most common Ornithogalum species in the Mediterranean Basin, the Balearic and Canary Islands, Turkey, Armenia and northwestern Iran.
Altitude range: In the south-east of its range it can be found at an altitude of 0–3,000 metres above sea level; in Crete at 0–1,150 metres.
Habitat and ecology. Ornithogalum narbonense is an ephemeral (summer shedding) geophyte that grows on sandy or clayey soils in woodlands and garrigas (open scrublands with evergreen shrubs, low trees, aromatic herbs, and bunch of grasses), semi-steppe shrublands, shrub-steppes, deserts and extreme deserts, montane vegetation, fields and grassy and dry areas, waste ground, edges of roads and in rocky terrains, vineyards and olive groves. Some plants develop leaves and flowers in years with very little rainfall. The flowers are pollinated by insects. The seeds are disseminated by the wind.
Synonyms:
See all synonyms of Ornithogalum narbonense
Common Names include:
ENGLISH:
Narbonne star-of-Bethlehem, pyramidal star-of-Bethlehem, southern star-of-Bethlehem,
ARABIC ( لعربية ):
صاصل ناربوني, نجمة بيت لحم
CATALAN (Català):
pipiu blanc, calabruixa, lliri bord, lliri de Sant Pere
FRENCH (Français):
ornithogale de Narbonne
GERMAN (Deutsch):
Narbonne-Milchstern
HEBREW (עברית):
נץ-חלב צרפתי
PERSIAN (فارسی):
شیرمرغ فرانسوی
POLISH ( Polski):
Śniedek narboński[edytuj]
RUSSIAN (Русский):
Птицемлечник нарбоннский
SPANISH (Español):
varita de San José, ornitogalo de Narbona, leche de cisne, calabrujas, ajos de lobo, ajo de lobo
SWEDISH (Svenska):
Fransk stjärnlök
Description: Ornithogalum narbonense is a greenish-grey herbaceous perennial flowering plant with underground bulbs, belonging to the genus Ornithogalum of the Asparagaceae family. It reaches on average 40–50 centimetres of height, with a maximum of 70(-80) centimetres. The starry white flowers have a green stripe on the reverse of each petal and are arranged in a narrow and long spike up to 25 cm long.
Derivation of specific name: The species name narbonense refers to the French town of Narbonne.
Bulb: The bulbs are ovoid 2-2.5 cm in diameter, covered with grey-white tunics. The bulbs are situated 10 to 15 cm below the soil surface.
Stem: The floral stem is erect, shorter than the stem and can reach 60 cm..
Leaves: Fleshy, lance-shaped, very lengthened, narrow, channelled beneath, 20-40 cm long, 8–15 millimetres wide greenish-grey to dull blue-green and not faded or dried up at flowering time.
Inflorescence (raceme): Pyramidal, elongated, with 25-50(-75) spirally arranged, hermaphrodite flowers, opening at the bottom first and then towards the top, the flowers closing up against the stem once more as the fruit develop.
Flowers: Up to 2.5 cm in diameter upright and scentless. Pedicel 1.5 cm long. Each flower has a long bract of 1–2 centimetres that cover the flower bud, and six star-shaped milky white petals 11-14 mm long, bearing a pale green central vein, while the buds are oval, with longitudinal green and white stripes. The six stamens have a white filament holding yellow anthers of 4 millimetres.
Blooming season: Spring. In habitat the flowering period extends from March through June.
Fruits: The fruit is a green,ovate, 3-valve capsule, 2.5 to 5 mm long with 5 to 7 seed per compartment.
Seeds: Pigmented granular-papillose.
Chromosome number: The Narbonne milk star is hexaploid with a chromosome number of 2n = 54 (different counts between 2n = 49 to 61).
Bibliography: Major references and further lectures
1) Pignatti S. "Flora d'Italia" Edagricole – 1982 Vol. III, pg. 372
2) Wikipedia contributors. "Ornithogalum narbonense." Wikipedia, The Free Encyclopedia. Wikipedia, The Free Encyclopedia, 2 Oct. 2016. Web. 28 Mar. 2017.
3) Blamey, M.; Grey-Wilson Chr. "Flores Silvestres del Mediterráneo." Barcelona:Omega.2008
4) Flowers in Israel "Ornithogalum narbonense, Southern star of Bethlehem, Narbonne Star-of-Bethlehem, Hebrew: נץ-חלב צרפתי, Arabic: نجمة بيت لحم" web: http://www.flowersinisrael.com/Ornithogalumnarbonense_page.htm
5) Yitzchak Gutterman "Regeneration of Plants in Arid Ecosystems Resulting from Patch Disturbance" Springer Science & Business Media, 14 March 2013
6) Neil Fletcher "Mediterranean Wildflowers" Dorling Kindersley Ltd, 01 May 2008
7) "Light on a New World", Volume 18, 2003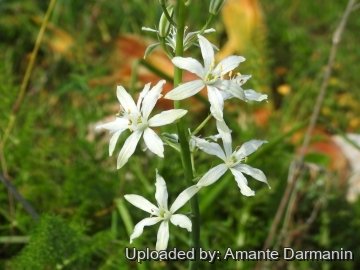 Ornithogalum narbonense, Southern star of Bethlehem. Armier, Malta. 22-03-2017
Photo by: Amante Darmanin
Send a photo of this plant.
The gallery now contains thousands of pictures, however it is possible to do even more. We are, of course, seeking photos of species not yet shown in the gallery but not only that, we are also looking for better pictures than those already present.
Read More...
Cultivation and Propagation: The elegance of the clusters of flowers make it a decorative plant in a garden.
Uses: This species may be edible. The bulbs are used in cooking. Some English translations have "seed pods' but generally it is assumed the reference was to the bulbs of Ornithogalum narbonense being eaten when there was nothing else to eat.