Donate now to support the LLIFLE projects.
Your support is critical to our success.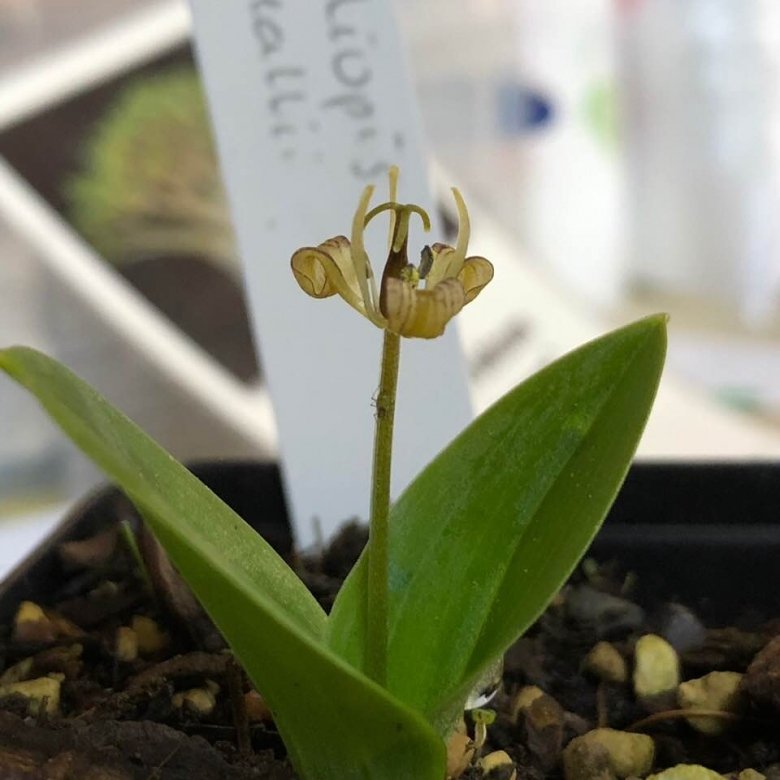 Scoliopus hallii Photo by: © Plantemania
Origin and Habitat: Scoliopus hallii is restricted to woods in southern Oregon.
Altitude range: 0-800 metres above sea level.
Habitat and ecology: This small lily may be found growing on rich humus soil in mature coniferous forest, and mossy mountain stream banks. It is known from both Coast Range and Cascades but is scattered and seldom found.
Synonyms:
Common Names include:
ENGLISH:
Oregon fetid adder's-tongue, Slink lily, Slink pod, Slink-pod, Fetid adder's-tongue
Description: Scoliopus hallii is a nearly acaulescent glabrous woodland lily, with a short fibrous-rooted rootstock. One to five leafless stalks each bear a single smallish, ill-scented, greenish flower with mottled and veined outer sepals, and the inner wiry petals overarch the centre of the flower. Though the flowers of Scoliopus do have a carrion-like odour (no doubt to attract their fly pollinators), our visual sense is utterly charmed by this dainty plant. Ecologically and morphologically S. hallii is very similar to Scoliopus bigclovii. Brandegee for instance regarded the former only as a "geographical variation" of the latter.
Stems: Very short, subterranean, 2.5–10 mm long.
Roots: Fibrous.
Leaves: Basal leaves 2(–3), subsessile; oblong-elliptic, obtuse and mucronate at apex, sheathing at base below the surface of the ground, rarely mottled with purplish-brown, (6-)8–14(-20) cm long, 2.5–5 cm wide, many-nerved with transverse veinlets.
Inflorescence: A sessile umbel. Peduncle subterranean, the 1 to several pedicels scapelike, erect, very slender, a little shorter than the leaves, and 6–10 cm long at anthesis, lengthening and recurving almost immediately thereafter.
Flowers: 1-5(-8) fetid; Perianth-segments 6, distinct, deciduous. Outer perianth-segments,
broader and longer than the inner, spreading, yellowish green with several purple lines, lanceolate to oblanceolate, 6.5–10 mm long; inner perianth-segments, 3-nerved linear-spatulate, 6–9 mm long, 0.3 mm wide erect and converging over the pistil. Stamens 3, attached at the base of the outer segments, filaments 2–4 mm long; anthers 1.9–2.3 mm long oblong, attached above the middle. Ovary sessile, style 2–2.5 mm long; stigmas 3, spreading to recurved.
Blooming season: Late winter--early spring
Fruits (Capsules): Oblong-lanceolate, brownidh, sharply 3-angled, thin-membranous, 16–18.5 long 5.5–7.5 mm, including beak. After flowering the stalk bearing the capsule is erect when the flower is present; then the stalk begins bending to the ground. At maturity the capsule simply disintegrates by decay on the ground, releasing the seeds.
Seeds: Oblong, slightly curved, sulcate-striate longitudinally.
Chromosome number: 2n = 14.
Bibliography: Major references and further lectures
1) Charles Vancouver Piper, Rolla Kent Beattie "Flora of the Northwest Coast: Including the Area West of the Summit of the Cascade Mountains, from the Forty-ninth Parallel South to the Calapooia Mountains on the South Border of Lane County, Oregon" Press of the New era printing Company, 1915
2) Scoliopus hallii in: "Flora of North America", FNA Vol. 26 Page 118 web: http://www.efloras.org/florataxon.aspx?flora_id=1&taxon_id=242101888
3) Arthur R. Kruckeberg, "Gardening with Native Plants of the Pacific Northwest" Second Edition, Revised and Enlarged, University of Washington Press, 1 October 2001
4) Le Roy Abrams, Roxana Stinchfield Ferris, "An Illustrated Flora of the Pacific States: Ophioglossaceae to Aristolochiaceae, ferns to birthworts" Stanford University Press, 1940
5) Scoliopus hallii in: Siuslaw National Forest (N.F.), Hebo Planning Unit: Environmental Impact Statement,1978
6) Scoliopus hallii in: Skrifter utgitt av Det Norske Videnskaps-Akademi: Mat.-Naturv. Klasse,1959
7) Helen Margaret Gilkey, La Rea Dennis Johnston, "Handbook of Northwestern Plants" Oregon State University Press, 2001
8) Donald C. Eastman, "Rare and Endangered Plants of Oregon" Beautiful America Publishing Company, 1990
9) Scoliopus hallii in: Washington State University, "University of Washington Publications in Biology", Volume 17, Part 1, University of Washington Press, 1971