Donate now to support the LLIFLE projects.
Your support is critical to our success.
Since 4 Aug 2013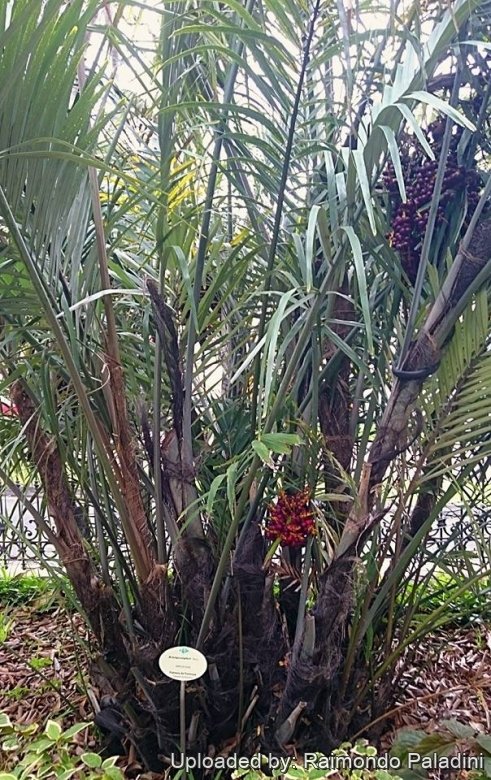 Arenga engleri Photo by: Raimondo Paladini
Growing habit at Puerto de la Cruz, Tenerife, Canary.
Origin and Habitat: It is native to Taiwan and Ryukyu Islands (south of Japan). It also has been reported from India, but widely cultivated elsewhere as an ornamental.
Altitude: Up to 850 m a.s.l.
Habitat: This palm occurs in Western Taiwanese lowlands in open places or dense lowland rain forest often on slopes.
Synonyms:
Common Names include:
ENGLISH:
Dwarf sugar palm, Formosa Palm, Taiwan sugar palm, Taiwan arenga palm, Formosan sugar palm
CHINESE (中文):
San wei zong, Xiang zong, Shan zong
FRENCH (Français):
Palmier à sucre nain, Palmier à sucre de Formose
GERMAN (Deutsch):
Zwerg-Zuckerpalme
JAPANESE (日本語):
Kurotsugu
SPANISH (Español):
Palmera de Formosa
THAI (ภาษาไทย):
Tsung, Soan-tsang, Shan-song
Description: Arenga engleri is small-growing clump-forming palm with distinctive fish-tail shaped ends to its leaves and is extremely attractive. Makes a dense clump up to 5 m wide and is considered to be among the finest landscape and cultivated palms. In cultivation it is often confused with Arenga trernula from the Philippines.
Stems: Clustered clothed by black fibrous remains, often very short up to 3 m tall and 15 cm diameter, though some may go on to the exceptional 6 metres. Semelparous (reproduce only once in its live and then die).
Leaves: Fishtail-shaped (pinnate) up to 2,4 (or more) metres long, with stalk to 80 cm, often twisting gracefully with a slight spiralling appearance and ending in a triangular leaflet; leaflets linear, dark olive-green and silvery beneath 12-20 cm long, up to 3 cm wide, induplicate (having distinctive V cross-section) with basal ears but these poorly developed, briefly lobed near the middle and toothed at the apices, regularly arranged and spreading in the same plane, 28-41 per side of rachis, silvery gray on the lower surfaces.
Inflorescences:Solitary at each node among the leaves , to 0.6 m long, with to 15 flowering branches. The inflorescences have both male and female flowers, so a single Formosa palm can produce fertile seeds by itself.
Flowers: Staminate (Male) maroon very fragrant with golden pollen. Pistillate (female) green at first.
Fruits: Globose, 1,5-2,5 cm diameter, orange to deep purple.
Seeds: 1 to 3 per fruit.
Bibliography: Major references
1) Andrew Henderson Palms of Southern Asia Princeton University Press, 27/apr/2009 page 34
2) Don Burke The Complete Burke's Backyard: The Ultimate Book of Fact Sheets. Murdoch Books, 01/nov/2005. Page 86
3) The European Garden Flora Editorial Committee. European Garden Flora: A Manual for the Identification of Plants Cultivated in Europe, Both Out-of-Doors and under Glass. Cambridge University Press, 15/mar/1984 page 71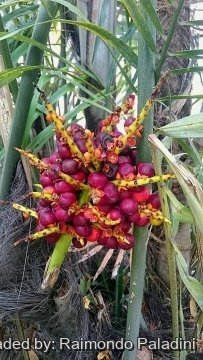 Arenga engleri at Puerto de la Cruz, Tenerife, Canary.
Photo by: Raimondo Paladini
Arenga engleri at Puerto de la Cruz, Tenerife, Canary.
Photo by: Raimondo Paladini
Cultivation and Propagation: This is an handsome palm with easy to manage nature. It can be grow indoors in a container for years before out growing the pot, but looks much better when planted in the ground and will thrive if given a spot in light shade.
Growth Rate: Slow.
Soil: They prefer well draining, porous soils rich in humus (but can even grow in swampy terrain). Amend the soil with organic peat moss or top soil when you plant.
Light: They do well in sunny position, but the arenga keep their best deep green colour in partial to full shade, if indoors place in a position where it will get some sun during the day. Seedlings like a more sheltered area.
Watering: In cultivation they appreciates abundant waterings. During the summer or warmer months, water frequently to keep the soil from drying out.
Fertilization: Need a perfect fertilizer diet including all micro nutrients and trace elements or slow release fertilizer. Apply fertilizer 3 times a year, in spring, summer and fall, and if the palm is planted in full sun, fertilize more often. In a full sun location the fronds tend to turn lime-green or yellow, so the extra fertilization helps prevent this discolouration.
Hardiness: It is extraordinarily adaptable and easy to cultivate. Mature and established plants can tolerate temperatures down to about -9° C for short periods (USDA Zones 8B - 11). To ensure maximum cold hardiness it is recommended that the Formosa palm be planted in a protected understory. The small size of the Formosa palm lends easily to being planted under a grove of trees or other protection. However it can be difficult to get it to look its best without a great amount of heat and sun and so it is best suited to the tropics in frost-free regions .
Maintenance: These palms aren't considered self-cleaning but you'll only need to trim off an old frond occasionally.
Use: Indoor, Container palm, Garden, Landscape, Passage, Privacy screen along a patio or pool, Single specimen, Hedge plant. It has an unusual growth habit - short and wide-spreading - that makes them a great alternative to a shrub hedge, it is also an understory plant in a garden shaded by trees or taller palms, an arenga palm tends to spread less and makes an outstanding stand-alone specimen.
Warning: Be aware of fruits containing caustic juice, highly irritant to human skin, wash with water immediately.
Propagation Method: Seed, division. The seeds have a short shelf life and must be planted no more than 4-6 weeks after the fruit has become ripe. Seeds have a wide range of germination times; some seeds may germinate very quickly, while others may take two years to sprout!