Donate now to support the LLIFLE projects.
Your support is critical to our success.
Since 4 Aug 2013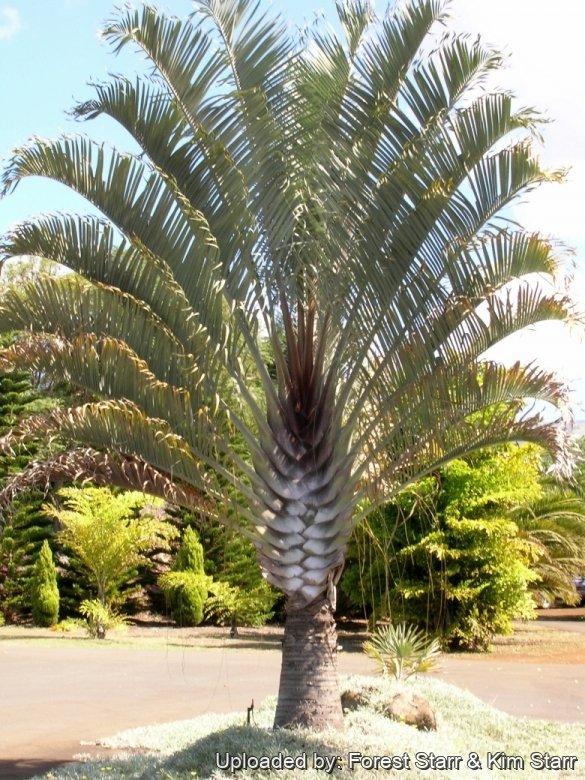 Dypsis decaryi Photo by: Forest Starr & Kim Starr
Habit at Enchanting Floral Gardens of Kula, Maui, Hawaii (USA). October 24, 2007.
Origin and Habitat: Endemic to Madagascar. The single population is estimated to number about 1,000 mature trees and the species is restricted to a small area in the southwest of Andohahela (Ranopiso). This palm is widely cultivated in tropical areas for its spectacular shape (Reported from Florida, southern Texas, Hawaiian Islands).
Altitude range: Recorded from 100 to 800 metres above sea level.
Habitat: Forest transition areas between moist rainforest and dry soils on steep midslopes or along seasonal riverbanks on the western slopes of Andohahela, at the southeast of Madagascar. The main threats are the collection of seed for the international horticultural trade and leaves are harvested for use in thatching.
Synonyms:
Common Names include:
ENGLISH:
Madagascar three-sided palm, Triangular palm, Triangle palm
CHINESE (中文):
三角椰子 (San jiao ye zi )
DUTCH (Nederlands):
Driehoekspalm
FRENCH (Français):
Palmier triedre, Palmier triangle
GERMAN (Deutsch):
Dreieckspalme
MALAY (بهاس ملاي /Bahasa Melayu ):
Palma segi tiga
PORTUGUESE (Português):
Palmeira-três-quinas
SPANISH (Español):
Palmera triangular
Description: Dypsis decaryi is a beautiful solitary palm, up to 10(-15) m tall. It can be easily distinguished by its triangular trunk and 3-ranked leaves and is often confused with Dypsis madagascariensis that also has 3-ranked leaves, but the leaflets are inserted in multiple planes, with a plumose appearance.
Trunk: Single, stocky, generally smooth with obvious leaf scars, dark greyish-brown, up to 7 (or more) m tall and up to 40 cm in diameter.
Crown shaft: Not closed, but triangular shaped at the top of the trunk that is formed by three distinct points where fronds emerge (sort of like a pagoda) which gives the palm its common name; crown spread of 4-6 m.
Leaves (fronds): About 2.5-3 metres in length, pinnately compound, reduplicate, arching almost upright from the trunk and then arching gracefully about a metre from their tip. The petioles are only 30 cm long and stack on top of one another and forms a cupped, triangular shape. Leaflets are bluish-green or greyish-green with brown or tan twisted ramenta on the underside near the rachis, about 2 feet long, have entire or smooth margins, and form a "V" shape as they sit opposite to one another on the rachis. The young leaf bases are covered with felt-like, reddish-brown tomentum.
Inflorescence: 120-150 cm long branching to three orders, from the axil of lower leaves.
Flowers: Yellow and green. Male and female flowers are borne on the same inflorescence.
Blooming season: It blooms all year round.
Fruit: Round to egg shaped, egg shaped, and green when immature and yellowish-white when ripe about 25 mm in diameter with remnants of the stigma at the base. The fruits are known for their high nutritional value.
Bibliography: Major references and further lectures
1) Dennis Victor Johnson "Palms: Their Conservation and Sustained Utilization : Status Survey and Conservation Action Plan" IUCN, 1996
2) Forest & Kim Starr Dypsis leptocheilos (Teddy bear palm). Plants of Hawaii. <http://www.starrenvironmental.com>. Downloaded on 21 August 2014.
3) J. Dransfield and H. Beentje. "Palms of Madagascar" 1995
4) Rakotoarinivo, M. & Dransfield, J. 2012. Dypsis decaryi. The IUCN Red List of Threatened Species. Version 2014.2. <www.iucnredlist.org>. Downloaded on 28 August 2014.
5) Don Ellison, Anthony Ellison "Cultivated Palms Of The World" UNSW Press, 01/May/2001
6) Robert Lee Riffle, Paul Craft "An Encyclopedia of Cultivated Palms" Timber Press, Portland 2007
7) Gilman, E. F. "Trees for urban and suburban landscapes." Albany, NY: Delmar Publishers. 1997
8) Palmpedia contributors. "Dypsis decaryi ." Palmpedia, PALM ENCYCLOPEDIA, <http://www.palmpedia.net> Downloaded on 26 Aug. 2014
9) Jones, D. L. "Palms throughout the world." 1994Floridata contributors. "Dypsis cabadae ." Floridata, <http://www.floridata.com> Accessed on 26 Aug. 2014
10) " Dypsis decaryi ." PACSOA Palms and Cycads wiki , <http://www.pacsoa.org.au> Accessed on 26 Aug. 2014
Habit at Huelo, Maui, Hawaii (USA). March 06, 2007.
Photo by: Forest Starr & Kim Starr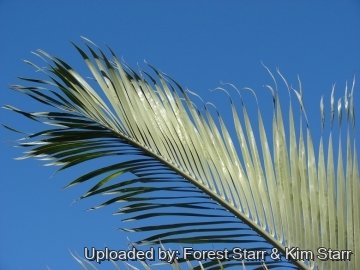 Leaves at Huelo, Maui, Hawaii (USA). March 06, 2007.
Photo by: Forest Starr & Kim Starr
Flower at Maui Community College Kahului, Maui, Hawaii (USA). August 06, 2009.
Photo by: Forest Starr & Kim Starr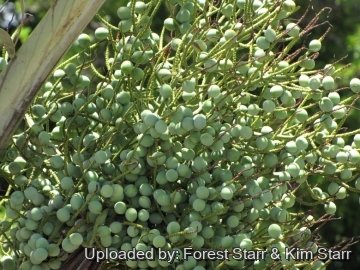 Fruit at Maui Community College Kahului, Maui, Hawaii (USA). August 06, 2009.
Photo by: Forest Starr & Kim Starr
Furry frond stems at Huelo, Maui, Hawaii (USA). March 06, 2007.
Photo by: Forest Starr & Kim Starr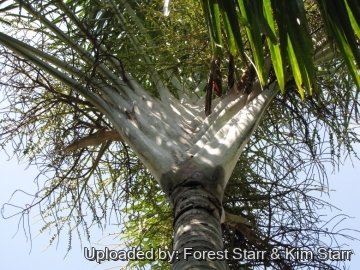 Canopy at Iao Tropical Gardens of Maui, Maui, Hawaii (USA). May 22, 2012.
Photo by: Forest Starr & Kim Starr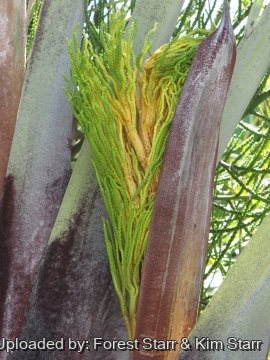 Young flowers at Ulana St Makawao, Maui, Hawaii (USA). April 11, 2010.
Photo by: Forest Starr & Kim Starr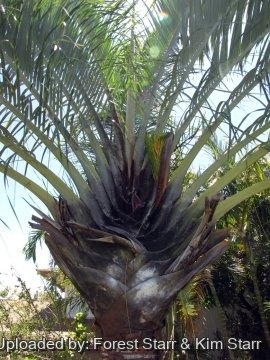 Crown at Ulana St Makawao, Maui, (USA). April 11, 2010.
Photo by: Forest Starr & Kim Starr
Cultivation and Propagation: This palm is an excellent relatively slow-growing garden plant adapt to different climates, from tropical to warm temperate, it prefers well-drained sandy soil except those that are constantly soggy. If home-grown, give some sun as with most tropical palms, and water well and feed once monthly. It can tolerate sweltering heat and windy conditions
Light: Prefers full sun but will take some shade.
Drought tolerance: Moderate. This palm a will tolerate occasional dryness if not prolonged and can even thrives in poor, dry soils, but do better when grown in nutrient-rich soils with regular watering.
Fertilization: Need a perfect fertilizer diet including all micro nutrients and trace elements.
Aerosol salt tolerance: It is moderately salt tolerant, but does a lot better inland then it does on the coast.
Hardiness: Some cold tolerance. This palm has tolerated temperatures down to –1ºC and even a little snow (USDA Zone 9b-11). However it can be difficult to get it to look its best without a great amount of heat and sun.
Aerosol salt tolerance: It is moderately salt tolerant.
Maintenance: Remove dried fronds.
Propagation: Fresh seeds germinate quickly within a month of being planted and the seedlings are attractive.
Remarks: The plant does not transplant well, having very sensitive roots that tend to die off if manipulated.
Use: Its very neat appearance and stature makes it perfect near highways and used to accent residential landscapes and close to swimming pools. It is sometimes closely planted in groups of two or three. The leaves of the plant are used in Madagascar for thatching.
Disease & Pests: It is quite resistant to pests but may require regular fertilization to prevent yellowing caused by potassium deficiencies.