Donate now to support the LLIFLE projects.
Your support is critical to our success.
Since 4 Aug 2013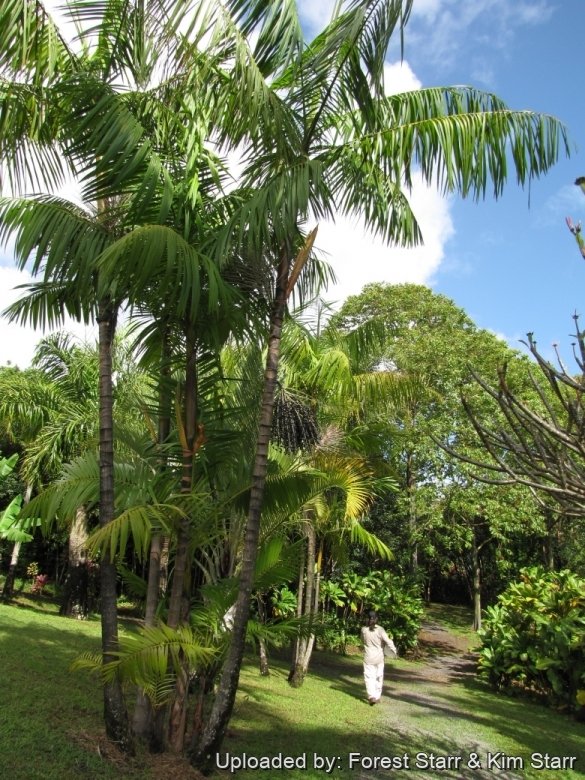 Habit at Garden of Eden Keanae, Maui, Hawaii (USA). March 30, 2011.
Origin and Habitat: Although thought to originate between northern Argentina and Central America at elevations between sea level and 500 m it is now very common in the Amazon forest in Brazil. It is also widely cultivated in the tidal plains of the Amazon estuary because of its use as a food item.
Habitat: It lives in seasonally flooded habitats and along water margins. However good drainage seems to be essential as it will not grows in areas where there is standing water. In its optimum habitat it receive a mean annual rainfall of about 2300 mm, and a mean annual temperature of 26° C. It often withstand a short dry season of about 2 months. In some pat of the Amazon basin it can grow in almost pure stands.
Ecology: The pollinators are predominantly small bees and flies, as well as beetles. Seed dispersal over short distances is by rodents. Long-distance seed dispersal is accomplished by birds and passively by water.
Synonyms:
See all synonyms of Euterpe oleracea
Accepted name in llifle Database:
Euterpe oleracea
Mart.
Hist. Nat. Palm. 2: 29 (1824)
Synonymy: 6
Common Names include:
ENGLISH:
Assai Palm, Acai Palma, Açaí Palm, Cabbage palm, Euterpe palm, Multistemmed assai palm, Palisade palm (Suriname), Wapoe (Suriname), Pina Palm
ARABIC ( لعربية ):
نخل الآساي
BULGARIAN (Български):
Асаи, Палма асаи
CATALAN (Català):
Açaí
CHINESE (中文):
Shu shi ai ta zong
CZECH (Čeština):
Açaí
DUTCH (Nederlands):
Açaí
ESPERANT (Esperanto):
Asaio
ESTONIAN (Eesti):
Salat-euterpepalm
FRENCH (Français):
Açaï, Pinau (French Guiana), Pina (French Guiana), Pinot
GALICIAN (Galego):
Azaí
GERMAN (Deutsch):
Açai-Palme, Euterpepalme, Kohlpalme
GUARANI (Avañe'ẽ):
Yasa'i
GUJARATI (ગુજરાતી):
અસાઈ તાડ
HEBREW (עברית):
אסאי
ITALIAN (Italiano):
Palma açaì
JAPANESE (日本語):
アサイー
KOREAN (한국어):
아사이베리
LITHUANIAN (Lietuvių):
Aliejinė kopūstpalmė
MALAY (بهاس ملاي /Bahasa Melayu ):
Palma asai
NORWEGIAN (Bokmål):
Assaipalme, Açai
POLISH ( Polski):
Euterpa warzywna
PORTUGUESE (Português):
Açaí (Brazil), Açaí-da-várzea (Brazil), Açaí-do-baixo-Amazonas (Brazil), Açaí-do-igapó, Açai-do-Pará (Brazil), Açaí espada, Assaí.
uaçaí, Açaí-branco, Açaizeiro, Coqueiro-açaí, Iuçara, Juçara, Palmiteiro, Palmito, Piná e tucaniei
RUSSIAN (Русский):
Эвтерпа овощная, Асаи
SPANISH (Español):
Asaí, Manaca (Suriname, Venezuela), Morroke (Venezuela), Palmera de la col, Uassi (Venezuela), Palmera de asaí, Azaí, Palma manaca, Huasaí
SWEDISH (Svenska):
Kålpalm
TAMIL (தமிழ்):
அகாய் பனை
TURKISH (Türkçe):
Acai üzümü
URDU (اردو):
اکائی بیری
Description: Euterpe oleracea (Açaí palm) is a very ornamental, fast growing, palm with multiple slender branches. It is especially cultivated for its fruit and superior hearts of palm.
Stems: Slender, elegant, in clumps branched from the base, growing 4-18(–30) meters tall and 7-30 cm in diameter, but often less than 15 cm in diameter. The average mature wild tree has 4-8 well-developed trunks from a single seed and root system; however, a single seed can grow a plant providing up to 25 shoots growing individually. On the lower portion of the trunk the bark is clean, smooth, dry and grey, with the upper portion fresh and green covered in dark, widely spaced rings.
Crown: With 8-14 very attractive drooping fronds.
Crownshaft: About 1 m long, prominent, dark green or variously yellow, light brown or reddish and no wider than the trunk itself.
Root: Root system fibrous, extending up to 5 metres from the base of the clump, consisting of primary and secondary roots concentrated in the top layers of soil. It has also adapted to live in periodically waterlogged and flooded soils by developing special root structures called pneumatophores.
Leaves: Reduplicately pinnate 2,5-4 meters long, bright green, sheaths strictly tubular, about 80-140 cm long forming a conspicuous crownshaft. Petiole 20-40 cm long, Rachis 2-3,5 m long; Leaflets 50-62 very regularly arranged, pendulous, lanceolate in shape about 50-80(-100) cm long and 3-4 cm wide.
Inflorescences: Many-branched panicles about 1 m in length borne below the leaves, expanding soon after the subtending leaf sheaths falls. The inflorescence is composed of a central rachis with an average of 50-55 lateral branchlets (rachillae), each of which bears clusters of two lateral male flowers and one central female flower. The flowers are sessile and inconspicuous brown to purple in colour. The terminal part of the branchlets are covered with brownish-white hairs.
Blooming season: It flowers throughout the year. Staminate flowers (male) mature before pistillate (female) flowers, thus promoting outbreading.
Fruit: Euterpe oleracea produces an edible fruit commonly known as açaí berry, which grows in bunches of 500 to 900 fruits. It is a small, round, black-purple drupe about 10-25 mm in circumference, similar in appearance but smaller than a grape and with less pulp and with a single large seed inside surrounded by stringy fibrous sheaths and a thin oily coating. It begins as a green colour and ripens to a dark purple. Each tree stem usually produces four to eight bunches of fruit twice a year or throughout the year (depending on climate) but ripe fruits are the heaviest in the dry season. The fruits can be harvested and consumed.
Seed: About 7–10 mm in diameter with deeply ruminate endosperm. The seed makes up about 80% of the fruit.
Remarks: The closely related species Euterpe edulis (juçara) is now predominantly used for hearts of palm.
Bibliography: Major references and further lectures
1) Forest & Kim Starr Euterpe oleracea (Acai, assai palm). Plants of Hawaii. <http://www.starrenvironmental.com>. Downloaded on 21 August 2014.
2) Wikipedia contributors. "Açaí palm." Wikipedia, The Free Encyclopedia. Wikipedia, The Free Encyclopedia, 21 Aug. 2014. Web. 28 Aug. 2014.
3) Don Ellison, Anthony Ellison "Cultivated Palms Of The World" UNSW Press, 01/May/2001
4) Robert Lee Riffle, Paul Craft "An Encyclopedia of Cultivated Palms" Timber Press, Portland 2007
5) Gilman, E. F. "Trees for urban and suburban landscapes." Albany, NY: Delmar Publishers. 1997
6) Palmpedia contributors. "Euterpe oleracea ." Palmpedia, PALM ENCYCLOPEDIA, <http://www.palmpedia.net> Downloaded on 26 Aug. 2014
7) Jones, D. L. "Palms throughout the world." 1994 Floridata contributors. "Euterpe oleracea ." Floridata, <http://www.floridata.com> Accessed on 26 Aug. 2014
8) "Euterpe oleracea ." PACSOA Palms and Cycads wiki , <http://www.pacsoa.org.au> Accessed on 26 Aug. 2014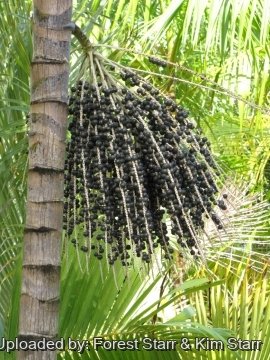 Fruit at Garden of Eden Keanae, Maui, Hawaii (USA). March 30, 2011.
Photo by: Forest Starr & Kim Starr
Flower stalk at Garden of Eden Keanae, Maui, Hawaii (USA). March 30, 2011.
Photo by: Forest Starr & Kim Starr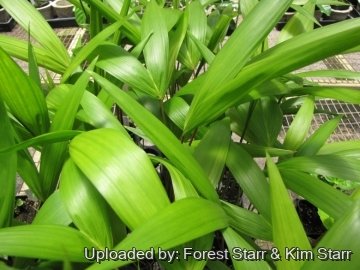 In pots at Iao Tropical Gardens of Maui, Maui, Hawaii (USA). May 22, 2012.
Photo by: Forest Starr & Kim Starr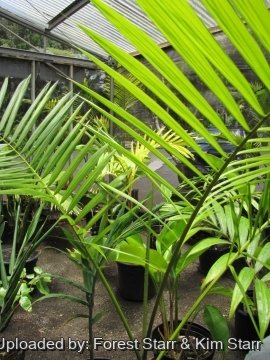 Habit at Iao Tropical Gardens of Maui, Maui, Hawaii (USA). May 22, 2012.
Photo by: Forest Starr & Kim Starr
Habit at Garden of Eden Keanae, Maui, Hawaii (USA). March 30, 2011.
Photo by: Forest Starr & Kim Starr
Habit at Garden of Eden Keanae, Maui, Hawaii (USA). March 30, 2011.
Photo by: Forest Starr & Kim Starr
Cultivation and Propagation: This is an excellent palm adapt to tropical and subtropical climates in humid regions, specially along with rainforests. It is little slow to take off but once established will grow quite fast and does well in cultivation.
Growth Rate: Moderate to Fast.
Soil requirements: It has a fibrous root system and benefits from deep organic, acidic, soils that are fertile and well drained but thrives on wide range of tropical soils, like coastal marine alluvial clays, soils of volcanic origin, acid sands and other coastal alluviums and even in seasonally flooded areas and swamps. Waterlogged, highly lateritic, extremely sandy, stony or peaty soils should be avoided.
Watering: It prefers adequate moisture, can tolerate temporary flooding or a fluctuating water table, as might be found along rivers. This palm a will tolerate occasional dryness if not prolonged.
Light: Will take full sun as it matures, but will grow better with some shade. If home-grown, give some sun as with most tropical palms.
Fertilization: Need a perfect fertilizer diet including all micro nutrients and trace elements.
Aerosol salt tolerance: It is moderately salt tolerant, but does a lot better inland then it does on the coast.
Hardiness: It needs high temperatures and is suited for tropical or subtropical climate and seedling growth arrested below 15°C. They do not bear temperatures even if just close to 0 °C. Mean maximum temperature of 30-32°C and mean minimum of 21-24°C (USDA Zones 11-12)
Wind hardiness: Will grow better with slow wind.
Garden uses: It is an excellent landscaping palm if you can water it a lot.
Food/beverage use: The fruit is highly valued by the people of Brazil and rich of antioxidants, amino acids and essential omegas. The juice extracted from the small round fruit is very tasty, dense and purple. This liquid is served ice cold with tapioca flour. It is a nourishing and refreshing drink that is also used to produce ice cream, energetic food, weight loss products,lowering cholesterol products, liquor, porridge, mousses and sweets in general. A kind of wine is made from the fruits. The palms can achieve reproductive maturity in as few as 4 years under excellent conditions. A single tree may produce thousands of fruits a season.
The heart of palm is used fresh as a vegetable or for canned palm hearts in substitution to the traditional palmetto (Euterpe edulis)... as killing a stalk to harvest the heart only kills that stalk- the palm, since it clusters, can go on living to be harvested later.. and it's pretty fast growing so it can replace the cut canes in a few years.
Traditional medicine: The medicinal uses range from treating anemia, gastric distress, liver disease and wounds. Today, modern science has validated the absolutely remarkable wellness benefits of the assai fruit and is commonly used as an anti-oxidant.
Other uses: The seeds are used as animal feed and as a source of compost. The wood is used as timber, the stems can be used as pillars for small houses and the leaves may be made into hats, brooms, baskets, wickerwork and mats or used to cover roofs.
Propagation: The fresh seeds germinate easily. Plant seeds in well-drained soil mixture. Water regularly but do not allow standing water.If not properly treated, the seed does not have long shelf life.