Donate now to support the LLIFLE projects.
Your support is critical to our success.
Since 4 Aug 2013
Licuala grandis Photo by: Forest Starr & Kim Starr
Fruiting habit at Honolulu Airport, Oahu, Hawaii (USA). November 13, 2010.
Origin and Habitat: Solomon and Vanuatu Islands (New Guinea), in the SE Asian Pacific.
Habitat:it grows as an understory palm in lowland tropical jungles.
Synonyms:
Common Names include:
ENGLISH:
Licuala palm, Common licuala, Culoo palm, Grosse Licuala Palm, Palas Palm, Vanuatu Fan Palm, Ruffled Fan Palm, Vanuatu palm, Round-leaved licuala palm, Large-leaved licuala palm
CHINESE (中文):
圆叶刺轴榈, Tuan shan zong, Yuan ye zhou lü
FRENCH (Français):
Licuala à grosses feuilles
GERMAN (Deutsch):
Großblättrige Strahlenpalme
HUNGARIAN (Magyar):
Nagy bokorpálma
MALAY (بهاس ملاي /Bahasa Melayu ):
Pokok Palas, Palma kipas
PERSIAN (فارسی):
لیکوآلا گراندیس
POLISH ( Polski):
Likuala wielka, Wachlarzownica wyniosła
THAI (ภาษาไทย):
Paam jeep
Description: Licuala grandis is a slow growing small palm It is an exotic-looking palm of interest to collectors and tropical plant enthusiast.
Trunk: Single, brown to grey-coloured, upright and slender that reach a mature height of only 2 or 3 meters, but usually less than 1,8 m tall and 10-12 cm in diameter, ridged with old leaf scars and traces of fibrous leaf sheaths.
Crown: Spread about 2,5 m wide or less.
Leaves (fronds): Costapalmate, attractively pleated fan-shaped to orbicular (forming an almost perfect circle) nearly entire, segment joined practically all the way except the edges that are notched, dark glossy green, held horizontally about 60-100 cm or more in diameter. Petioles 1 m long thin and spiny .
Fruits: red fruit.
Inflorescences: up to 2 m long, dangling arising at the the base of leaves, usually longer than the fronds. Flowers bisexual small whitish-yellow.
Blooming period: Will flower frequently.
Fruits: Several held on 50-90 cm long spikes, very decorative, 1-1.5 cm in diameter, roundish, berry-like, each containing a single seed, green that ripens to a bright red colour.
Bibliography: Major references and further lectures
1) Forest & Kim Starr Licuala grandis (Licuala). Plants of Hawaii. <http://www.starrenvironmental.com>. Downloaded on 31 August 2014.
2) John Dransfield, Natalie W. Uhl "Genera Palmarum: the evolution and classification of palms" Kew Pub., 2008
3) Wikipedia contributors. "Licuala grandis" Wikipedia, The Free Encyclopedia. Wikipedia, The Free Encyclopedia, Accessed on 28 Aug. 2014
4) Don Ellison, Anthony Ellison "Cultivated Palms Of The World" UNSW Press, 01/May/2001
5) Robert Lee Riffle, Paul Craft "An Encyclopedia of Cultivated Palms" Timber Press, Portland 2007
6) "Licuala grandis." PACSOA Palms and Cycads wiki , <http://www.pacsoa.org.au> Accessed on 28 Aug. 2014
7) Palmpedia contributors. " Licuala grandis." Palmpedia, PALM ENCYCLOPEDIA, <http://www.palmpedia.net> Downloaded on 26 Aug. 2014
8) Jones, D. L. "Palms throughout the world." 1994
9) Lötschert, Wilhelm; Beese G. "Guía de la plantas tropicales." Barcelona: Omega. 1983.
10) Lorenzi, H.; Moreira de Souza H., de Medeiros Costa J.T., Coelho de Cerqueira L.S., Von Behr N. "Palmeiras no Brasil." Nova Odessa:Plantarum. 1996
Licuala grandis
Photo by: Forest Starr & Kim Starr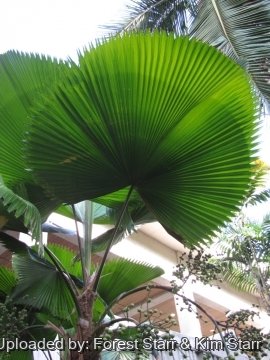 Fronds at Honolulu Airport, Oahu, Hawaii (USA). July 30, 2009.
Photo by: Forest Starr & Kim Starr
Fruit at Honolulu Airport, Oahu, Hawaii (USA). July 30, 2009.
Photo by: Forest Starr & Kim Starr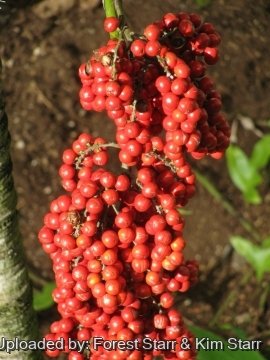 Fruit at Honolulu Airport, Oahu, Hawaii (USA). July 30, 2009.
Photo by: Forest Starr & Kim Starr
In pots at Iao Tropical Gardens of Maui, Maui, Hawaii (USA). May 22, 2012.
Photo by: Forest Starr & Kim Starr
Habit at KiHana Nursery Kihei, Maui, Hawaii (USA). February 15, 2011.
Photo by: Forest Starr & Kim Starr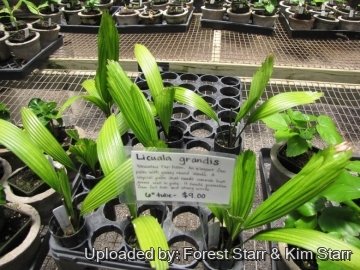 In pots at Iao Tropical Gardens of Maui, Maui, Hawaii (USA). May 22, 2012.
Photo by: Forest Starr & Kim Starr
Send a photo of this plant.
The gallery now contains thousands of pictures, however it is possible to do even more. We are, of course, seeking photos of species not yet shown in the gallery but not only that, we are also looking for better pictures than those already present.
Read More...
Cultivation and Propagation: Licuala grandis is an excellent relatively slow-growing palm very popular among tropical palm collectors adapt to different climates, from tropical to warm temperate. It is also one of the most elegant and durable indoor palms. It is perfect, both for container planting or grown on the ground, and ideal too for indoors or outdoors.
Soil requirements: It prefers fertile organic soils except those that are constantly soggy. However it is widely adaptable including those that are neutral, acidic, clayey and slightly alkaline, provided they are free-draining.
Watering: Licuala prefers very copious waterings and should be watered before the soil completely dries. Help soil conserving its humidity with heavy groundcover mulch , which affords a rich decaying organic base. Licuala roots are shallow, and spreading, so it loves to explore and insinuate themselves into this rich mulch, which must be constantly wet. Don't let sit in water. Indoor, potted Licuala should not be over-watered.
Light: Outside an eastern exposure, featuring filtered morning sun, is perfect for this palm but can stand full sun in the tropics (high constant atmospheric humidity), though the leaves may sometimes get scorched by direct sunlight. Young specimens need protection from direct sunlight and grow best in shady to partly shady locations. If home-grown, they look their best in bright diffuse light but tolerate low light levels. When growing as a patio palm, it would be a good idea to remember that they should not be grown in direct sun.
Fertilization: Need a perfect low-release fertilizer (e.g., 18-18-18) diet including all micro nutrients and trace elements.
Aerosol salt tolerance: Not tolerant.
Hardiness: They grow well in tropical and subtropical climates but will also grow in particular favourable Mediterranean frost free microclimates. (USDA hardiness zones 9b-11) , and mature, established specimens can tolerate temperatures down to -5 °C, but only for a few hours; normal temperatures should not go below 10°. (USDA Zones 9B – 11)
Wind hardiness: Avoid strong winds. Its fronds will shred badly if exposed to extended periods of heavy winds. It cannot tolerate at all sweltering heat and windy conditions, remember, this is an understory rainforest tree!
Maintenance: It will rarely need pruning only removal of browned-out fronds or leaves. Remove spent flowering spikes to avoid harbouring pests such as mealy bugs.
Propagation: By seeds that sprout slowly and erratically, with seedlings appearing as early as 2 months after planting and then sporadically over 1 year.
Use: It is grown in open air, in the sub tropical and warm-temperate zones, for the decoration of parks and gardens, in a partly shaded location when young, and regularly watered. But the most frequent utilization, since from the introduction in Europe, is as indoor plant, its elegance, since the very first years of age, the adaptability to conditions of scarce luminosity, and the absence of particular attentions, render it, still now, one of the most utilized palms, if not the most common, for the decoration of indoor spaces.
Traditiona uses: The large umbrella-size leaves of Licuala grandis are used for thatching.
Disease & Pests: Generally, it's free of serious diseases and pests, protect against mealy bugs on matured fruits. Protect from frost.