Donate now to support the LLIFLE projects.
Your support is critical to our success.
Since 4 Aug 2013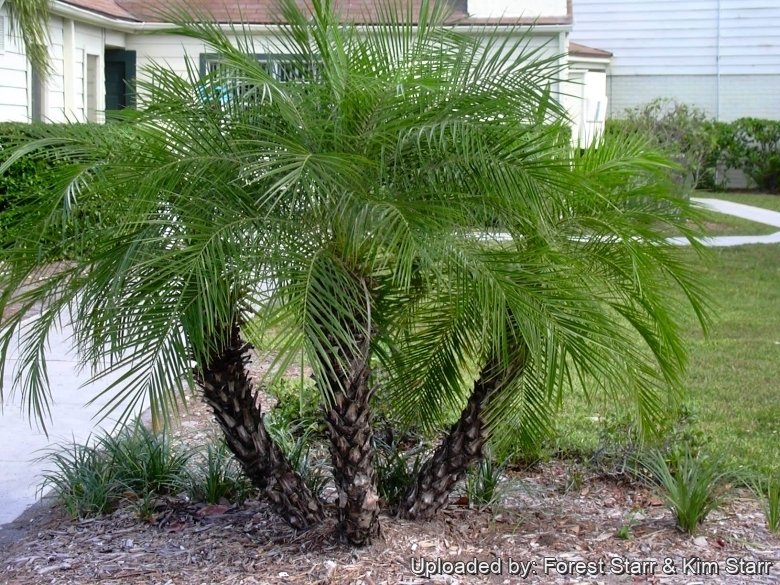 Phoenix roebelenii Photo by: Forest Starr & Kim Starr
Habit at Sarasota, Florida. November 08, 2003.
Origin and Habitat: Sutheastern Asia, China (Yunnan Province), northern Laos and northern Vietnam, (in Dien Bien Province, Ha Giang Province, Cao Bang Province, Lang Son Province)
Habitat: Tropical forests.
Synonyms:
Common Names include:
ENGLISH:
Roebelin palm, Pygmy date palm, Miniature date palm
ARABIC ( لعربية ):
نخل روبيليني
CHINESE (中文):
罗比亲王海枣, 美丽针葵, 软叶刺葵, 江边刺葵
DUTCH (Nederlands):
Dwergdadel palm, Miniatuurdadel palm, Dwergdadelpalm
FRENCH (Français):
Palmier dattier nain, Dattier nain, Dattier du Mékong, Palmier dattier miniature
GERMAN (Deutsch):
Zwerg-Dattelpalme, Zwergdattelpalme
HUNGARIAN (Magyar):
Törpe datolyapálma
JAPANESE (日本語):
Shinnou yashi
KOREAN (한국어):
Hwi nik seu ya cha
MALAY (بهاس ملاي /Bahasa Melayu ):
Kurma Rebelini
NORWEGIAN (Bokmål):
Dvergdaddelpalme
RUSSIAN (Русский):
Finik Robelena
SPANISH (Español):
Fenix robelini, Fenix robelini tronco grueso, Palma fénix enana, Palmera enana, Palmera robeleni, Palmera de Roebelen, Palma fénix robelini, Palmera pigmea, Datilera pigmea, Datilera enana
THAI (ภาษาไทย):
ปาล์มสิบสองปันนา, สิบสองปันนา
UPPER SORBIAN (Hornjoserbsce):
Mólički datlowc
Description: Phoenix roebelenii is a small to medium size, slow-growing slender feather palm. Although this palm is single stemmed it is often planted in tight bunches with 3 to 5 specimens to form a tropical oasis. When grouped like this, the trunk tend to curve nicely away from the centre of the clump creating a particularly harmonious whole. The pygmy date is related to the edible date (Phoenix dactylifera) which, as you might guess from its common name, it closely resembles in miniature.
Trunk: Small, upright, 1,5-3,5 meters tall and 5-10 cm in diameter covered with old leaf bases, later clean but knobby.
Crown: with a dense head 0,6-3 m in diameter.
Leaves (fronds): Pinnate, very fine, fern-like , 60-120 cm long, with around 100 narrow, delicate leaflets evenly spaced along the upper length of the gently arched rachis and arranged in a single plane (unlike the related Phoenix loureiroi where the leaflets are in two planes). Each leaflet is 10-25 cm long and 5-10 mm broad, slightly drooping, and bright-green to grey-green in colour with scurfy pubescence below. Lower leaflets are modified into sharp pointed 5-8 cm spines.
Flowers: Small, cream coloured to yellowish, held on short, 30-45 cm inflorescences. Male flowers with acuminate petals. Female flowers with calyx less than half as long as petals
Fruit: 10-13 mm long, 4 mm in diameter drupe resembling a small, thin-fleshed dark-purple black date on the female plants (male flowers are borne on a separate plant).
Phenology: They bloom in spring and fruit ripen in Autumn.
Remarks: The various Phoenix palm species hybridize with one another easily so individuals in cultivation may show a mix of species characteristics.
Notes: The name is sometimes mistakenly cited as roebelinii.
Bibliography: Major references and further lectures
1) Forest & Kim Starr Phoenix roebelenii (Dwarf date palm, pygmy date palm). Plants of Hawaii. <http://www.starrenvironmental.com>. Downloaded on 21 August 2014.
2) Wikipedia contributors. "Phoenix roebelenii." Wikipedia, The Free Encyclopedia. Wikipedia, The Free Encyclopedia, 21 Aug. 2014. Web. 28 Aug. 2014.
3) Don Ellison, Anthony Ellison "Cultivated Palms Of The World" UNSW Press, 01/May/2001
4) Robert Lee Riffle, Paul Craft "An Encyclopedia of Cultivated Palms" Timber Press, Portland 2007
5) Gilman, E. F. "Trees for urban and suburban landscapes." Albany, NY: Delmar Publishers. 1997
6) Palmpedia contributors. "Phoenix roebelenii." Palmpedia, PALM ENCYCLOPEDIA, <http://www.palmpedia.net> Downloaded on 26 Aug. 2014
7)"Phoenix roebelenii." PACSOA Palms and Cycads wiki , <http://www.pacsoa.org.au> Accessed on 26 Aug. 2014
Habit at Kihei, Maui, Hawaii (USA). January 24, 2007.
Photo by: Forest Starr & Kim Starr
Habit at Kula Ace Hardware and Nursery, Maui, Hawaii (USA). September 06, 2007.
Photo by: Forest Starr & Kim Starr
Stems and thorns at Kula Ace Hardware and Nursery, Maui, Hawaii (USA). September 06, 2007.
Photo by: Forest Starr & Kim Starr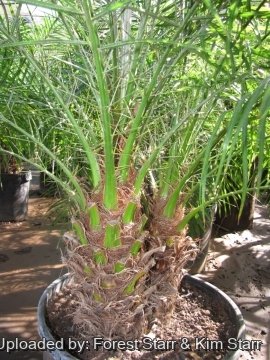 Trunk at Resort Management Group Nursery Kihei, Maui, Hawaii (USA). February 09, 2011.
Photo by: Forest Starr & Kim Starr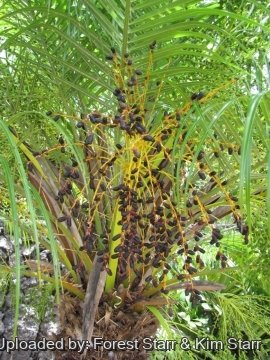 Fruit at Haiku, Maui; Hawaii (USA). August 26, 2010.
Photo by: Forest Starr & Kim Starr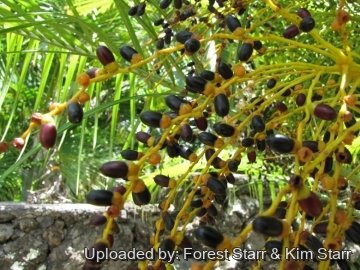 Fruit at Haiku, Maui; Hawaii (USA). August 26, 2010.
Photo by: Forest Starr & Kim Starr
Cluster habit at Kihei Garden and Landscape Wailuku, Maui, Hawaii (USA). January 21, 2010.
Photo by: Forest Starr & Kim Starr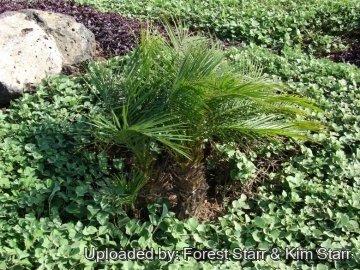 Habit at Kihei, Maui, Hawaii (USA). January 23, 2007.
Photo by: Forest Starr & Kim Starr
Cultivation and Propagation: Phoenix roebelinii is cultivated in tropical, subtropical and warmer temperate areas indoors and out. If you needs a dwarf, low maintenance, but graceful looking palm, it doesn't get any better than Phoenix roebelenii. It also excels in containers of all kinds and looks great indoors, just give it a bright spot and keep away from where someone could brush against the spines.
Soil: It is very adaptable to many kinds of well drained soils.(use light, fast draining soils in containers).
Fertilization: Need a perfect fertilizer diet including all micro nutrients and trace elements or slow release fertilizer applied during the growing season, or according to package directions, using a fertilizer specifically formulated for palms.
Water Requirements: It is moderately drought tolerant though it prefers evenly moist but not consistently wet medium. When supplied with adequate moisture and fertilizer it is also fairly fast growing. This palm is more drought tolerant once established. It dislikes soggy soils.
Light: The plant likes partial shade to full sun. It will survive in rather heavy shade but "stretches" to lose its compact shape. It produces flowers and fruit only in sunny positions.
Aerosol salt tolerance: It is moderately salt resistant and may be grown near the sea if given some protection (behind a dune, building, etc.)
Wind resistance: It endures drying winds if soil is kept moist.
Hardiness: USDA Zones 9-11 May be cold damaged at temperatures below -5ºC. If planting them out, choose a site that is well protected, either next to a wall, building or house (south side preferred) or under a large tree.
Roots: Usually not a problem
Manteinance: For the healthiest and most attractive plant, keep the palm pruned. As the old fronds die, these should be trimmed off and the leaf bases allowed to dry out, but do not prune if the frond still has some green colour. Palms recycle nutrients from dead or dying fronds and use them for healthier fronds.
Pest and diseases: It is quite resistant to pests.
Remarks: Can die with transplantation from the garden if large. Need huge root ball.
Uses: It is used in gardening and landscaping in many parts of the world though in sheltered areas it will survive short periods below freezing point. It is also excellent in containers and urns. And can thrive in urban conditions.
Warning: Pay attention to the leaves as they can get very stiff and can easily penetrate skin, tissue - sometimes even protective clothing and poke you in the eyes when you are working near it. Keep this plant away from children's play areas and walkways.
Propagation: By seed that take about 3 months to germinate.