Donate now to support the LLIFLE projects.
Your support is critical to our success.
Since 4 Aug 2013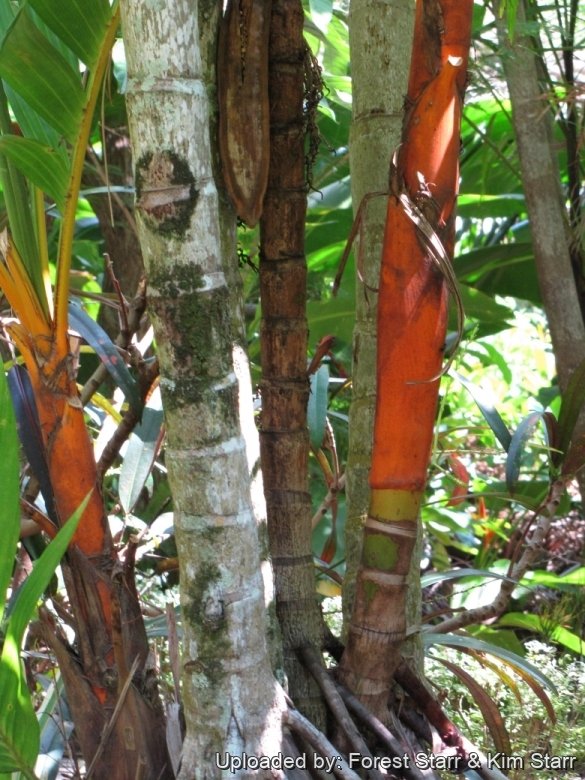 Areca vestiaria Photo by: Forest Starr & Kim Starr
Trunk at Iao Tropical Gardens of Maui, Maui. May 22, 2012.
Origin and Habitat: Areca vestiariaSN|28446]]SN|28446]] is native to north Sulawesi (Celebes) and the Moluccas which are off the coast of Indonesia.
Habitat: Areca vestiariaSN|28446]]SN|28446]] is a stilt-rooted, undergrowth species that inhabits moist rain-forest in low well-drained volcanic mountainous terrain up to an elevation between 600 and 1200 meters. It is relatively intolerant of disturbance and apparently has no requirement to extend into the canopy.
Synonyms:
See all synonyms of Areca vestiaria
Accepted name in llifle Database:
Areca vestiaria
Giseke
Prael. Ord. Nat. Pl. 78 (1792)
Synonymy: 12
Common Names include:
ENGLISH:
Langlois palm, Sunset palm, Orange Crownshaft Palm, Red pinang, Monkey pinang
INDONESIAN (Bahasa Indonesia):
Pinang merah, Pinang yaki
Description: Areca vestiariaSN|24199]]SN|28446]] is a small to medium sized palm, shade-loving ornamental, noted for its impressive bright-orange crown-shafts, a feature which easily distinguishes it from all other Arecas, and most other palms. It is considered one of the most beautifully coloured palms in the world. And the fruits and flowers are pretty brightly coloured, too. The bright orange petioles and crownshaft make a striking contrast against the dark green leaves and can be seen even from far away. It is very variable and even though usually solitary in nature, the more common cultivated forms have a profusely clustering habit.
Stem (trunk): Solitary or profusely suckering, slim, tall and smooth, deep green, ringed with old leaf scars, about 6-8 m tall and 7-10 cm in diameter. Depending on the richness of the locality where they grow, the number of shoots per clump varies from one to twenty or even more. Very young shoots are less impressive.
Roots: It occasionally has profuse impressive has stilt roots. Stilt roots are adventitious support roots, found in several species of palms and mangroves (however Areca vestiariaSN|28446]]SN|28446]] is not a swamp-loving palm). They grow down from lateral branches, branching in the soil and do not appear colourful. This roots seems to have significance as support on disturbed soil on unstable slopes, but individual plants with no aerial root at all are also normal.
Crownshaft: Stunning, variable colour usually brilliant bright orange or light orange, but also red, brown or almost green at low elevation, hence the name Orange Crownshaft Palm. It has been reported that colour variation depends on elevation, with the more colourful plants coming from higher elevations. The maroon variety tends to suckers more readily than the orange form.
Crown: 1,5-3 metres wide. Clumping individuals will attain widths up to 4,5 m.
Leaves (Fronds): Pinnate, feather-shaped, gracefully arching lush green to deep yellow-green, 120 cm long and 60 cm wide. Leaflets 20-30. Petiole smooth, unarmed, yellow to orange.
Inflorescence: Short axillar among the leaves (intrafoliar) below the leafy crown at the point where the crownshaft meets the trunk. As the mature leaf sheds the inflorescence becomes visible, the large boat-shaped spathe which envelopes the spadix is deep in its reddish orange hue. But as the spathe opens, the tender peduncle, spikes and flowers all appear cream-coloured. It is monoecious, male and female reproductive units are born on the same plant.
Flowers: Small yellow-orange to yellow-green in clusters. There are less female flowers than male, but female flowers are larger. However, after fertilization, the female flowers, including their perianth cap, first turn light green and as they grow, turn dirty brown.
Blooming season: Summer.
Fruits: Oval, edible, one seeded, berry, about 2,5 cm long orange or yellow in clusters. As the fruits mature and ripen, they change in colour to deep orange, crimson red or maroon and are similar to Areca catechuSN|28446]]SN|24199]]. The inflorescence rachillae take on bright orange red intense colouration at maturity. A ripe infructescence bearing 25-300 fruits is extremely pretty.
Bibliography: Major references and further lectures
1) Forest & Kim Starr "Areca vestiaria (Orange crownshaft palm, pinang merah)". Plants of Hawaii. <http://www.starrenvironmental.com>. Downloaded on 19August 2014.
2) Edward Balfour "The timber trees, timber and fancy woods: as also the forests of India and of eastern and southern Asia" Higginbotham, 1870 Page 20
3) P. B. Tomlinson, Martin Zimmerman "Tropical Trees as Living Systems" Cambridge University Press, 10/giu/2010. Page 267
4) Palms & Cycads No. 18 Jan-Mar 1988
5) Alice Kurian, K.V.Peter "Commercial Crops Technology" New India Publishing, 01/gen/2007
6) Robert Lee Riffle, Paul Craft "An Encyclopedia of Cultivated Palms" Timber Press, Portland 2007
7) John Dransfield, Natalie W. Uhl, Conny B. Asmussen, William J. Baker, Madeline M. Harley, Carl E. Lewis: "Genera Palmarum. The Evolution and Classification of Palms." Royal Botanic Gardens, Kew 2008
8) Don Ellison, Anthony Ellison "Cultivated Palms of the World" UNSW Press, 2001
Trunk fruit and leaves at Iao Tropical Gardens of Maui, Maui. May 22, 2012.
Photo by: Forest Starr & Kim Starr
Habit at Iao Tropical Gardens of Maui, Maui. May 22, 2012.
Photo by: Forest Starr & Kim Starr
Cultivation and Propagation: This palm is an excellent garden plant adapt to different tropical climates. The Orange Crownshaft Palm looks much more spectacular when grouped together as 3 or 4 plants. It is also one of the most elegant indoor palms.
Growth Rate: Areca vestiariaSN|28446]]SN|28446]] growth can be surprisingly quick when given suitable growing conditions.
Soil requirements: It prefers moist well-drained fertile, soils rich in humus except those that are constantly soggy pH 6,5 to 6,8. However it is widely adaptable including those that are neutral, acidic, clayey and slightly alkaline.
Watering: It prefers regular waterings and should be watered before the soil completely dries. Don't let sit in water. Indoor, potted arecas should not be over-watered. They may contract the fungus Phytophthora, if over-watered.
Light: Outside they grow best in half sun and tolerating direct sun only after about five years old. Young specimens need protection from direct sunlight and grow best in shady to partly shady locations. If home-grown, they look their best in bright diffuse light.
Fertilization: Need a perfect low-release fertilizer (e.g., 18-18-18) diet including all micro nutrients and trace elements. It is subject to magnesium and potassium deficiency
Hardiness: They grow well in tropical and subtropical climates and like warm weather, try to avoid cold temperatures and protect them from the frost; normal temperatures should not go below 10°, but well established palm can tolerate temp down to 0° C for short periods, if the days remained on the warm side, but will eventually succumb to persistent coolness. (USDA Zones 10 – 11) Growth under any conditions other than tropical would yield the slowest imaginable growth, and most likely, eventual death. This palm is perfect for a tropical conservatory, and would be the delight of any greenhouse hobbyist.
Maintenance: Remove dried fronds.
Garden uses: It is grown in open air, in the sub tropical and warm-temperate zones, for the decoration of parks and gardens, in a partly shaded location when young, and regularly watered. It is also an elegant indoor plant that don't need particular attentions.
Pot culture: Move them to larger pots every couple of years and grow in partial shade and water them most every day, but always protected from cold.
Other uses: Areca vestiariaSN|28446]]SN|28446]] is so called from clothing being made of its fibres.
Disease & Pests: It is quite resistant to pests but may require regular fertilization to prevent yellowing caused by potassium deficiencies; protect against spider mites, scale insects, Cylindrocladium leaf spot, stigmina and other fungal leaf spots. They are also susceptible to lethal yellowing disease. Protect from frost.
Propagation: Seeds or division of clumps. Seeds that takes only 2-3 months to germinate a. It fruits profusely at a young age, and the seeds are readily avilable. If you wish to grow the maroon variety of this palm, it will do no good to select seed from a maroon parent. It appears that no matter from which parent you collect seed, the seedlings will exhibit traits of all forms. The seeds start germinating immediately as there is no dormancy period. The plant elongates vertically faster rather than developing a stout bole. As if to support the thin stem, many aerial roots are produced from the tender stem which serve as props. Thus, there is vital need for several supporting stilt-roots which are formed subsequently. The viability of fruit is short.