Donate now to support the LLIFLE projects.
Your support is critical to our success.
Since 4 Aug 2013
Accepted Scientific Name: Pritchardia martii (Gaudich.) H.Wendl.
Bonplandia 10: 199 (1862)
Washingtonia martii (Pritchardia martii) Photo by: Forest Starr & Kim Starr
Habit with Bob at Pololei Haiku, Maui, Hawaii (USA). April 11, 2013.
Origin and Habitat: Pritchardia martiiSN|28615]]SN|28615]] is native to the northern Ko'olaus mountains, O'ahu, Hawaii, USA, where it forms a small local population. Pritchardia martii is considered one of the more common Pritchardia species with estimates of up to 10,000 individuals and often very abundant where it occurs.
Altitude range: From about 350 to 660 (-1000?) meters above sea level.
Habit and ecology: Pritchardia martiiSN|28615]]SN|28615]] grows in submontane rain forest in depressions in the crest of the Koolau mountain range behind Honolulu, and sometimes into mesic valleys. Some grow on the sides of nearly vertical cliffs, exposed ridges and precipices in buffeting winds. This species is typically found in forest dominated by Ohi'a lehua (Metrosideros polymorpha) or Koa (Acacia koa). Predation of seeds and seedlings by introduced species including rats, goats, deer, and pigs contribute to low survival rates for Pritchardia seedlings. Regeneration of Pritchardia palms is therefore low which threatens the survival and persistence of many species.
Synonyms:
See all synonyms of Pritchardia martii
Accepted name in llifle Database:
Pritchardia martii
(Gaudich.) H.Wendl.
Bonplandia 10: 199 (1862)
Synonymy: 19
Common Names include:
ENGLISH:
Loulu palm, Fan palm, Koʻolau Range pritchardia
HAWAIIAN (ʻŌlelo Hawaiʻi):
Loulou, Loulu hiwa, Hāwane, Loulu, Noulu, Wāhane
Description: Pritchardia martiiSN|24622]]SN|28615]] is a small sized to medium sized fan-palm that can be distinguished by its petioles with irregularly shaped, papery ligules or wings and silvery-bronze leaf undersides. After flowering, large roundish to olive-shaped blackish fruits (about the size of golf balls) are produced in generous amounts. This is among the world's most beautiful small palms; it seems the essence of what a small palm should look like.
Taxonomic note Pritchardia martii is the most variable of Pritchardia species and has been separated into several species in the past. However mdern revisions of the genus now indicates that Pritchardia kahukuensis, formerly a synonym, is a distinct Oʻahu species from the northwestern end of the Koʻoau Mts. Pritchardia arecinaSN|28615]]SN|24622]] is similar but differs in its petioles with an abundance fibres at the base.
Trunk: Varies in size including plants that are 3 to 10 m in height and up to 30 cm thick.
Crown: Canopy spread of about 2,5-3 m.
Leaves: Palmate, 90-120 cm wide. Petioles 90-120 cm long with irregularly shaped, papery ligules or wings or only a few fibers proximally. Leaf blades slightly undulate to nearly flat, folded into stiff segments that are split at the tip and fused at the base, deep olive to nearly bluish-green above but completely covered beneath with lepidia and appearing silvery greyish white or sometimes silvery bronze.
Inflorescences: Partially enclosed by a boat-shaped bract, composed of 1-4 panicles, shorter than petioles in flower and fruit to exceeding petioles or leaf blades in flower and greatly exceeding leaf blades in fruit, panicles branched to 2 orders. Rachillae glabrous or with felt-like indumentum.
Flowers: Typical of Pritchardia, not showy, small, yellowish, hermaphroditic; that is, each flower produces both pollen and ovules. Singularly, the flowers are not impressive but has an nice display en masse. Bees and other insects in great numbers are attracted to the flowers.
Blooming Period: Winter to spring.
Fruits: Oval, narrowed towards the tip and the base 40-50 x 25-40 mm long.
Notes: Scientific research indicates that Pritchardia species may historically have been much more dominant in the Hawaiian coastal and lowland forest vegetation. Pollen data from Laysan Island indicates that Pritchardia was common around 7,000 years ago with gradually decreasing abundance until the early 1900's. Historical documents note document few Pritchardia surviving individuals in the early 1900's but note a large number of felled Pritchardia. Possible causes for the reduction of Pritchardia in the Hawaiian vegetation include long-term climatic drying, cutting and burning of the trees by early voyagers, and the introduction of rats that limited Pritchardia regeneration by seed predation.
Bibliography: Major references and further lectures
1) Forest & Kim Starr Pritchardia martii (Loulu). Plants of Hawaii. <http://www.starrenvironmental.com>. Downloaded on 21 August 2014.
2) David Leaser "Growing Palm Trees in Hawaiʻi and Other Tropical Climates", page 78.
3) Heidi Leianuenue Bornhorst "Growing Native Hawaiian Plants: A How-to Guide for the Gardener" Bess Press, 01/Apr/2005
4) Don Ellison, Anthony Ellison "Cultivated Palms Of The World" UNSW Press, 01/May/2001
5) Dieter Mueller-Dombois "Vegetation of the Tropical Pacific Islands" Springer Science & Business Media, 1998
6) e. Craighill Handy "Ancient Hawaiian Civilization: A Series of Lectures Delivered at THE KAMEHAMEHA SCHOOLS" Tuttle Publishing, 15/Dec/1989
7) International Palm Society "Palms" Volumi 51-52 International Palm Society, 2007
8) Umberto Quattrocchi "CRC World Dictionary of Plant Nmaes: Common Names, Scientific Names, Eponyms, Synonyms, and Etymology" CRC Press, 17/Nov/1999
9) Native Plants Hawaii. "Pritchardia martii" web 21 August 2014. >http://nativeplants.hawaii.edu>
10) Wagner, W. L., Herbst, D. R., and S. H. Sohmer. "Manual of the Flowering Plants of Hawai'i." Revised Edition. Volume 2. Bishop Museum Special Publication 97. University of Hawai'i Press, Bishop Museum Press, Honolulu, Hawai'i. 1999
11) Gemmill, C. 1998. "Pritchardia." In: IUCN 2006. 2006 IUCN Red List of Threatened Species. . Downloaded on 08 June 2007
12) Wagner, W. L., Herbst, D. R., and S. H. Sohmer. 1999. "Manual of the Flowering Plants of Hawai'i." Revised Edition. Volume 2. Bishop Museum Special Publication 97. University of Hawai'i Press, Bishop Museum Press, Honolulu, Hawai'i.
13) "Pritchardia martii." PACSOA Palms and Cycads wiki , <http://www.pacsoa.org.au> Accessed on 28 Aug. 2014
14) "Pritchardia martii." National Tropical Botanical Garden <http://ntbg.org/plants/plant_details.php?plantid=9490> Accessed on 28 Aug. 2014
15) Obata, John K. "Seed germination in native Hawaiian plants." Newsletter of the Hawaiian Botanical Society 6 (3):13-20. 1967
16) Athens, J.S., Ward, J.V. and D. W. Blinn. "Vegetation History of Laysan Island, Northwestern Hawaiian Islands." Pacific Science 61(1): 17-37. 2007
17) Palmpedia contributors. "Pritchardia martii." Palmpedia, PALM ENCYCLOPEDIA, <http://www.palmpedia.net> Downloaded on 26 Aug. 2014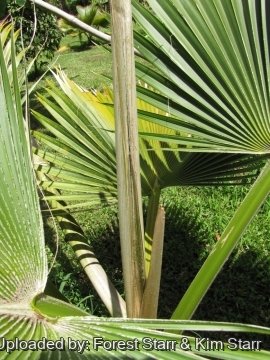 Fronds unfurling at Pololei Haiku, Maui. April 11, 2013, Hawaii (USA).
(Pritchardia martii)
Photo by: Forest Starr & Kim Starr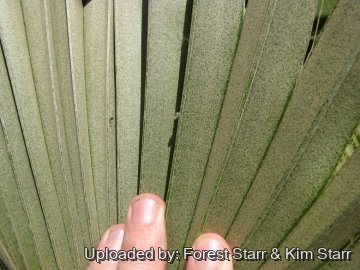 Frond underside with silvery fur at Pololei Haiku, Maui, Hawaii (USA). April 11, 2013.
(Pritchardia martii)
Photo by: Forest Starr & Kim Starr
Frond underside with silvery fur at Pololei Haiku, Maui, Hawaii (USA). April 11, 2013.
(Pritchardia martii)
Photo by: Forest Starr & Kim Starr
Send a photo of this plant.
The gallery now contains thousands of pictures, however it is possible to do even more. We are, of course, seeking photos of species not yet shown in the gallery but not only that, we are also looking for better pictures than those already present.
Read More...
Cultivation and Propagation: Pritchardia martiiSN|28615]]SN|28615]] is an easy to grow palm but not often available for the landscape.
Growth rate: It is a slow growing, short stocky palm. Specimens raised in dry and/or infertile soils tend to be smaller in stature with smaller leaves. Light also affects the plant's form while those grown in full sun are more compact.
Soil: It likes organic soil, but is adaptable to clay and loam bolth slightly alkaline and acidic. Good drainage is also important.
Fertilization: Need a perfect fertilizer diet including all micro nutrients and trace elements or slow release fertilizer. Micronutrient deficiencies are occasional problems. If it doesn't get enough Mn and Fe, the leaves take on a rather unhealthy yellow colour. Micronutrient deficiencies only show up on soil with a high pH. Fertilize often for faster growth
Water Requirements: Needs regular water, do not let dry out between waterings. however it does not want to sit in continually wet, mucky soil. The roots and lower trunk can rot if soil is kept too moist.
Light: Prefers full sun but will tolerate half day sun. .
Hardiness: It is adapted to tropical and subtropical climates but tolerate temperatures down to about -0°C (or even less for short periods) when mature, young plants are more cold sensitive.
Manteinance: Remove dead fronds and spent fruiting stalks for a clean landscape appearance. Fronds can be left on the palm to form a skirt for natural settings. Palms recycle nutrients from dead or dying fronds and use them for healthier fronds. Palms only have a set number of new leaves that can sprout and grow per year and removing fronds will not increase that number. If you cut off more than what will grow annually, you could be left with a pretty bare and bald palm.
Pest & Disease: Mealybugs and whiteflies underneath the leaves can present problems at times if not kept in check. A generous spray of water can wash them off.
Early Hawaiian Use The hard wood of the trunk were fashioned into spears. The trunks loulu were notched for climbing to gather the immature fruits and fronds. Older specimens still bear notches that can be seen today. The fronds were used for thatching and as plaiting such as papale (hats) and fans.
Food use: The young fruits called hāwane or wāhane are edible and can be eaten after being peeled. The flavor of fruit with the soft interior is similar to coconut.
Ornamental: It is cultivated as an ornamental tree, and planted in gardens and parks in tropical and sub-tropical climates either as a single specimen or in groups. Culture in containers is possible although growth rates are slower. A bright patio will provide an excellent environment for young specimens which can eventually be planted in a sunny location.
Propagation: Seeds.