Donate now to support the LLIFLE projects.
Your support is critical to our success.
Since 4 Aug 2013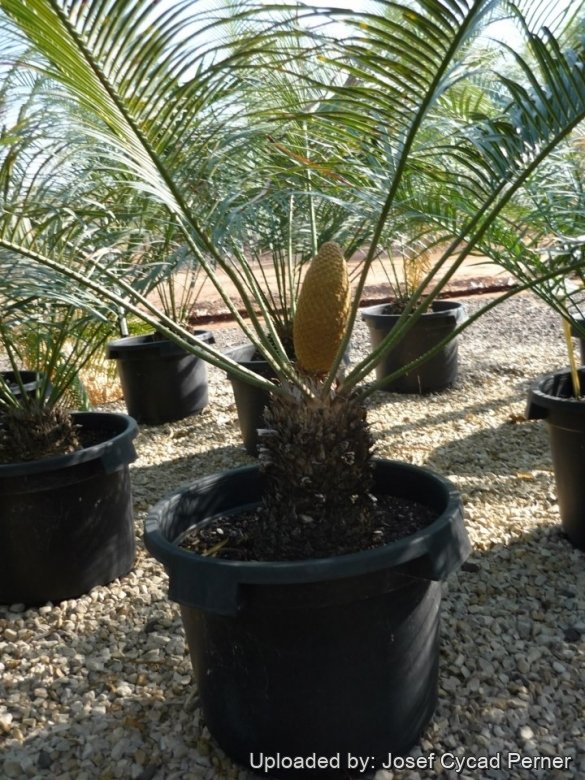 Cycas wadei Photo by: Josef Cycad Perner
Male cone.
Origin and Habitat: Cycas wadeiSN|28834]]SN|28842]] is endemic to the Philippines, where it is found on Culion island, part of the Calamanian group. Plants occur to the east of Halsey Harbour.
Altitude range: This species iccurs at an estimated altitude of 20 to 50 metres above sea level. This species occurs at a single location and has a small area of occupancy (less than 10 km²), and there is continuing decline in habitat and numbers of mature individuals. The species is found as one subpopulation of about 5,000 mature individuals. Plants are fairly dispersed.
Habitat and Ecology: This species grows on low hills in lowland regions amid large open expanses of coarse grass dominated by Imperata species known as the `cogonal grande' or `patag grande'. This is a seasonally dry area that suffers frequent grassfires, and the narrow leaflets would appear to be a parallel adaptation to xeric conditions similar to that seen in Australia (Cycas cairnsianaSN|31836]]SN|29853]], Cycas calcicolaSN|29853]]SN|31836]]) and India (Cycas beddomeiSN|28842]]SN|28834]]). Plants are found under low bushes or trees bordering large open grassy areas. This species is threatened due to the conversion of grasslands into settlement areas and burning of grasslands to promote growth of young grass for cattle. The seeds and seedlings of the species are collected and sold as ornamentals in local fairs.
Synonyms:
See all synonyms of Cycas wadei
Accepted name in llifle Database:
Cycas wadei
Merr.
Philipp. J. Sci. 60: 234 (1936)
Synonymy: 3
Common Names include:
ENGLISH:
Wade's Pitogo
Description: Cycas wadei is readily distinguished by the combination of its often branched habit, narrow leaflets (moatly 4-5 mm wide), usually 2-ovuled megasporophylls and the distinctly ribbed stony layer (sarcotesta) of its seeds. Only Cycas curraniiSN|28837]]SN|28837]] shares the ribbed sclerotesta, although seeds of the latter are two times larger than those of C. wadei. C. curranii also has leaflets that are about two times broader.
Derivation of specific name: The cycad was named after Dr. Wade, an American doctor who brought this species to the attention of its author.
Stems: Arborescent, to 5 m tall, 10-20 cm diameter at narrowest point.
Leaves: Deep green, semiglossy (75-)130-132 cm long, flat (not keeled) in section (opposing leaflets inserted at 180° on rachis), with 160-180 leaflets, tomentum shedding as leaf expands. Petiole (20-)28-40 cm long, glabrous, spinescent for 100% of length. Basal leaflets not gradually reducing to spines (80-)170-180 mm long. Median leaflets simple, strongly discolorous (150-)200-290 mm long, 3-5 mm wide, inserted at 100-150simple, strongly discolorous, 220–340 mm long, 9–12 mm wide, inserted at 50–75° to rachis, decurrent for 3–5 mm, narrowed to 2.5–3 mm at base (to 20–25% of maximum width), 10–17 mm apart on rachis; section flat; margins flat, or slightly recurved, not undulate; apex acute, not spinescent; midrib raised above, raised below, narrow. to rachis, 5-6 mm apart on rachis; section flat; margins flat; apex aristate, spinescent; midrib raised above, flat below.
Cataphylls: The cataphylls (Modified leaf, much reduced and thickened, serving to protect the apical meristem in cycads produced in flushes preceding the emergence of cones or leaves.) are pilose and persistent.
Pollen cones: Fusiform, 40-70 cm long, 7-9(-10) cm diam.; microsporophyll lamina waxy, not dorsiventrally thickened, 21-26(-30) mm long, 15-18 mm wide, fertile zone 25 mm long, sterile apex 6 mm long, deflexed, apical spine absent.
Megasporophylls: Like other Cycas species, the female plants do not bear cones; instead they carry ovules and seeds on large, brown-tomentose megasporophylls which are 14-19(-22) cm long; ovules 2, glabrous; lamina orbicular, 70-80(-100) mm long, 70-80 mm wide, deeply pectinate, with 20-30 soft lateral spines 20-25(-35) mm long, apical spine distinct from lateral spines, 26-45 mm long.
Seeds: Subglobose to ovoid, 17-19(-40) mm long, 15-17(-30) mm wide; sarcotesta orange-brown, not pruinose; fibrous layer absent; sclerotesta longitudinally ribbed. Spongy endocarp absent.
Bibliography: Major references and further lectures
1) Hill, K.D. 2010. Cycas wadei. The IUCN Red List of Threatened Species. Version 2015.2. <www.iucnredlist.org>. Downloaded on 20 August 2015.
2) Boris Lariushin "Cycadaceae Family" Lulu.com
3) V.P. Singh "Gymnosperm (naked seeds plant) : structure and development" Sarup & Sons, 01 January 2006
4) Terrence Walters, Roy Osborne "Cycad Classification: Concepts and Recommendations" CABI, 12 January 2004
5) Nestor D. Bondad "Philippine science encyclopedia: Biological sciences" National Research Council of the Philippines, 1983
6) Whitelock, Loran M., "The Cycads", Timber press, 2002
7) Haynes J.L, "World List of Cycads: A Historical Review", IUCN/SSC Cycad Specialist Group, 2012.
8) "The Cycad Pages: Cycas wadei" 1998-2012 Royal Botanic Gardens SydneyWritten and maintained by Ken Hill 1998-2010 Web. 29 Jul. 2015.
9) Jones, D.L. "Cycads of the World." 2nd edn. Reed, Sydney.2002.
10) Norstog, K.J. and Nichols, T.J. "The Biology of the Cycads." Cornell University Press, Ithaca.1997
11) Walters, T. and Osborne, R. "Cycad Classification Concepts and Recommendations." CABI Publishing, Wallingford UK. 2004.
Developing male cone in Joe's Cycad Gardens. From the island of Luzon The Philippines.
Photo by: Josef Cycad Perner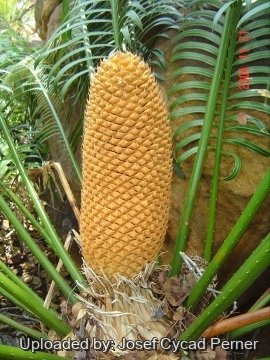 Male cone in Joe's Cycad Gardens. From the island of Luzon The Philippines.
Photo by: Josef Cycad Perner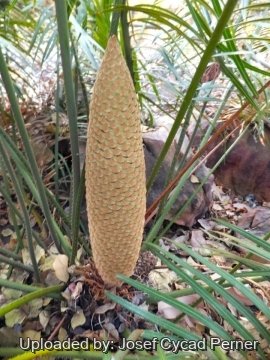 Male Cone. At Pollen Dehiscing stage.
Photo by: Josef Cycad Perner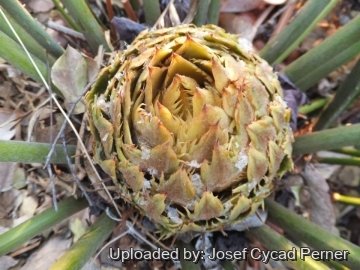 Female cone at receptive stage.
Photo by: Josef Cycad Perner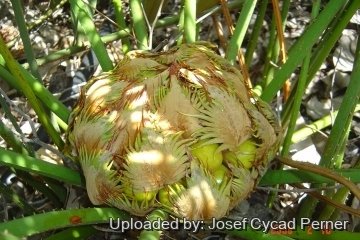 Female cone with seeds. From the island of Luzon The Philippines.
Photo by: Josef Cycad Perner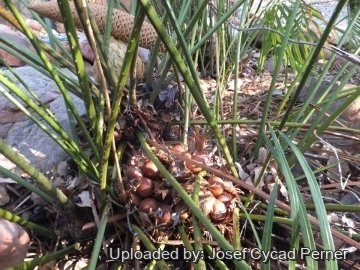 Ripe seeds.
Photo by: Josef Cycad Perner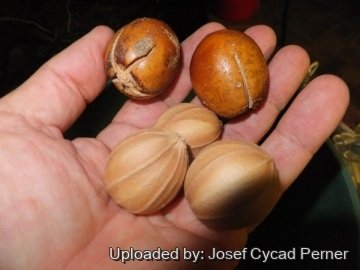 - The seeds are ribbed, this is unusual in Cycas, the only other species is C. culonensis, the coating of the seeds is leathery and easy to peel off after soaking.
Photo by: Josef Cycad Perner
Cycas wadei. 100% Germination rate.
Photo by: Josef Cycad Perner
Cultivation and Propagation: Cycas wadeiSN|28842]]SN|28842]] is suited to tropical regions which have a seasonally dry climate. It is easy to grow, tolerating dry periods, but up to the time of this writing this species is not common in cultivation.
Growth rate: Usually slow growing, however good conditions can speed it up considerably. Because of its growth habit, fertilize only when terminal bud begins to swell, indicating the start of the annual growth cycle.
Exposure: It prefers bright light exposure but colour bleaches when in full sun; best with some protection from afternoon heat.
Soil: Needs a well drained spot, with deep soil, but will still thrive in less than ideal conditions.
Maintenance: Minimal; removal of offsets if desired, removal of spent fronds.
Use: Landscape as cultivated perennial in warm, coastal areas; House-plant or interior-scape, as container plant in cool areas, as well very well suited to bonsai culture.
Propagation: Seed or offshoots (or "pups"). The advantage of the "pups" is that you will know its sex, for seedlings you will have to wait several years until the plant flowers to find out. After fertile seeds are collected, they usually need several months of storage before the inner embryo is ready to germinate. Therefore, it is best to clean the seeds of external fruit and set them aside before attempting to propagate the seeds.