Donate now to support the LLIFLE projects.
Your support is critical to our success.
Since 4 Aug 2013
Cycas basaltica
Forest. Dept. Bull. W. Australia 32: 31 (1923)
Family: CYCADACEAE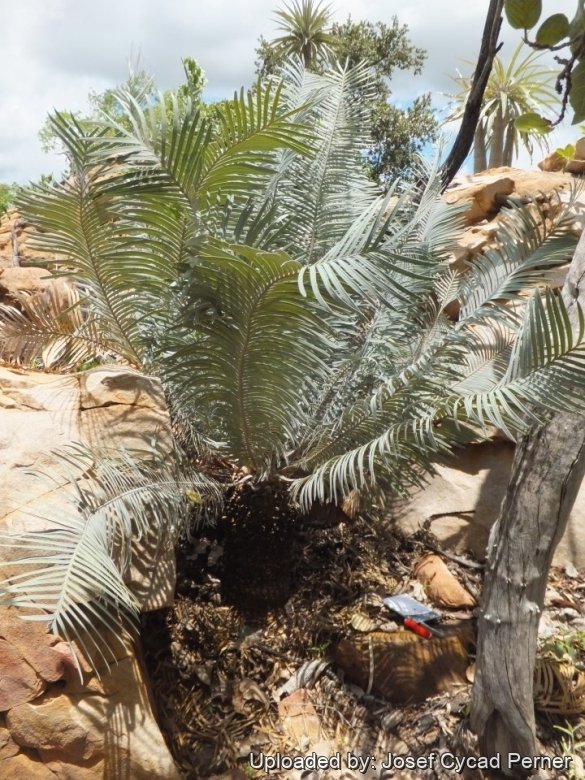 Cycas basaltica Photo by: Josef Cycad Perner
Cycas basaltica. Ex-situ Conservation collection in Jurassic Cycad Gardens.
Origin and Habitat: Cycas basalticaSN|29956]]SN|31810]] is a widespread species in the northern Kimberley region of Western Australia, from offshore islands west of Port Warrender to around Kalumburu. The largest colonies known are in open Eucalypt country, around the bases of small hills in the Drysdale River National Park. Populations on the southern parts of the Mitchell Plateau are intergradational with Cycas lane-pooleiSN|31810]]SN|29956]].
Type locality: Australia, Western Australia, Lawley River, Kimberley.
Altitude range: Populations occur from offshore islands west of Port Warrender to around Kalumburu at 230 to 260 metres above sea level.
Habitat and Ecology: This species grows in sparse woodland and among grass and boulders on low, rocky hillsides. All known occurrences are on skeletal red or grey clays on stony basalt slopes. The overall population size is unknown but known populations are extensive and there is adequate regeneration. The main threat appears to be collectors, however this species has a relatively large range with large stable populations, and no major threats.
Synonyms:
Common Names include:
ENGLISH:
Zamia Palm, Cycas
Description: Cycas basaltica is a delightful palm-like plant with a simple stout trunk and one metre long leaves forming a bowl shaped, inward facing leaf crown. The new emerging silvery leaves contrast with the rusty gold-brown of the rachis. Cycads are gymnosperms: they produce naked seeds, just as conifers (pine trees) do. So even though they look like palms, they are actually more closely related to the pines.
Distinguishing features: This species is distinguished by the strongly keeled leaves with angled, broad, often white-tomentose, but non-glaucous leaflets. The leaflets are rigid, the nerve on the upper surface sunken (channelled above) making margins slightly recurved, the lower surface is pitted with pustule-like protuberances surrounding the stomata. The blade of female sporophyll is entire.
Derivation of specific name: From "basalitica" = basalts, a type of marble found in Ethiopia, for its occurrence on basaltic lithologies.
Caudices (trunk): Stout to two metres (rarely four metres) high, and 30-60 cm in diameter (15-23 cm in diameter at narrowest point), swollen at the base with an enlarged subterranean structure.
Roots: The taproot is contractile, and tends to pull crown downwards.
Laves (fronds): 30 or more in the crown, flat (not keeled) in section (50-)80-125(-150) cm long, grey-green to deep green, semiglossy (when mature). Pinnae (leaflets) 140-210, 90-180 mm long, 5.5-9.5 mm wide, 6-13 mm apart on rachis, covered in short white hairs which give it a grey appearance; they are angled forward at 70-80°. Mature median leaflets are simple, strongly discolorous, narrow and rigid, flat in section. Margins flat, or slightly recurved; apex acute, spinescent; midrib flat above, raised below. All leaflets being very hoary beneath. Rachis consistently terminated by paired leaflets. The basal leaflets are reduced to spines 1 mm long, similar to Cycas revolutaSN|23433]]SN|23433]]. Younger plants have pubescent, spinescent often with only 2-3 distal spines petioles 8-20 cm long, with older specimens losing this trait.
Cataphylls: The cataphylls (Modified leaf, much reduced and thickened, serving to protect the apical meristem in cycads produced in flushes preceding the emergence of cones or leaves.) are linear, soft, pilose, 70-130 mm long, persistent.
Female cones: Like other Cycas species, the female plants do not bear true "cones"; instead they carry ovules and seeds on fleshy, densely covered with thick fine rusty hairs megasporophylls that are open leaflike structures about 17-24 cm long, that bear about 2-6 lateral glabrous ovules on each side of the margins of the lamina with the micropyles of the ovules directed away from the axis of the sporophyll. Lamina lanceolate, 50-90 mm long, 14-19 mm wide, regularly dentate, with 6-20 soft lateral spines 2-4 mm long, 2-3 mm wide, apical spine distinct from lateral spines, 20-35 mm long. The end blade of the spikes being narrow and entire
Male cones: Solitary and erect, narrow elongate, ovular or slightly conical, 18-24 cm long and 7-9 cm diameter, orange to brown. Microsporophyll lamina firm, not dorsiventrally thickened, 25-35 mm long, 11-15 mm wide, fertile zone 20-24 mm long, sterile apex 7-13 mm long, deflexed, apical spine prominent, sharply upturned, 5-11 mm long.
Seeds: Flattened-ovoid, 27-31 mm long, 26-30 mm wide. Yellowish-brown sarcotesta, glabrous and/or glaucous. Fibrous layer absent; sclerotesta smooth. Spongy endocarp absent. Seed apparently mature in August.
Bibliography: Major references and further lectures
1) Jones, D.L. "Cycads of the World", 2nd edn. Reed Books, Sydney, Australia. 2002.
2) Boris Lariushin "Cycadaceae Family" Lulu.com
3) Russell Gueho "Rhythms of the Kimberley: A Seasonal Journey Through Australia's North" Fremantle Press, 2007
4) Hill, K.D. 2010. Cycas basaltica. The IUCN Red List of Threatened Species. Version 2015.2. <www.iucnredlist.org>. Downloaded on 06 September 2015.
5) Wikipedia contributors. "Cycas basaltica." Wikipedia, The Free Encyclopedia. Wikipedia, The Free Encyclopedia, 24 Dec. 2014. Web. 6 Sep. 2015.
6) Australia. Bureau of Flora and Fauna, Australian Biological Resources Study "Flora of Australia: Ferns, gymnosperms and allied groups" CSIRO Australia, 1998
7) Winston Rodger Elliot, David Lloyd Jones "Encyclopaedia of Australian plants suitable for cultivation" Volume 3 Lothian Pub. Co., 1983
8) "Australian Plants" Society for Growing Australian Plants., 1990
9) The Cycad Pages "Cycas basaltica" Royal Botanic Gardens Sydney Written and maintained by Ken Hill 1998-2010 Maintained by Leonie Stanberg and Dennis Stevenson 2010-2012 <http://plantnet.rbgsyd.nsw.gov.au/cgi-bin/cycadpg?taxname=Cycas+basaltica> Web. 25 August 2015
10) Whitelock, Loran M., "The Cycads", Timber press, 2002.
11) Haynes J.L, "World List of Cycads: A Historical Review", IUCN/SSC Cycad Specialist Group, 2012.
12) L. P. Butt "Cycas basaltica" in: Palms & Cycads No. 27, Apr-Jun 1990.
13) PACSOA contributors "Cycas basaltica". In: Cycads. Palm and Cycad Societies of Australia (PACSOA). 23 November 2013 Web. 28 August 2015.
Cycas basaltica in habitat.
Photo by: Josef Cycad Perner
Cycas basaltica in habitat. Female cone.
Photo by: Josef Cycad Perner
Cycas basaltica. In the collection of Josef Cycad Perner at Jurassic Cycad Gardens.
Photo by: Josef Cycad Perner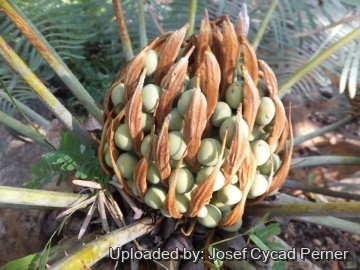 Cycas basaltica
Photo by: Josef Cycad Perner
Male cone. See the beautiful leaf form and the contrast in the colours.
Photo by: Josef Cycad Perner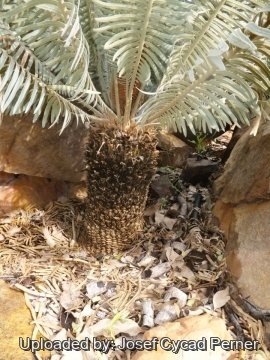 Cycas basaltica. Trunk, this is a very slow growing cycad. This is possibly 100 years old.
Photo by: Josef Cycad Perner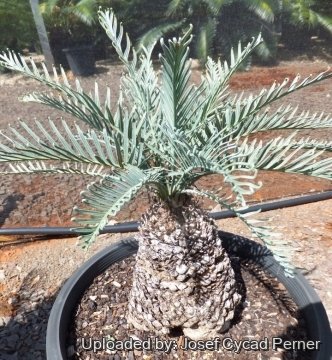 Old specimen at Cycad International. The new emerging leaves are silvery-grey.
Photo by: Josef Cycad Perner
Fruiting habit.
Photo by: Josef Cycad Perner
Cultivation and Propagation: Cycas basalticaSN|31810]]SN|31810]] is suited to tropical regions which have a seasonally dry climate. It is easy to grow, tolerating dry periods.
Growth rate: Usually very slow growing, however good conditions can speed it up considerably. Because of its growth habit, fertilize only when terminal bud begins to swell, indicating the start of the annual growth cycle.
Exposure: It prefers bright light exposure but colour bleaches when in full sun; best with some protection from afternoon heat.
Soil: Needs a well drained spot, with deep soil, but will still thrive in less than ideal conditions.
Maintenance: Minimal; removal of offsets if desired, removal of spent fronds.
Use: Landscape as cultivated perennial in warm, coastal areas; House-plant or interior-scape, as container plant in cool areas, as well very well suited to bonsai culture.
Propagation: Seed or offshoots (or "pups"). The advantage of the "pups" is that you will know its sex, for seedlings you will have to wait several years until the plant flowers to find out. After fertile seeds are collected, they usually need several months of storage before the inner embryo is ready to germinate. Therefore, it is best to clean the seeds of external fruit and set them aside before attempting to propagate the seeds.
Your Photos
---
by Josef Cycad Perner

by Josef Cycad Perner

by Josef Cycad Perner

by Josef Cycad Perner

by Josef Cycad Perner