Donate now to support the LLIFLE projects.
Your support is critical to our success.
Since 4 Aug 2013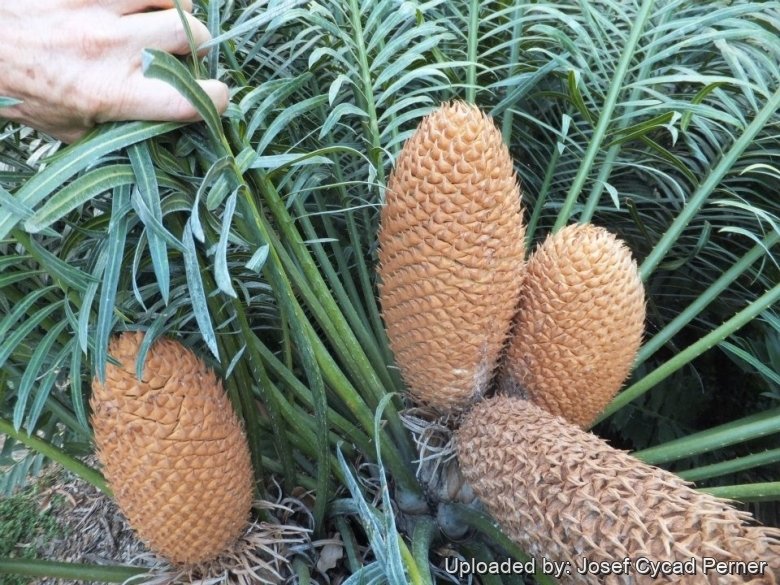 Cycas bougainvilleana Photo by: Josef Cycad Perner
Cycad Cones in Joe's Cycad Gardens. Cycas bogainvilleana Male cones.
Origin and Habitat: Cycas bougainvilleanaSN|28872]]SN|31813]] is confined to near-coastal sites on Bougainville and New Britain islands of Papua New Guinea (Bismarck Archipelago, North Solomons) and also on other Solomon islands (South Solomons).
Habitat and Ecology: This species is found in coastal and near coastal sites in calcareous coral sand dunes and in adjacent forests. Plants occur in low elevation moist littoral forest on stabilized calcareous coral sand dunes and headlands together with the gnetophyte Gnetum gnemon L. This species hybridizes naturally with other species in its native range. It reaches its best development on Bougainville, being slightly less robust in the New Britain Group. This is interpreted as a result of genetic inflow from mainland possibly from Cycas rumphiiSN|28872]]SN|31824]]. Similar but even more highly variable forms occur in the islands off the eastern point of the New Guinea mainland (the Trobriand, D'Entrecasteax and Louisiade groups), possibly representing a higher degree of mixing and subsequent hybrid segregation of C. bougainvilleana and Cycas scratchleyana with maybe some genes of Cycas apoa included. Plants from the Solomon Islands are nearest to C. bougainvilleana, but are also very highly variable, with the range also approaching Cycas seemanniiSN|31824]]SN|28872]]. Similarly, plants from Vanuatu are somewhat more robust than is usual in Cycas seemanniiSN|31813]]SN|28872]], but less so than in the Solomoms. The variability in the Solomon Islands, Vanuatu and the Admiralty Islands is interpreted as a product of genetic interchange resulting from successive waves of colonisation facilitated by the aquatic dispersal mechanism. Natural forces can scatter floating seeds widely. The colonists' flowering produces a population of variable hybrids. There will be no sign of the source of the hybridism when the colonists die. Later storms can cause further injections of foreign genetic material. The threats to this species are not known.
Synonyms:
Description: Cycas bougainvilleana is a tall, erect, arborescent cycad species mimicking the look of short palm trees that can grow up over 5 metres. Its long leaves (fronds) up to 270 cm ((hence about 5 metres span) are feathery and radiate from a central point at the top of a woody trunk-like stem and are distinguished by the very broad, falcate leaflets up to 30 cm long and more than 13 mm wide, with a hard, glossy cuticle, a low midrib and a relatively short, thick, usually partly spinescent petiole. Newly emerging fronds are soft and flexible, and shed orange-tan fuzz, eventually glabrous, bright green with a glossy waxy coating as they mature. Megasporophyll large, heavy, lamina narrowly triangular, 70 mm long with regularly dentate, with 16-32 lateral spines. After pollination via the wind, flattened-ovoid orange-brown seeds develop and are shed to the ground. At a first glance it may looks a bit like a giant Cycas rumphiiSN|28872]]SN|31824]], but it is nearest to Cycas seemanniiSN|31824]]SN|28872]] from Fiji, differing in being generally more robust in all features, together with a usually partly spinescent petiole. Cataphylls are also longer and more pungent.
Derivation of specific name: It is named after its home on the Bougainville Island in the Bismarck Archipelago.
Stems: Erect, up to 5 m tall, with a crown of numerous leaves.
Leaves:240-270 cm long, flat (not keeled) in section (opposing leaflets inserted at 180° on rachis), with 130-260 leaflets, bright green, highly glossy, the dense orange tomentum shedding as leaf expands; terminated by a spine or paired leaflets; 3-11 mm long. Petiole 30-65 cm long, pubescent, unarmed or more often spinescent. Basal leaflets not gradually reducing to spines. Median leaflets simple, strongly discolorous, 250-340 mm long, 13-18 mm wide, inserted at 60-80° to rachis; section flat; margins slightly recurved; not spinescent; midrib raised above, raised below.
Cataphylls: The cataphylls (Modified leaf, much reduced and thickened, serving to protect the apical meristem in cycads produced in flushes preceding the emergence of cones or leaves.) are linear, pungent, pilose, persistent.
Male cones: Erect, narrow ovoid to fusiform, yellow to pale-brown. Microsporophyll lamina firm, dorsiventrally thickened, apical spine broad, rudimentary, sharply upturned.
Megasporophyll: Like other Cycas species, the female plants do not bear cones; instead they carry ovules and seeds on on 7 cm long, 35-50 mm wide megasporphylls. The lamina is ovate to narrowly triangular (lanceolate), 70 mm long, dense grey to orange tomentose, with regularly dentate, with 16-32 pungent lateral spines that are 4-9 mm long, apical spine distinct from lateral spines.Ovules 4-10 per sporophyll, glabrous.
Seeds: Flattened-ovoid. Sarcotesta thick orange-brown tomentose; fibrous layer absent; sclerotesta flattened ovoid shaped apically crested. Spongy endocarp present.
Bibliography: Major references and further lectures
1) Hill, K.D. 2010. Cycas bougainvilleana. The IUCN Red List of Threatened Species. Version 2015.2. <www.iucnredlist.org>. Downloaded on 30 August 2015.
2) Boris Lariushin "Cycadaceae Family" Lulu.com
3) Whitelock, Loran M., "The Cycads", Timber press, 2002.
4) Haynes J.L, "World List of Cycads: A Historical Review", IUCN/SSC Cycad Specialist Group, 2012
5) V.P. Singh "Gymnosperm (naked seeds plant) : structure and development" Sarup & Sons, 01 january 2006
6) Sean Hogan, Timber Press (Portland, Or.) "Flora: a gardener's encyclopedia", Volume 1 Timber Press, 2003
7) Changhong Zhou, George R. Waller, Charlie Reinhardt "Biodiversity and allelopathy: from organisms to ecosystems in the Pacific : proceedings of PSA symposium" Academia Sinica, 1999
8) Wikipedia contributors. "Cycas bougainvilleana." Wikipedia, The Free Encyclopedia. Wikipedia, The Free Encyclopedia, 27 Nov. 2014. Web. 30 Aug. 2015.
9) PACSOA contributors "Cycas bougainvilleana". In: Cycads. Palm and Cycad Societies of Australia (PACSOA). 23 November 2013 Web. 28 August 2015.
10) The Cycad Pages "Cycas bougainvilleana" Royal Botanic Gardens Sydney Written and maintained by Ken Hill 1998-2010 Maintained by Leonie Stanberg and Dennis Stevenson 2010-2012 <http://plantnet.rbgsyd.nsw.gov.au/cgi-bin/cycadpg?taxname=Cycas+bougainvilleana> Web. 25 August 2015
11) Tony Huntington Palms & Cycads No. 58, Jan-Mar 1998
Cycas bogainvilleana, Male cone dehiscing pollen.
Photo by: Josef Cycad Perner
Male cones in Joe's Cycad Gardens.
Photo by: Josef Cycad Perner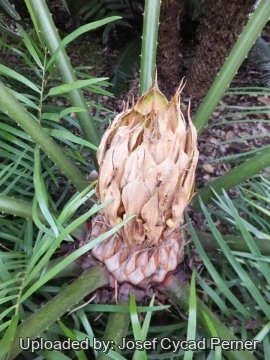 Cycas bougainvilleana
Photo by: Josef Cycad Perner
Cycas bougainvilleana
Photo by: Josef Cycad Perner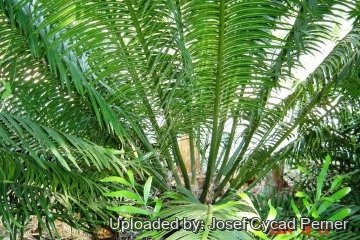 Cycas bougainvilleana
Photo by: Josef Cycad Perner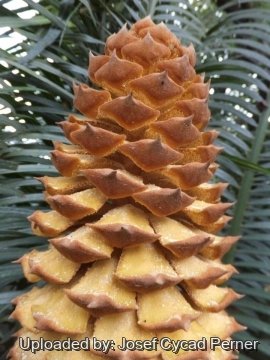 Cycas bogainvilleana, Male cone dehiscing pollen.
Photo by: Josef Cycad Perner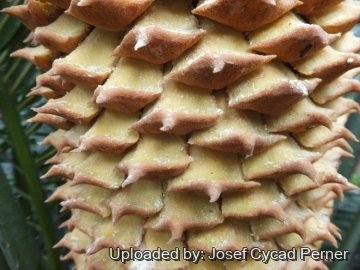 Cycas bogainvilleana, Male cone dehiscing pollen.
Photo by: Josef Cycad Perner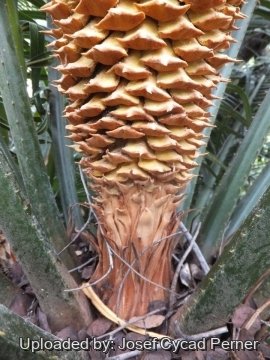 Base of male cone.
Photo by: Josef Cycad Perner
Cultivation and Propagation: Cycas bougainvilleana is suited to tropical and wet regions which have a seasonally dry climate both on the seaside or inland. It is easy to grow, tolerating dry periods. It is a striking tropical accent plant ideal for sunny borders and large containers. It is often the focal point in a large yard. It is not much known about cultivation since not many in cultivation.
Growth rate: It is a robust, fast-growing species, one of the fastest and easiest Cycas species. Because of its growth habit, fertilize only when terminal bud begins to swell, indicating the start of the annual growth cycle.
Exposure: Plant this cycas in full to partial sun.
Soil: Needs a well drained spot, with deep soi. Although this species naturally grows on coral-based or limestone soils with organic matter, avoid planting it in highly alkaline soils to avoid nutritional deficiencies and yellowed foliage.
Maintenance: Minimal; removal of offsets if desired, removal of spent fronds.
Hardiness: This is a tender evergreen species that is tropical in its needs (Zones 11-12), but like other Cycas species from similar climates surprisingly hardy.
Aerosol salt tolerance: It is very tolerant of extreme coastal and beach exposure, as well as salt spray. This is one of the most salt tolerant cycads!
Use: Landscape as cultivated perennial in warm, coastal areas; House-plant or interior-scape, as container plant in cool areas, as well very well suited to bonsai culture. Seeds are ground and made into a type of bread and the fresh male cones are said to be edible.
Pests and diseases: Watch out for scale infestations, especially Asian aulacapsis scale, which will kill a mature plant if untreated.
Maintenance: This is an evergreen species that should only have dead foliage pruned off, never the healthy green leaves.
Propagation: Seed. As a slow growing plant, the seed can take from 6–18 months to germinate. After fertile seeds are collected, they usually need several months of storage before the inner embryo is ready to germinate. Therefore, it is best to clean the seeds of external fruit and set them aside before attempting to propagate the seeds. Usually seeds are ready to germinate after 2-4 month, the germination is rapid and almost all seeds germinate up within 2 month.