Donate now to support the LLIFLE projects.
Your support is critical to our success.
Since 4 Aug 2013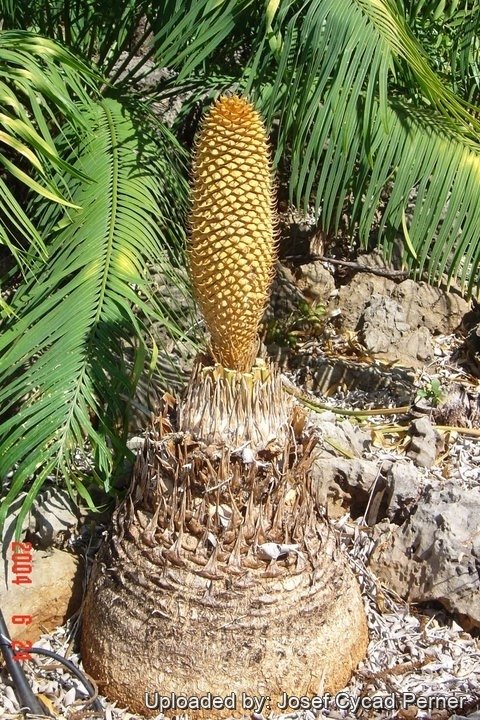 Cycas elephantipes Photo by: Josef Cycad Perner
Origin and Habitat: Cycas elephantipesSN|31993]]SN|31993]] is known only from a few high sandstone massifs or mesas in Chaiyaphum, Nong Bua Raheo region of Thailand.
Habitat and Ecology: This species occurs in seasonally dry and deciduous open to closed woodland with predominantly grassy understorey around the tops of steep sandstone massifs (mesa), mainly near the tops of steep slopes or breakaway cliffs. Cycas elephantipesSN|31993]]SN|31993]] is locally abundant within its distribution range. This species has only recently been described and is considered highly endangered in its natural habitat. The population has been substantially reduced by removal of plants from the wild by plant collectors and then sold. Should this practise continue, it would be a significant threat to the continued survival of the species. Generation Length 40 years.
Synonyms:
Description: Cycas elephantipes is a medium sized cycad to about 3 m tall, with grey/green, semi glossy leaves to about 1.5m long. It has a large swoolen base (hence the name; like an elephants foot), and deeply fissured bark. The fronds are flat, erect dull to semi-glossy grey green with narrow, keeled leaflets that are angled forwards. Cycas elephantipes is very closely related to Cycas pachypoda, but it is taller with larger leaves and leaflets, and most clearly in the much larger male cones with longer microsporophylls and longer apical spines on the microsporophylls.
Stem (trunk). Arborescent, to 1-3 m tall, 15-20 cm in diameter, rough, with a swollen base and thick, dark, deeply fissured corky bark
Leaves (fronds): 40-70 in crown. Grey-green, semiglossy, 100-160 cm long, flat (not keeled) in section (opposing leaflets inserted at 180° on rachis), with 75-300 leaflets, with white tomentum shedding as leaf expands. Rachis consistently terminated by a spine 6-22 mm long. Petiole 20-45 cm long, glabrous, partly spinescent. Basal leaflets not gradually reducing to spines, 20-110 mm long. Median leaflets simple, strongly discolorous, 150-250 mm long, 6-10 mm wide, 8-15 mm apart on rachis; median leaflets section slightly keeled; margins slightly recurved; apex acute, spinescent; midrib flat above, raised below.
Male cones: Ovoid or narrowly ovoid, orange or brown, 30-55 cm long, 12-16 cm diam.; microsporophyll lamina firm, not dorsiventrally thickened, 40-45 mm long, 18-22 mm wide, fertile zone 28-30 mm long, sterile apex 5-7 mm long, level, apical spine prominent, sharply upturned or gradually raised, 15-30 mm long.
Megasporophylls: Like other Cycas species, the female plants do not bear cones; instead they carry ovules and seeds on 20 cm long, grey-tomentose leaf-like megasporophylls;. Ovules 2-4, glabrous; lamina orbicular or ovate, 120 mm long, 80 mm wide, deeply pectinate, with 18 soft lateral spines 45 mm long, 3 mm wide, apical spine distinct from lateral spines, 55 mm long, 4 mm wide at base.
Seeds: Flattened-ovoid; sarcotesta yellow, not pruinose.
Bibliography: Major references and further lectures
1) Boriss Lariushin "Cycadaceae family" January 19, 2013
2) Hill, K.D. 2010. Cycas elephantipes. The IUCN Red List of Threatened Species 2010: e.T178862A7630157. http://dx.doi.org/10.2305/IUCN.UK.2010-3.RLTS.T178862A7630157.en . Downloaded on 15 November 2015.
3) PACSOA contributors "Cycas elephantipes". In: Cycads. Palm and Cycad Societies of Australia (PACSOA). 23 November 2013 <http://www.pacsoa.org.au/wiki/Cycas_elephantipes> Web. 29 October 2015.
4) Whitelock, Loran M., "The Cycads, Timber press", 2002.
5) Haynes J.L, "World List of Cycads: A Historical Review," IUCN/SSC Cycad Specialist Group, 2012.
6) The Cycad Pages "Cycas elephantipes" Royal Botanic Gardens Sydney Written and maintained by Ken Hill 1998-2010 Maintained by Leonie Stanberg and Dennis Stevenson 2010-2012 <http://plantnet.rbgsyd.nsw.gov.au/cgi-bin/cycadpg?taxname=Cycas+elephantipes> Web. 29 October 2015.
Cycas elephantipes
Photo by: Josef Cycad Perner
Cycas elephantipes
Photo by: Josef Cycad Perner
Cycas elephantipes
Photo by: Josef Cycad Perner
Send a photo of this plant.
The gallery now contains thousands of pictures, however it is possible to do even more. We are, of course, seeking photos of species not yet shown in the gallery but not only that, we are also looking for better pictures than those already present.
Read More...
Cultivation and Propagation: Cycas elephantipesSN|31993]]SN|31993]] is suited to tropical regions which have a dry winter. It is easy to grow in sunny, well drained situation, tolerating dry periods.
Growth rate: Usually slow growing, however good conditions can speed it up considerably. Because of its growth habit, fertilize only when terminal bud begins to swell, indicating the start of the annual growth cycle.
Exposure: It prefers bright light exposure but colour bleaches when in full sun; best with some protection from afternoon heat.
Soil: Needs a well drained spot, with deep soil, but will still thrive in less than ideal conditions.
Maintenance: Minimal; removal of offsets if desired, removal of spent fronds.
Use: Landscape as cultivated perennial in warm, coastal areas; House-plant or interior-scape, as container plant in cool areas, as well very well suited to bonsai culture.
Propagation: Seed. As a slow growing plant, the seed can take from 6–18 months to germinate. After fertile seeds are collected, they usually need several months of storage before the inner embryo is ready to germinate. Therefore, it is best to clean the seeds of external fruit and set them aside before attempting to propagate the seeds.