Donate now to support the LLIFLE projects.
Your support is critical to our success.
Since 4 Aug 2013
Encephalartos gratus Photo by: Flavio Agrosi
Origin and Habitat: Malawi and Mozambique. This species was discovered in the Mulanje district of southern Malawi in the region between the Tuchila (Puchila) and the Ruo rivers. Subsequently plants were also found in Mozambique in Zambesia province. Subpopulations are found in the vicinity of the Chiraba and Navene rivers and also on Mount Namuli, near Derre, Morrumbala and Namarroi. The true size of the population is not known, but it is probable that it is reasonably common and exceeds 20,000 mature individuals.
Altitude range: 625 to 925 metres above sea level.
Habitat and Ecology: This species occurs on steep to precipitous slopes in gorges near streams, frequently in rock-crevices with no apparent soil. Usually subject to intense insolation, it nevertheless survives occasional brief submersion in heavy floods in areas with abundant rainfall (1000-1750 mm per year, mainly summery precipitation). Specimens are sometimes met with in savannah forest and less often in dense forest with rich soil. The temperatures regularly reach 35 to 38 ° C. In savannah the plants are usually defoliated by the annual grass-fires, but survive. Female plants may remain leafless for twelve to eighteen months after ripening seeds, their stems continuing short and globose, hypogeal or only rising few dm above the surface. Male plants of approximately the same age may develop stems 1 m high. This species is threatened due to habitat destruction to make place for tea plantations. In its type locality (Mt Mlanje) Encephalartos gratus is severely threatened through habitat destruction and human population growth. "The Mulanje tiger moth (Callioratis grandis) has recently been discovered feeding solely on E. gratus. In some cases there was severe damage to cycad fronds, but this did not seem to affect the production of reproductive cones or even the survival of individual cycads.
Synonyms:
Common Names include:
ENGLISH:
Mulanje Cycad, Bread Palm
Description: Encephalartos gratus is a robust medium-large cycad with trunks sometimes over 1 m long and leaves 2 m long by up to 30 cm wide. In shape of fronds E. gratus most resembles, among the tropical species of the genus. It has soft-textured foliage with dark salmon pink cones. This colouration is shared by only Encephalartos ferox, which is probably not closely related. On the other hand, the cylindrical female cones and successively emerging male cones of E. gratus may point to an affinity with Encephalartos bubalinus and allied species.
Stem: Usually very short, globose or ellipsoid, often entirely underground, 30-38 cm high, 30 cm in diameter, occasionally and especially in male plants subcylindric, up to 60-120 cm high and at times over 60 cm in diameter, closely covered with alternating scales and persistent imbricating leaf-bases clothed with grey cottony tomentum.
Leaves: Usually 120-150 cm long, somewhat recurved, occasionally up to 210 cm long, 30 cm wide above the middle, dark-green; petiole and rhachis subcylindric, clothed with persistent grey tomentum. Pinnules (leaflets) firmly coriaceous, 30–70 pairs, narrowly lanceolate or distinctly falcate, 17-25 cm long, 3 cm wide, very oblique at the base and wide-cuneate or rounded on the upper, narrow-cuneate on the lower edge, apex acutely acuminate, pungent, margin with with 1–5 short teeth on each side which are aggregated towards the base; leaflets reducing in size and becoming narrowly ovate towards the leaf-base, ultimately reduced to short spines. Petiole about 10 cm long
Male cone: Peduncled, sometimes 5 or more in one crown, dull yellowish-green finely dotted with deep red, becoming dark brown after pollen is shed, ovate to fusiform, 30-40 cm long, 7-9 cm wide; peduncles 15-19 cm long, tomentose; scales spreading, wide obovate-deltoid, fertile portion 2 cm long, as much wide, apex rhomboid, c.2 cm across, the lateral angles acute, the upper very obtuse and sometimes nearly obsolete, ridged and distinctly 3-faceted, faintly umbonate.
Female cone: Peduncled, sometimes up to 10 in one crown, dull yellowish-green, becoming at length dark brown, subcylindric or narrow-conical, up to 60 cm long, 15-20 cm wide; peduncles 11-14 cm long; apex of scales wide-rhomboid, 6 cm across, 4 cm deep, lateral angles explanate, upper and lower very obtuse, umbonate near the lower angle.
Seeds: Ellipsoid or ovoid, rather distinctly angled and 3–7-faceted by compression, 3-3.5(-4) cm long and c. 2 cm wide; outer coat dull vermilion. Because plants are dioecious (single sex), and their natural pollinators, probably a species of beetle, do not occur out of it natural habitat, Encephalartos gratus will only set seed if a gardener intentionally pollinates the female plant with pollen from a male.
Bibliography: Major references and further lectures
1) By D. PRAIN "Flora of Tropical Africa" Vol 6, Part 2, page 344, 1917
2) Donaldson, J.S. 2010. "Encephalartos gratus." The IUCN Red List of Threatened Species. Version 2014.3. <www.iucnredlist.org>. Downloaded on 28 December 2014.
3) John Lewis "Flora Zambesiaca" Vol 1, Part 1, page 79, 1960
4) Bayliss et al. "An ecological study of the relationship between two living fossils in Malawi: the Mulanje Tiger Moth (Callioratis grandis) and the Mulanje Cycad (Encephalartos grams)." African Journal of Ecology, 2010; 48(2):472-480).
5) "Issues in Ecosystem Ecology: 2011" Edition ScholarlyEditions, 09 January 2012
6) Terrence Walters, Roy Osborne "Cycad Classification: Concepts and Recommendations" CABI, 12 January 2004
7) Staples, G. W. and D. R. Herbst. "A Tropical Garden Flora: Plants cultivated in the Hawaiian Islands and other tropical places." Bishop Museum Press, Honolulu, Hawai`i. 2005.
8) Whitelock, Loran M., "The Cycads" Timber press, 2002
9) Haynes J.L, "World List of Cycads: A Historical Review," IUCN/SSC Cycad Specialist Group, 2011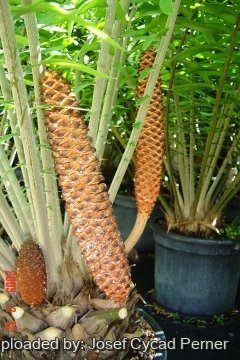 Male cone at Cycad International, Katherine, Northern Territory, Australia.
Photo by: Josef Cycad Perner
Coning habit at Cycad International, Katherine, Northern Territory, Australia.
Photo by: Josef Cycad Perner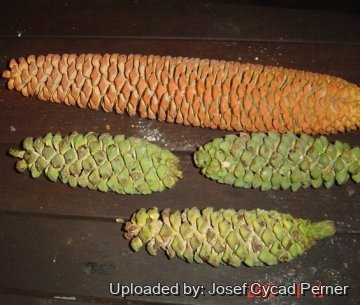 Encephalartos gratus male cone, and smaller Encephalartos whitelockii male cones.jpg
Photo by: Josef Cycad Perner
Potted specimen at Cycad International, Katherine, Northern Territory, Australia.
Photo by: Josef Cycad Perner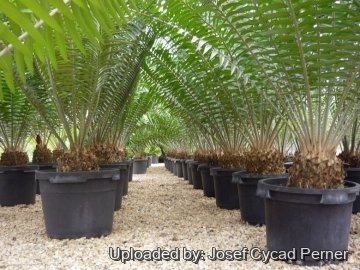 Potted specimens at Cycad International, Katherine, Northern Territory, Australia.
Photo by: Josef Cycad Perner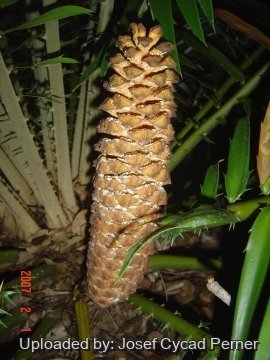 Male cone in Joe's Cycad Gardens.
Photo by: Josef Cycad Perner
Cultivation and Propagation: As a garden subject, Encephalartos gratus, is a vigorous fast growing cycad, which handles wet or dry conditions, it responds well to cultivation provided it has a well-drained soil, frost-free conditions and regular watering during the dry months. When young they can be grown as a container plant and eventually transplanted into the garden. As a garden plant, this cycad will usually hold two or three crowns of leaves, all in good condition.
Soils: It prefer gritty or sandy soil with plenty of water, especially in dry weather. Encephalartos gratus, requires excellent drainage. During the year feed the plant with a generous layer of compost.
Transplanting: This species transplants easily as a mature plant, although it is recommended to remove all of the leaves before doing so. This makes for easier handling and the plant will recover sooner due to less moisture loss.
Waterings: In cultivation prefers moist soil with good drainage for optimal growth. But it is eventually drought resistant. Irrigation systems can be detrimental to cycads, damaging the leaves and stems from the pressure of the water as well as over-watering.
Fertilization: Naturally undemanding for nutrients, it responds very well to regular applications of fertilizer. Growth can be greatly improved through the application of fertilizers. Most growers find that a fertilizer having an even NPK (Nitrogen, Phosphorus, Potassium) balance, and supplemental trace elements, provides a good start for cycads.
Exposure: It thrives and grows best in semishade but can tolerate full sun as well.
Wind tolerance: It prefers a sheltered position providing protection from the prevailing winds.
Hardiness: Frost sensitive (USDA zones 10-12)
Warning: Cycad seeds are toxic to humans, one should use gloves when handling or cleaning them.
Pests and diseases: Most cycad seeds are commonly attacked by the Curculionid weevil (Antliarhinus zamiae). Leaves and cones are prone to scale and mealybug. The gall-midge also attacks young leaves.
Food Uses: Seeds of some Zamia species are eaten by indigenous people. Typically they are ground into flour and baked into a type of starchy bread.
Similar to the roots and trunk of most cycads though, they are fairly toxic and require special processing to make them safe to eat.
Propagation: It may be propagated by seeds. They are among the easiest plants to germinate. Hand pollination is necessary for a successful seed harvest in cultivation. Collect pollen as soon as it starts shedding. If a slight tapping of the male cone sheds pollen, then the cone is ready to be harvested; store pollen at -15ºC for best results. After female cones have been collected, the seeds are left to mature for a year before sowing at the beginning of summer. For best results, sow seeds in river sand on a heated bench at 24-28ºC. Germination should start three weeks after sowing though some will take longer. It is easily transplanted and can also be propagated from suckers.