Donate now to support the LLIFLE projects.
Your support is critical to our success.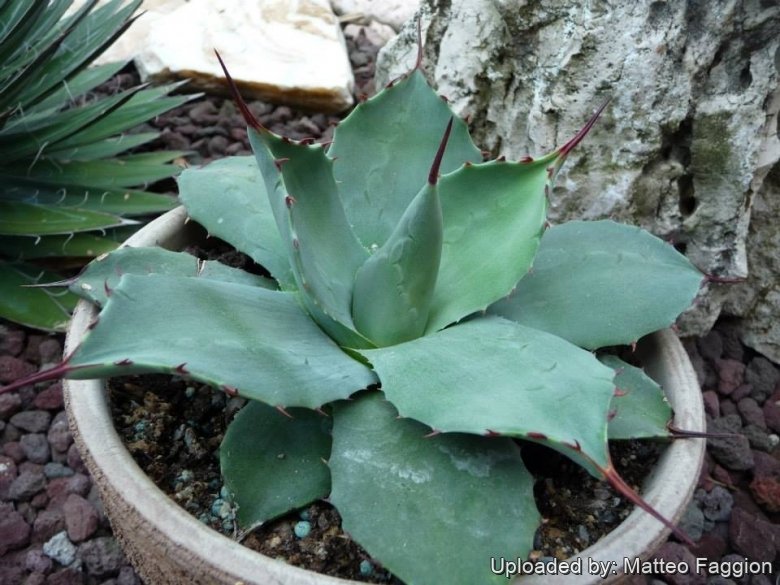 Agave chiapensis Photo by: Matteo Faggion
It forms open rosette with smooth, light green leaves. Leaf margins are undulate with small dark brown triangular teeth closely spaced along the edge. It suckers freely at base to form a clump. It is one of the greener agaves.
Origin and Habitat: It is known only from the Mexican state of Chiapas (between Oaxaca and the Guatemalan border.)
Habitat: Limestone cliffs.
Synonyms:
See all synonyms of Agave chiapensis
Accepted name in llifle Database:
Agave chiapensis
Jacobi
Hamburger Garten- Blumenzeitung xxii. (1866) 213.
Synonymy: 2
Description: Agave chiapensis is a medium-sized, robust, agave with beautiful broad leaves. It is closely related to Agave warelliana, which differs in its closely serrate marginal teeth on a red margin and is superficially similar in appearance to Agave celsii, but the leaves tend to be broader and stouter. It is one of the greener agaves.
Stem Short
Rosette: Solitary or clumping, medium-sized , robust up to one meter across, openly spreading with a very symmetrical appearance.
Leaves: Thick, smooth, bright gren to glaucous-green, variable, ovate, narrowed near the base, shortly acuminate, rounded below, plane to slightly hollowed above and up-curving, smooth, mostly 30-50 cm long and 7-16 cm broad, light shiny grey-green, margins slightly undulate to crenate; larger marginal teeth deltoid, upcurved, 3-4 mm long, closely spaced or more remote and subulate 5-10 mm long, dark brown to greying; terminal spine subulate, straight to sinuous, strong 2-3,5 cm.
Inflorescence: 1-2 m, spicate with a long scape, in which the flowers sprout directly from the main stalk, rather than growing in clusters at the ends of side-branches. The flower stalk is dark in color, with buds in the terminal third or forth
Flowers: Buds dark purple or reddish-purple that open revealing, pale yellow tepals, contrasting with the purple of the buds, stamens and pistil. Flowers trigonous, fleshy, 60-70 mm long, obscured in large tufts of broad-based bracts; Ovary grooved to the base, 20-30 mm. Tepals speading yellow or green flushed with reddish or purple, tube funnel-shaped, 8-12 mm long, lobes unequal, 30-32 mm long.
Blooming season: Plants seem to be less rigid about their flowering time than most other kinds of agaves, but they usually do flower during the spring and summer months. Flowering begins at the bottom of the flower stalk and progresses slowly upward over the course of a couple of months.
Note: This agave often will sprout new heads from between the leaves of a mature head after it flowers. In other groups, the head simply wither after flowering, although it may have produced offsets around the base which will continue to grow.
Bibliography: Major references and further lectures
1) Urs Eggli "Illustrated Handbook of Suculent Plants: Monocotyledons" Springer, 2001
2) Raymond M. Turner, Janice Emily Bowers, Tony L. Burgess "Sonoran Desert Plants: An Ecological Atlas" University of Arizona Press, 2005Howard Scott Gentry "Agaves of Continental North America" University of Arizona Press, 01/Feb./2004
3) Jörg Müssig "Industrial Applications of Natural Fibres: Structure, Properties and Technical Applications" John Wiley & Sons, 15/Apr/2010
4) Yvonne Cave "Succulents for the contemporary garden" Timber Press, 01/gen/2003
5) Dennis Eugene Breedlove, Robert M. Laughlin, "The flowering of man: a Tzotzil botany of Zinacantán" Volume 1- Smithsonian Institution Press, 1993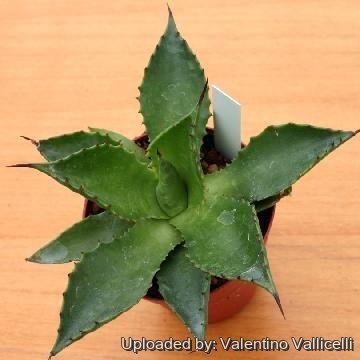 Agave chiapensis
Photo by: Valentino Vallicelli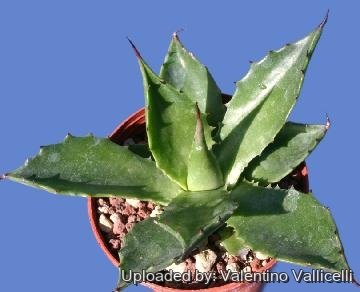 Agave chiapensis
Photo by: Valentino Vallicelli
Agave chiapensis
Photo by: Matteo Faggion
Send a photo of this plant.
The gallery now contains thousands of pictures, however it is possible to do even more. We are, of course, seeking photos of species not yet shown in the gallery but not only that, we are also looking for better pictures than those already present.
Read More...
Cultivation and Propagation: Agave chiapensisSN|370]]SN|370]] is a more tropical species that tolerate both drier conditions and an occasional light freeze, but likely it will depend on from where this wide ranging plant was collected.
Growth rate: It is a relatively rapidly growing species given the best conditions.
Exposure: They do well in full sun or a lightly shaded area with afternoon shade.
Soil: They do best in very well-drained, sandy or gravely soil. As ornamental they are also grown in containers where they stay much smaller than their outdoor brethren. In pots they need a very porous mix soil (e.g. 2 parts peat moss to 1 part loam to 1 part of pumice).
Repotting: Use pot with good drainage.
Fertilization: They grows quickly if kept well nourished with a slow release fertilizer specifically formulated for cactus and succulents applied once or twice a year (poor in nitrogen), including all micro nutrients and trace elements.
Hardiness: Though it is from the tropics, it has some frost tolerance. Keep it in a cool, frost-free area in winter and put it out on the balcony or patio in summer. It grows fairly fast in summer if provided with copious water but allows to dry thoroughly before watering again. During the winter months, one should only water enough to keep the leaves from shrivelling.
Scenography: They are usually cultivated outdoors in tropical rock gardens, in cactus and succulent gardens, in borders, or as a specimen. These striking plants are wonderful when used for accent or simply to provide some all year round foliage and often used in a pot as a patio plant, can be moved around to change the scenery or position to give more shelter.
Warning: It is armed with sharp spines.
Propagation: Seeds