Donate now to support the LLIFLE projects.
Your support is critical to our success.
Since 4 Aug 2013
sponsored link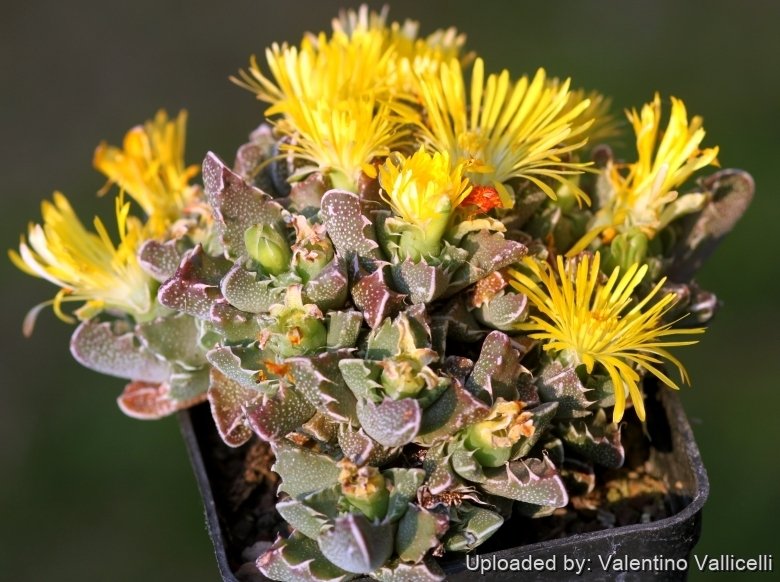 Faucaria sp. Springbokvlakte Photo by: Valentino Vallicelli
Origin and Habitat: Springbokvlakte, South Africa (cape province).
Synonyms:
See all synonyms of Faucaria sp.
Description: It is somewhat different from the other members of this genus as it has smaller, unmarked leaves with fewer teeth. It is a very attractive free flowering plant.
Leaves: Glossy green, canoe-shaped in outline (broadly rhomboid or lanceolate), triangular in cross-section, tapering gradually, keel sharp, white forming a pronounced chin about 2-3 cm long, 0,5-10 mm wide, the margins are horny-white and armed with 2-3 (or more)teeth. Tubercles usually absent from upper leaf-surface.
Flowers: Large yellow.
Faucaria sp. Springbokvlakte
Photo by: Valentino Vallicelli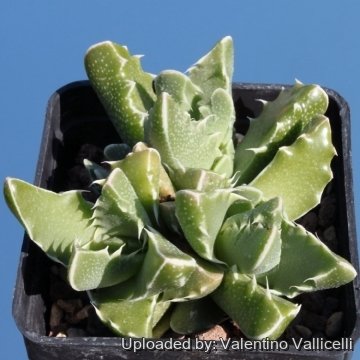 Faucaria sp. Springbokvlakte
Photo by: Valentino Vallicelli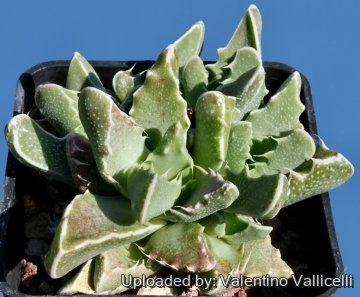 - MG1505.371 (Mesa Garden seed list)
Photo by: Valentino Vallicelli
Send a photo of this plant.
The gallery now contains thousands of pictures, however it is possible to do even more. We are, of course, seeking photos of species not yet shown in the gallery but not only that, we are also looking for better pictures than those already present.
Read More...
Cultivation and Propagation: Faucarias are the good choice for anyone wanting to start growing succulents. They are quite hardy and can take a short period of light frost and in very dry warm regions these succulents make very impressive out door ground covers. They need full sun to light shade with a well-drained soil mix, but can tolerate a wide variety of soil types and growing locations as long as there is plenty of sun. The plants are well watered during the growing season and allowed to dry thoroughly before watering again and will tolerate some over watering, but the challenge is to help them keep their compact form and prevent elongation of the stem. During the winter months, the plants should be kept very dry, only watering enough to keep the leaves from shrivelling.
As house plants they tend to grow in fair weather and rest when temperatures are too hot or too cool.
Propagation: Faucaria is very easy to start from seed. Seeds germinate in 7-14 days at 21°C. Although they will start from cuttings, it is quite difficult to get them to root. If they start to rot there is usually part of the plant that can be removed and possibly rooted.