Donate now to support the LLIFLE projects.
Your support is critical to our success.
Since 4 Aug 2013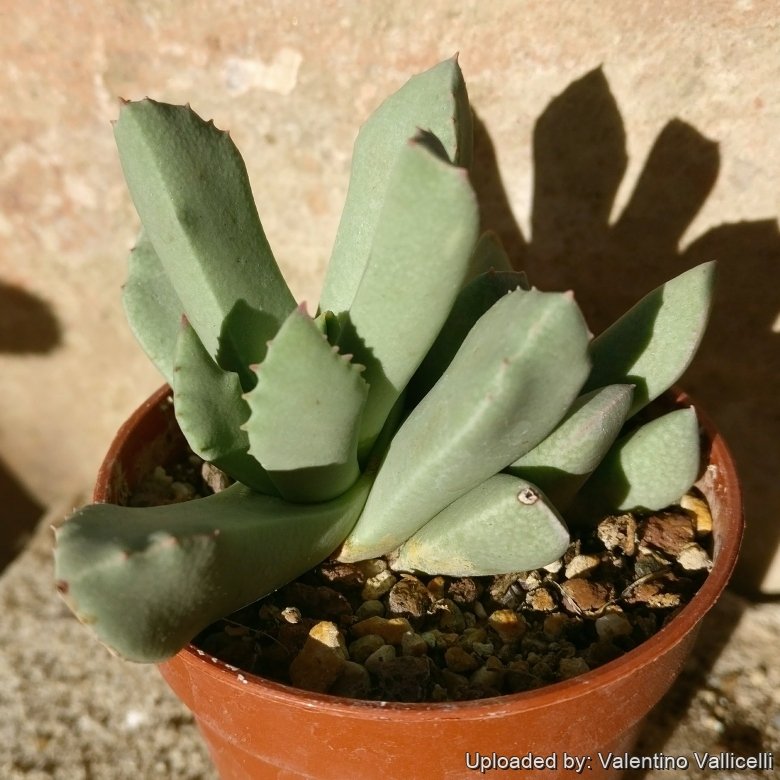 Schwantesia ruedebuschii Photo by: Valentino Vallicelli
Origin and Habitat: From Warmbad (Namibia) to Northern Cape (South Africa)
Altitude: 900-1150 m.
Habitat: Quartz mountain, among stones on slopes.
Synonyms:
See all synonyms of Schwantesia ruedebuschii
Accepted name in llifle Database:
Schwantesia ruedebuschii
Dinter
Möller's deutsche gärtner-zeitung 42: 199 1927
Synonymy: 2
Description: Perennial succulent with cylindrical, bluish green leaves that forms dense dense clumps or mats about 7,5 to 10 cm high.
Stems: Very short, internodes not visibleoften withdry leaf-remainders.
Leaves: Opposite in two to four unequal pairs, glaucous bluish-grey becoming reddish in under stress, hairless, boat-shaped, about 3-5 cm long and about 1-1,2 cm wide at the base, half circular in section toward the base, slightly narrower towards the apex and then broadening laterally below the apex, almost spoon shaped with small brown-tipped teeth up to 4 mm long on leaf tips.
Flowers: 3,5-4 cm in diameter, 30-42 pale-yellow petals and 130-200 stamens
Blooming season: Spring to summer.
Cultivation and Propagation: The Schwantesia is easy to grow. These plants grow in winter rain areas and head for dormancy in summer. Requires little water, otherwise its epidermis breaks (resulting in unsightly scars). Regular water in autumn through to spring. Water minimally in summer, only when the plant starts shrivelling but it will generally grow even in summer if given water. Requires good drainage. Keep cool and shaded in summer, needs full sun or light shade. Hardy to -2°C.
Propagation: Seeds, cuttings.