Donate now to support the LLIFLE projects.
Your support is critical to our success.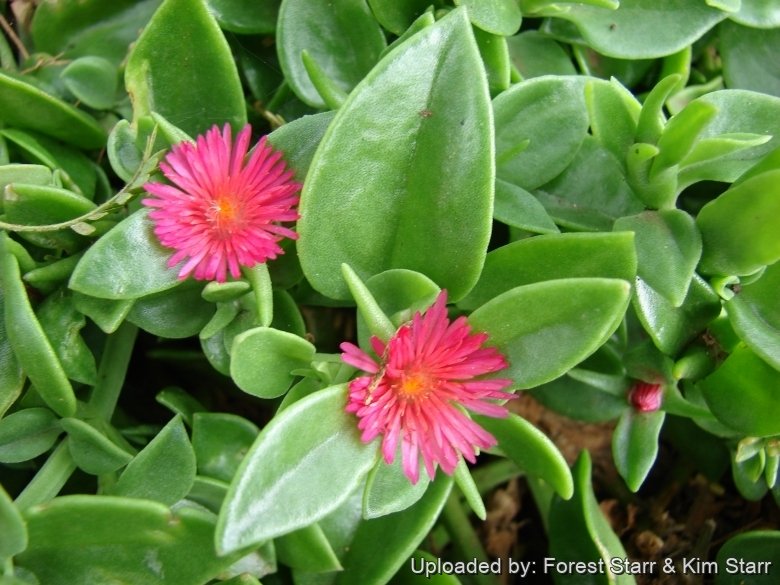 Aptenia cordifolia Photo by: Forest Starr & Kim Starr
Flowers and leaves at Omaopio, Maui, Hawaii (USA). March 13, 2007.
Origin and Habitat: Aptenia cordifolia comes naturally to the eastern coastal region of the Cape Province and Kruger National Park in the Transvaal, South Africa, probably only in King William's Town, Stutterheim, Komgha, Transkei, Eastern Cape, and Port Shepstone, KwaZulu-Natal. It is widely introduced and often naturalized elsewhere in the world.
Habitat and ecology: It grows naturally in shady places, often under trees. It is planted in parking lot planters, parkways and home gardens, but easily it escapes from cultivation and spreads in disturbed places, on margins of coastal wetlands and on embankments along irrigation waterways. With ample water availability it overwhelms all neighboring vegetation, climbing over anything in its path, so it can easily spread into and dominate more natural riparian and wetland areas. Due to its vigour it can even overgrow other invasive monoculture like Vinca major. It is known to spread vegetatively by rooting of branches. It is marketed as a fire-resistant and can over-summer without water and then grow vigorously during the rainy season, although constantly wet soil can cause it to rot. Seed dispersal capability is not known.
Synonyms:
See all synonyms of Aptenia cordifolia
Accepted name in llifle Database:
Aptenia cordifolia
(L.f.) Schwantes
Gartenflora 77: 69 1928
Synonymy: 6
Common Names include:
ENGLISH:
Rock rose, Noon flower, Heart-leaf iceplant, Dew plant, Heartleaf iceplant, Red apple, Ice Plant, Aptenia, Baby Sun Rose
ARABIC ( لعربية ):
حي علم
CHINESE (中文):
心叶日中花
FINNISH (Suomi):
Mesiherttalehti
FRENCH (Français):
Ficoïde à feuilles en cœur
GERMAN (Deutsch):
Herzblättrige Aptenia, Herzblättrige Mittagsblume
PORTUGUESE (Português):
Mesembriântemo (Brazil)
SPANISH (Español):
Rocío
Description: Aptenia cordifolia is a perennial, prostrate, ground-covering herb with small heart-shaped, glossy green succulent leaves sparkling in the sun. It appear to crawl along the soil and hug the ground forming a tight, almost clipped appearance and stays green year-round. Plants grow no taller than about 7-10 cm but can climb on neighboring vegetation cloaking the base of trees and shrubs up to 2 metres tall, and forming a thick mat by growing over itself. It produces small bright pink flowers in spring and summer but may blossom nearly year-round in the tropics. Less common but well worth seeking is Aptenia cordifolia f. variegata, a white-edged cultivar.
Stems: Moderately thick, succulent, flexible, trailing to 60(-200) cm long and easily snapped. Internodes, 4-angled, widely spaced, base of stems woody. Nodes root when they touch the ground
Roots: Fibrous.
Leaves: 1-3 cm long, flat, heart-shaped, petiolate, free, dark-green, glossy, minutely papillate with small bladder cells small.
Flowers: Solitary, axillary, daisies like, bright pink or purplish, small, approx 20 mm in diameter. Peduncle 8-15 mm long. Hypanthium 6-7 mm long. Sepals, four of unequal size approx. 5 mm long, the largest flat, the others awl-shaped. Carpel lobes free, Petals numerous bright pink to purple, approx. 3 mm long, inner ones slightly narrower and shorter and of lighter colour, filamentous staminodes absent, ovary inferior
Blooming season: It may blossom nearly year-round and flowers open only in sun.
Fruits (capsules): Minuscule 13-15 mm long, four-locular without valve wings.
Chromosome number: 2n = 18.
Subspecies, varieties, forms and cultivars of plants belonging to the Aptenia cordifolia group
Aptenia cordifolia

(L.f.) Schwantes

: has small heart-shaped leaves and crawl along the soil forming a tight mat. Flowers small bright pink. Distribution: Coastal region of the Cape Province and Transvaal, South Africa

Aptenia cordifolia f. variegata

hort.

: has white-edged variegate leaves.
Notes: Some confusion exists among the experts concerning the sun rose (Aptenia cordifolia) which is available in red or pink, and a white sport (mutation) is also available. Some references use the common name of ice plant, but that appellation is usually assigned to the Delosperma and Lampranthus genera. The yellow sun rose is a different species: Platythyra haeckeliana. However, it appears that many of the red flowering cultivars are hybrids, probably between Aptenia cordifolia and Platythyra haeckeliana, since they often show some-what narrower leaves, small valve wings and reddish- instead of bright pink - flowers; see also Mesembryanthemum tetrasepalum.
Bibliography: Major references and further lectures
1) Heidrun E.K. Hartmann "Illustrated Handbook of Succulent Plants: Aizoaceae A-E" Springer Science & Business Media, 2002
2) Forest & Kim Starr "Aptenia cordifolia (rock rose)". Plants of Hawaii. <http://www.starrenvironmental.com>. Downloaded on 20 August 2014.
3) James Cullen, Sabina G. Knees, H. Suzanne Cubey "The European Garden Flora Flowering Plants: A Manual for the Identification of Plants Cultivated in Europe, Both Out-of-Doors and Under Glass" Cambridge University Press, 11/Aug/2011
4) Jo Kitz "Aptenia cordifolia (L.f.) N.E.Brown" in: Carla C. Bossard, John M. Randall, Marc C. Hoshovsky "Invasive Plants of California's Wildlands" University of California Press, 2000
5) Debra Lee Baldwin "Designing with Succulents" Timber Press, 18/Mar/2011
6) Peter Hanelt, Institute of Plant Genetics and Crop Plant Research, W. Kilian "Mansfeld's Encyclopedia of Agricultural and Horticultural Crops: (Except Ornamentals)" Springer Science & Business Media, 10/Apr/2001
7) Doreen Court "Succulent Flora of Southern Africa" CRC Press, 01/Jun/2000
8) Wikipedia contributors. "Aptenia cordifolia." Wikipedia, The Free Encyclopedia. Wikipedia, The Free Encyclopedia, 23 Jun. 2014. Web. 22 Sep. 2014.
9) Eliasson, U. H. "Aizoaceae." in: Fl. Ecuador 55: 14–27 1996
10) Flora of North America Editorial Committee, "Magnoliophyta: Caryophyllidae" part 1 In Fl. N. Amer.. Oxford University Press, New York ed. 2003.
11) Jørgensen, P. M. & S. León-Yánez. "Catalogue of the vascular plants of Ecuador." Monogr. Syst. Bot. Missouri Bot. Gard. 75: i–viii, 1–1181 (eds.) 1999.
12) Prescott, A. & J. Venning. "Aizoaceae. Flora of Australia" 19–62 1984.
13) Wunderlin, R. P. "Guide Vasc. Pl. Florida" i–x + 1–806. University Press of Florida, Gainseville 1998.
14) Zuloaga, F. O., O. Morrone, M. J. Belgrano, C. Marticorena & E. Marchesi. "Catálogo de las Plantas Vasculares del Cono Sur (Argentina, Sur de Brasil, Chile, Paraguay y Uruguay)." Monogr. Syst. Bot. Missouri Bot. Gard. 107(1): i–xcvi, 1–983; 107(2): i–xx, 985–2286; 107(3): i–xxi, 2287–3348 (eds.) 2008.
15) Hickman, James C. "The Jepson Manual" 1993
16) Gilman, Edward F. "Aptenia Cordifolia Fact Sheets." 1999
17) Herre, H. "The Genera of the Mesembryanthemaceae." 1971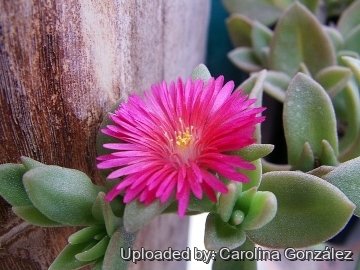 Aptenia cordifolia
Photo by: Carolina González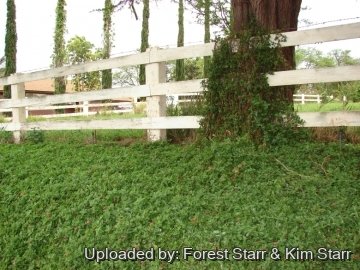 Climbing up fence at Omaopio, Maui, Hawaii (USA). March 13, 2007.
Photo by: Forest Starr & Kim Starr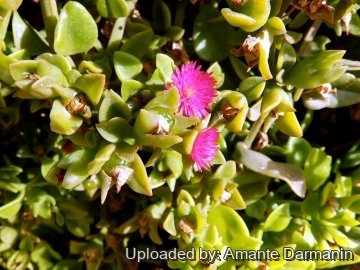 Aptenia cordifolia, at Malta.
Photo by: Amante Darmanin
Flowering habit at Omaopio, Maui, (USA). March 13, 2007.
Photo by: Forest Starr & Kim Starr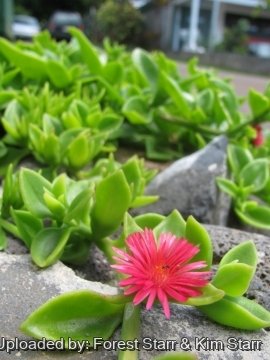 Flowering habit at Makawao, Maui, Hawaii (USA). March 30, 2012.
Photo by: Forest Starr & Kim Starr
Flowers and leaves at Omaopio, Maui, Hawaii (USA). March 13, 2007.
Photo by: Forest Starr & Kim Starr
Flowering habit at Kula Botanical Garden, Mauik, Hawaii (USA). March 07, 2011.
Photo by: Forest Starr & Kim Starr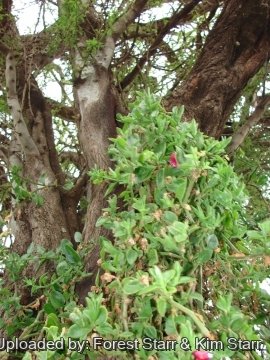 Climbing up kiawe at Omaopio, Maui, Hawaii (USA). March 13, 2007.
Photo by: Forest Starr & Kim Starr
Cultivation and Propagation: Aptenia is a popular, maintenance-free ground cover used extensively to cover banks and slopes through-out the tropics and warmer temperate areas of the world. It is one of the more easily cultivated succulent species. Water regularly from early spring to the end of autumn, and keep the compost quite dry when the plants are dormant watering, only if the plant starts shrivelling (but they will generally grow even in winter if given water) and will handle temperatures down to – 7° Celsius. In areas prone to heavy frost, grow in an intermediate greenhouse or conservatory, in pots of cactus compost, obtainable from good garden centres. Provide maximum light all the year round.
Soil: It prefers well-drained, sandy soils.
Watering: Water regularly when soil becomes dry. Its morphological characteristics indicate that it can over-summer without water and then grow vigorously during the rainy season, although constantly wet soil can cause it to rot.
Fertilization: Fertilize very lightly in early spring.
Hardiness: Zones: 8B-11. Plants are reputedly hardy to about -7(-10) degrees Celsius. Cold weather kills them down to the ground, but they rebound with the onset of warm weather. North of Zone 8B, baby sun rose must be grown as an annual.
Light: Sun to half-shade.
Salt tolerance: High.
Maintenance: Trim or cut around the edges if plants grow out of bounds. Mulching during the winter may help it to come back in areas where it is marginally hardy.
Uses It is an easy-to-grow Carpet-forming succulent groundcover, ideal for low-maintenance and water-wise gardens. It is a moderately drought-resistant trailing plant for stonewalls. Other Uses Baby sun rose is a good choice for long-lasting hanging baskets or for cascading over the edges of planters and walls. Use it in rock gardens and other small, sunny spots where its fine texture and delicate appearance can be appreciated. Less common but well worth seeking is Aptenia cordifolia f. variegata, a white-edged cultivar that looks striking in combination with other variegated plants or in contrast with dark-leaved succulents such as Aeonium arboreum var. atropurpureum cv. Schwarzkopf (Zwartkop).
Other uses: In Brazil occasionally cultivated as a leaf vegetable. Its leaves are edible as with other some members of the Aizoaceae family.
Eradication: Plants escaped from cultivation or out control can be wiped out using the same methods as the related sea fig (Carpobrotus edulis) and New Zealand spinach (Tetragonia tetragonioides). It can be easily removed by hand pulling. However, because of the ability of this plant to grow roots and shoots from any node, all live shoot segments must be removed from contact with the soil to prevent resprouting. If complete removal is not possible, mulching with pinebark is adequate to prevent most re-sprouting, but requires at least one follow up treatment to remove resprouts. Chemical Control: The herbicide glyphosate (as Roundup) has been effectively used to kill related sea fig clones at label-recommended concentrations of 2% or higher. The addition of 1% surfactant to allows penetration of the cuticle on the leaves should improve effectiveness.
Propagation: Seeds or cuttings. Seeds can be sown in early to mid-spring and germinated in heated humid environment. Alternatively, use stem-tip cuttings, nodes root when they touch the ground. When stuck in moist soil, they root within two or three weeks. Rooting medium should be well-drained, or cuttings will rot. In six weeks they are actively growing and ready to be panted in the ground. To establish a groundcover over a large area, plant individual plants 60-90 cm apart.