Donate now to support the LLIFLE projects.
Your support is critical to our success.
Since 4 Aug 2013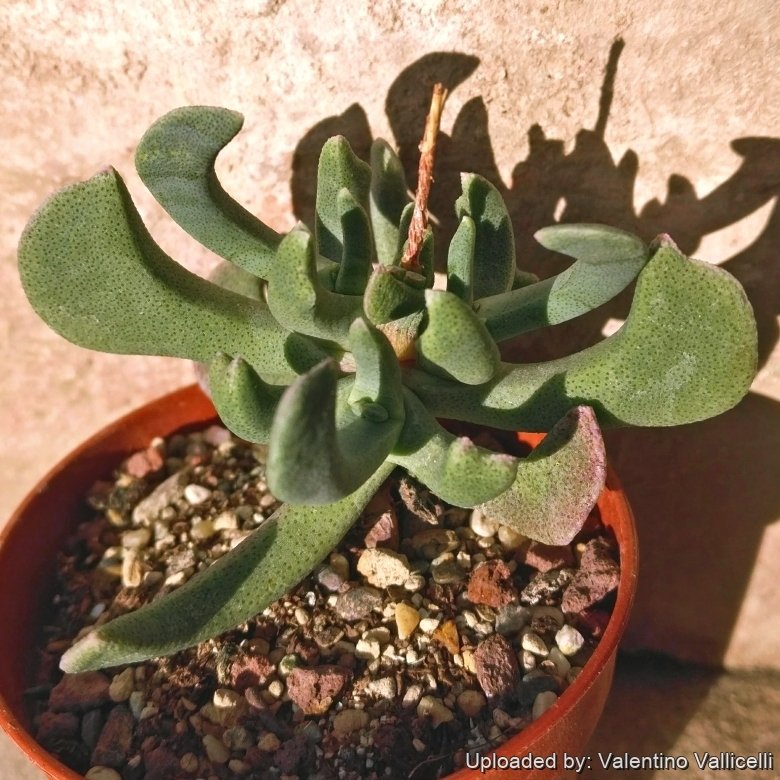 Rhombophyllum nelii Photo by: Valentino Vallicelli
Origin and Habitat: Graaff Reinet District (Steytlerville, Jansenville, to Graaff-Reinet), Estern Cape, S Africa.
Habitat and ecology. Rhombophyllum nelii grows in shrubby vegetation dominated by succulents on shaly soils.
Synonyms:
Common Names include:
ENGLISH:
Elkhorns
Description: Rhombophyllum nelii is a compact succulent shrublet similar to Rhombophyllum dolabriforme that branches profusely near the base, resulting in a more open and straggly shrub, the inner stems blackish distally. The leaves are apically divided to various degrees, greyish-green, rough with raised dots, and up to 20 mm long.
Leaves: Paired, 15(-20) mm long, 4-8 mm wide, 2-lobed at tip to various degrees, pale bluish green, glaucous, epidermis somewhat rough from raised dots, wax cover continuous, breaking into plates, one per cell, later, with amorphous sculptures or vertical platelets above, stomata only a little sunken.
Flowers: 1-3, bracts and bracteoles with marked dorsal humps or divisions, bracteoles at about the half the length of the long pedicels, 20-30 mm in diameter, 50-80 yellow petals to 20 mm l,1 mm broad, purplish suffused outside, 110-160 stamens with white filaments and yellow anthers.
Blooming summer: Summer.
Fruits: With rather low rims, covering membranes pressing against the flat, sill-shaped, mostly divided closing body, expanding keels widely separated basally, valve wings very narrow.
Seeds: Ovate, about 0.6 mm long, about 0.4 mm broad.
Bibliography: Major references and further lectures
1) Doreen Court, "Succulent Flora of Southern Africa", CRC Press, 01 June 2000
2) Heidrun E.K. Hartmann, "Illustrated Handbook of Succulent Plants: Aizoaceae F-Z", Springer Science & Business Media, 2002
3) Stuart Max Walters, "European Garden Flora: A Manual for the Identification of Plants Cultivated in Europe, Both Out-of-Doors and Under Glass", Cambridge University Press, 27 July 1989