Donate now to support the LLIFLE projects.
Your support is critical to our success.
Since 4 Aug 2013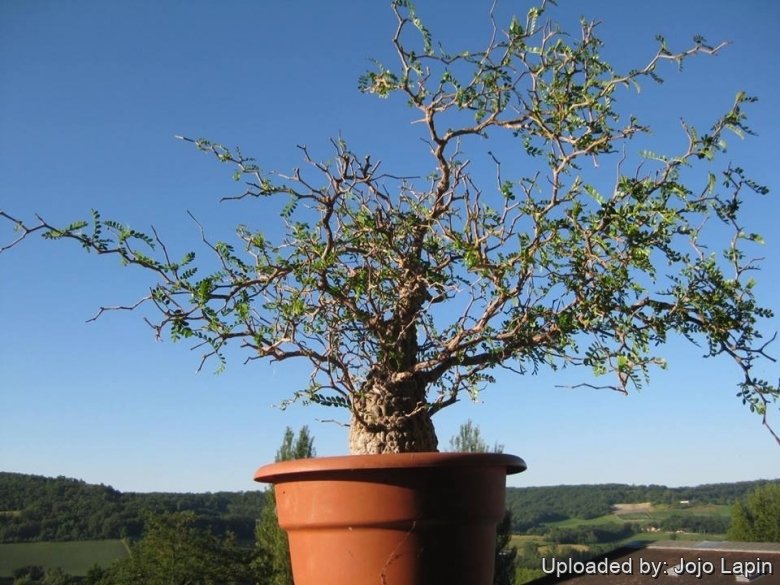 Operculicarya pachypus Photo by: Jojo Lapin
Origin and Habitat: Operculicarya pachypusSN|29965]]SN|29965]] is endemic to a small area in south-western Madagascar (near Toliara)
Altitude range: Aoound 0-100 metres above sea level.
Habitat and ecology: This species grows in sandy calcareous soils in low dry forest. Accompanied by Pachypodium geayiSN|14819]]SN|14812]], Pachypodium meridionaleSN|14812]]SN|14819]], Uncarina stelluliferaSN|33403]]SN|33403]], Didiereaceae, Delonix sp., Moringa hildehrandtii, Commiphora sp., Physenna sessiflora, Fernando madagascariensis, and Ruellia poissonii.
Synonyms:
Description: Operculicarya pachypusSN|29905]]SN|29965]] originates from Madagascar, and like most plants from this island has many unique and exotic characteristics. It is a small deciduous pachycaul tree up to 1.2 m tall similar to the much more common Operculicarya decaryiSN|29965]]SN|29905]]. Compared to O. decaryi, Operculicarya pachypusSN|29965]]SN|29965]] tends to stay more compact with the trunk growing in a conical shape and looks like an odd bonsai tree. Another distinguishing factor is that the Operculicarya pachypusSN|29905]]SN|29965]] branches are glabrous, zig-zagged and its roots often swell to form unique contorted and twisted designs. The leaves are also very tiny, which work proportionally for that "bonsai" look. It has yellow-green flowers and slightly different coloured branches... but otherwise hard to tell from O. decaryi also from Madagascar. It is much less common than O. decaryi in the wild.
Derivation of specific name: The species name pachypus comes from the Greek for 'thick foot'.
Stem: Trunk up to 1 m tall, thick-fat, conical to irregularly pyramidal, narrowing towards apex, to 50 cm in diameter silver-grey. Bark semi-smooth to extremely bumpy-knobby. This extreme knobby trunk texture is sought out by collectors. Twigs glabrous, pale grey to grey-brown, often strongly zig-zagged with tips often spinescent.
Leaves: 13-3.6 cm with 3-4(-5) pairs of leaflets, glabrous, somewhat coriaceous; leaflets circular to elongate drop-shaped, distant from each other or touching, largest near middle of leaf, 7-8 x 4 mm, tip rounded or slightly emarginate, upper face vary from green in part shade to a dark green with copper-bronze tones in full sun, glossy, lower face paler with 3 - 4 pairs of veins.
Flowers: Yellowish-green very small (less than 2 mm) yellow-green in late winter. O. pachypus is dioecious, which means that plants are either male or female blooming. You must have a male and female plant to produce seed.
Fruits: Stalked 3-4 mm, ± globose, somewhat laterally compressed.
Note: Despite the conspicuously different trunk, this species was until recently identified as Operculicarya decaryiSN|29965]]SN|29905]].
Bibliography: Major references and further lectures
1) Urs Eggli "Illustrated Handbook of Succulent Plants: Dicotyledons" Springer Science & Business Media, 2002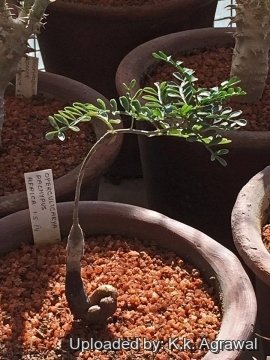 Operculicarya pachypus
Photo by: K.k. Agrawal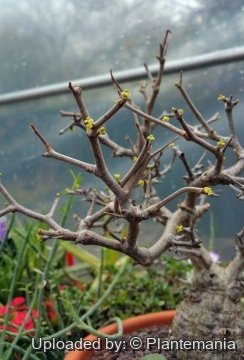 Operculicarya pachypus
Photo by: © Plantemania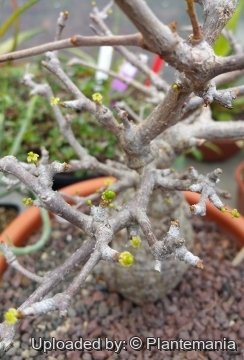 Operculicarya pachypus (flowers).
Photo by: © Plantemania
Operculicarya pachypus (immature fruits).
Photo by: © Plantemania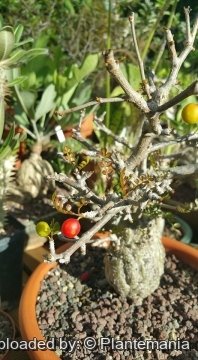 Operculicarya pachypus (ripe fruit).
Photo by: © Plantemania
Operculicarya pachypus
Photo by: © Plantemania
Operculicarya pachypus
Photo by: © Plantemania
Send a photo of this plant.
The gallery now contains thousands of pictures, however it is possible to do even more. We are, of course, seeking photos of species not yet shown in the gallery but not only that, we are also looking for better pictures than those already present.
Read More...
Cultivation and Propagation: Operculicarya pachypusSN|29965]]SN|29965]] is fairly easy to grow both indoors, as well as outdoors. In the winters it is deciduous, except in very tropical areas.
Growth rate: It is a fairly slow growing plant, but in 10 years it can easily outgrow its indoor location, requiring a 'pruning'. Though branching is usually a response to naturaly injury, or something that happens in older specimens, one can stimulate branching by cutting off its top. It has amazing regenerative properties.
Soil: It prefer a porous gritty or sandy soil with at least 50% inorganics, pH 7.0, and requires excellent drainage.
Fertilization: Fertilize regularly for good growth and health.
Repoting: Repot the plant every 3 years; this is quite tricky given the spines.
Waterings: It needs regular water when the plant has leaves since it is a tree, contrary to popular belief, it likes a lot of water in the warm summers, as long as it's planted in a very well draining soil. Indoors it is best to keep on the dry side, or it is prone to rot. During the winter they may go dormant, so water less during this period.
Exposures: It like full sun to light shade with warm temperatures.
Temperatures: Temperature from spring to autumn: nocturnal 15°C or more and diurnal 25-45°C. Wintering: nocturnal 10°C or more and diurnal 18°C or more.
Cultural Practices: Operculicaryas need a dry/cool season in order to bloom.
Propagation: O. decaryi can be grown from cuttings or seed (seldom available). Fresh seeds results in a remarkable yield of new plants. Soak seeds in warm water for 24 hours before sowing in moist sand. Seed continue to germinate erratically for about 6 month. O. decaryi are also propagated using pieces of the tuberous roots. Seed grown plants produce better looking roots which can be exposed as your plant grows. Also by choosing parent plants with certain characteristics, seedlings will carry on these traits, like the extreme "bumpy" trunks.