Donate now to support the LLIFLE projects.
Your support is critical to our success.
Since 4 Aug 2013
Pachypodium ambongense
Bull. Trimestriel Acad. Malgache n.s., 6: 162 (1922-1923 publ. 1924)
Family: APOCYNACEAE
Pachypodium ambongense Photo by: © Plantemania
"The lost pachypodium" is an apt description for this rarest of the rare species. Sketchy accounts published in the 1920's were all anyone had of this beautiful species until its rediscovery in 1990. Plants were introduced into cultivation and now many years later, propagations are slowly making their way to collectors. Even though it's free flowering, Pachypodium ambongense is the most difficult species to make seed of. It will always be rare.
Origin and Habitat: Pachypodium ambongense is endemic to Madagascar, it has a very localised habitat in the area of the river Ambonho (Ambongo) on the tsingy at Namoroka Reserve about 200 km north of Bemaraha in the Province of Mahajanga. It is known only from 2-5 localities.
Type locality: Madagascar, Majunga (— Mahajanga), Namoroka Reserve.
Elevation range: about 100 metres above sea level.
Habitat: Pachypodium ambongense grows in open deciduous dry forests in crevices filled with black humus on inselberg and limestone rock faces. In the same area it is possible to find several endemic succulents and xerophyte plants such as: Uncarina perrieri, Uncarina sakalava, Pachypodium rutenbergianum and sveral species of Euphorbia, Commiphora, Cyphostemma and Lomatophyllum. This is a very hot area, the annual average temperature is 27 ° C. Thermometer never shows less than 10 - 11 ° C, but can show up to 40° C. Rainfall is 1300 mm per year, the dry season lasts 7 months.
Synonyms:
Common Names include:
ENGLISH:
Elephant's trunk
CHINESE (中文):
安博棒錘樹
UKRAINIAN (Українська):
Паxіподіум амбонгензе, Паxіподіум амбонгензький
Description: Pachypodium ambongense, one of the least known pachypodiums and the last species to be introduced to cultivation.
Habit: Shrub 1-2 m high (but usually do not exceed 1 metre) sparingly and erratically branched from just below each terminal inflorescence.
Related species: It is regarded as related to Pachypodium geayi.
Trunk: 1-1.5 m, flask-shaped, laterally compressed, 10-40 cm in diameter, bark grey-green, smooth or with leaf scars, Branches short, 7-18 cm in diameter. Branchlets 18-40 x 5-6 mm, covered with paired straight spines, 2-10 mm long, 0.5-2 mm wide at the base somewhat puberulent when young.
Spines: Paired, straight, 5 - 10 mm long, occasionally with a shorter ascending central.
Leaves: Elliptic obovate, rounded, 3 - 8 cm long, 1.5 - 3 cm broad, in a whorled tuft on branch tips, obtuse to rounded at the apex, cuneate at the base or decurrent into the petiole, tomentose beneath, glabrous above with impressed reticulate venation, with petioles 2 - 7 mm. Margine revolute.
Inflorescence: Sessile or shortly pedunculate,, 1-5(-8)-flowered. Peduncle dark green, 0-5 x 2-4 mm, sparsely pubescent to glabrous. Pedicels green, 4-10 mm long, sparsely pubescent to glabrous. Bracts ovate, 2 x 1 mm, acuminate at the apex, pubescent outside, glabrous inside.
Flowers: 1 - 5 together, to 5.5 cm in diameter and 3 - 3.5 cm long, white. Sepals coalesced at the base, persistent, green ovate acuminate 3-4 mm long 2-2.2 mm broad hary or not at the apex, pubescent or glabrous outside, glabrous inside. Corolla white Tube greenish-yellow outside, yellowish-green in the throat, glabrous outside, with a sparsely pubescent inside just below the insertion of the stamens, otherwise glabrous, basal part narrowly cylindrical, upper part urceolate, clearly narrowed at the throat.
Fruit (mericarps): 2 fusiform, sharpening at tips, dark brown outside, whitish inside when dried, about 10-15 cm long and 1 cm wide; wall thin, 0.5 mm thick.. They are very different from the thick, heavy pods of Pachypodium lamerei, Pachypodium rutenbergianum, Pachypodium meridionale and Pachypodium sofiense with their rounded top, and resemble pods of Pachypodium decaryi and of the South African species Pachypodium saundersii.
Seeds: Not known.
Bibliography: Major references and further lectures
1) S. H. J. V. Rapanarivo "Pachypodium (Apocynaceae)" CRC Press, 01/Jun/1999
2) Werner Rauh "The Wonderful World of Succulents: Cultivation and Description of Selected Succulent Plants Other Than Cacti" Smithsonian Institution Press, 1984
3) G. D. Rowley: Pachipodium. In: Urs Eggli: "Illustrated Handbook of Succulent Plants: Dicotyledons." Springer Verlag, 2002
4) Perrier de la Bathie, H. "Les Pachypodium de Madagascar." Bull. Soc. Bot. France 81: 297–318.1934.
5) Rapanarivo, S. H. J. V. & A. J. M. Leeuwenberg. "Taxonomic revision of Pachypodium. Series of revisions of Apocynaceae XLVIII." Pp. 44-49 in: Rapanarivo, S. H. J. V. et al., "Pachypodium (Apocynaceae): taxonomy, habitats and cultivation." CRC Press, 1999.
6) Rowley, G. "Pachypodium & Adenium." in: Cactus File 5: 1-79. 1999
7) Humbert, J.-H., "Flore de Madagascar et des Comores." 1936
8) Lüthy, Jonas M. "Another look at the pachypodiums of Madagascar." Bradleya: The British Cactus and Succulent Society Yearbook. (22/2004)
9) Eggli U., Newton L.E. & Rowley G.D., "CITES Aloe and Pachypodium Checklist" Board of Trustees of the Royal Botanic Gardens, Kew, 2001
10) Das, A. B., S. Mohanty & P. Das. 1998. "New report on chromosome number, karyotype and 4C DNA content in three species of Pachypodium Lindley." Caryologia 51(3-4): 245–252.
11) Costantin, J. & D. Bois. "Contribution a l'etude du genre Pachypodium." Ann. Sci. Nat., Bot., sér. 9, 6: 308–330.1907[1908]
12) Poisson, H. & R. Decary. "Nouvelles observations biologiques sur les Pachypodium malgaches." Bull. Trimestriel Acad. Malgache, n.s., 3: 241–246.1922.
13) Pichon, M. "Classification des Apocynacées." Mém. Inst. Sci. Madagascar, Sér. B, Biol. Vég. 2(1): 45-140.1949
Pachypodium ambongense
Photo by: © Plantemania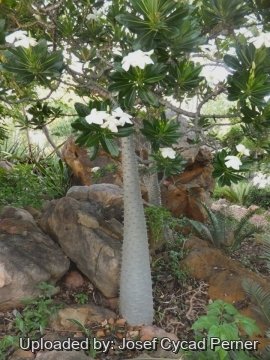 Flowering habit at Cycad International, Katherine, Northern Territory, Australia.
Photo by: Josef Cycad Perner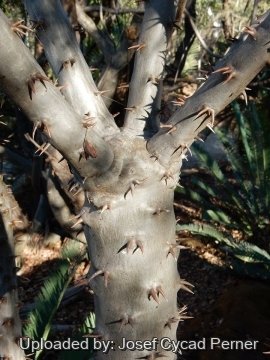 2+ meter tall specimens at Cycad International, Katherine, Northern Territory, Australia.
Photo by: Josef Cycad Perner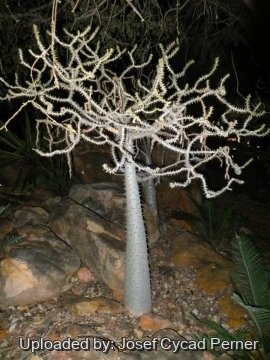 2+ meter tall at Cycad International, Katherine, Northern Territory, Australia.
Photo by: Josef Cycad Perner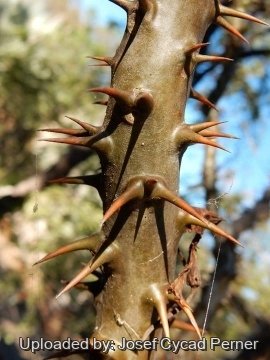 Spines are paired, straight, 5-10 mm long, occasionally with a shorter ascending central.
Photo by: Josef Cycad Perner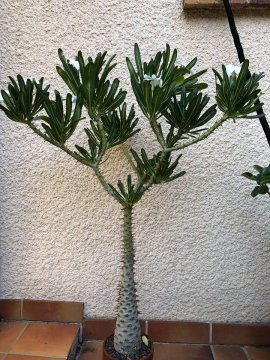 Pachypodium ambongense
Photo by: © Plantemania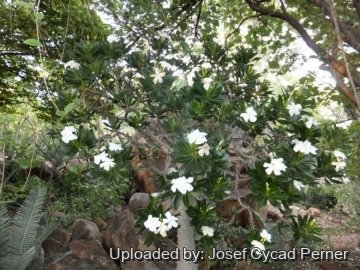 Pachypodium ambongense
Photo by: Josef Cycad Perner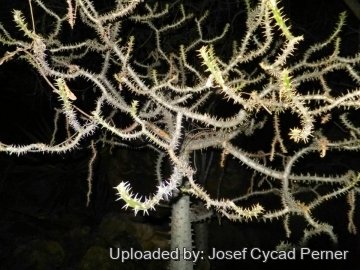 Branches at Cycad International, Katherine, Northern Territory, Australia.
Photo by: Josef Cycad Perner
Cultivation and Propagation: Pachypodium ambongense is one of the most attractive species in the entire genus that can be grown both indoors, as well as outdoors in warm climates. It's a moderate grower and an impressive caudex can be steadily developed. In the winters it is deciduous, except in very tropical areas. Pretty cold sensitive- supposedly prone to rot if wet in winter cold. It may be grown as a specimen among rocks and low-growing plants in a hot rockery. It may also be grown in a heavy container on the sunny patio.
Soil: Needs a gritty, porous cactus potting mix that's not strongly acidic.
Watering: Water sparingly in the heat of the growing season to encourage new growth, foliage and flowering, and give extra well-drained soil to avoid waterlogged conditions, no water from late autumn to mid-spring. The watering program will change depending on temperatures and stage of growth, but it is best not to let this plant dry out completely for any length of time. Indoors it is best to keep it on the dry side, or it is prone to rot. Outdoors it must be protected from the rain in winter. Do not let this specimen sit damp in cool weather. The older it gets the less water it must receive!
Hardiness: It is sensitive to cold and should be kept totally dry in winter at or around 10°C, but it demonstrates some cold resilience if dormant and the soil is bone dry in winter. Protect from frost. It tends to lose its leave and go dormant in winter (USDA Hardiness zones: 10 – 11).
Exposure: It like full sun to light shade.
Maintenance: This Pachypodium will not require any pruning to look like a very interesting and unusual bonsai, but after several years it can outgrow its indoor location, requiring a 'pruning'. It has amazing regenerative properties.
Repot: Repot the plant every 3 years; this is quite tricky given all the spines. The best way is to wrap several layers of newspaper around the trunk where it is to be handled.
Warning: This plant has spines use caution when handling.
Propagation: Seeds or (rarely) cuttings. Fresh seeds results in a remarkable yield of new plants, perhaps 90% and seedlings grow fairly easily. Soak seeds in warm water for 24 hours before sowing in a 5 mm deep, sterile, moist sandy medium (4 parts fine and 4 parts coarse river sand 1 part sieved, well-rotten compost; 1 part perlite; 1 part vermiculite. Keep the mix moist and at a temperature of 27–35°C to ensure rapid germination. Seed start sprouting in just 3-4 days ( but continue to germinate erratically for about 6 month) they are also propagated by removal of branches from old plant (if they need to be pruned). They should be allowed to dry for 5 to 8 days before potting up, however the cuttings often fail to root. Seedlings grow fairly slowly compared to other Pachypodium species. Young plants have more conical spines and begin early to swell nicely, branch and even flower.
Your Photos
---
by Josef Cycad Perner

by Josef Cycad Perner

by Josef Cycad Perner
by Josef Cycad Perner

by Josef Cycad Perner