Donate now to support the LLIFLE projects.
Your support is critical to our success.
Since 4 Aug 2013
sponsored link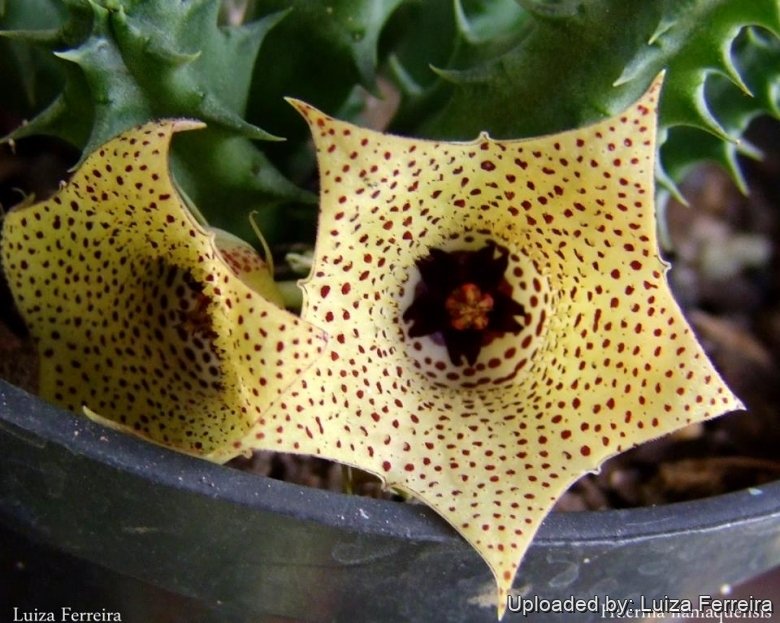 Huernia namaquensis Photo by: Luiza Ferreira
Origin and Habitat: Little Namaqualand (on rocks near Hoigat, Richtersveld ) with some doubt as to whether it occurs in Southern Namibia.
Habitat and ecology: It inhabit rocky areas.
Synonyms:
See all synonyms of Huernia namaquensis
Common Names include:
ENGLISH:
Namaqua Carrion Flower
Description: The Namaqua Carrion Flower (Huernia namaquensis) is an interesting low-growing succulents with upright shoots rooting where they touch the ground. Readily offsets to form a low growing densely packaged tuft. It has dispensed with leaves entirely and relies on its stems for photosynthesis. Flowers are whitish yellow dotted with red. The species is variable in flower size and shape.
Stems: 3.5 to 6 cm long, 10-15(-20) mm thick, erect, decumbent or ascending, attenuate, with sympodial branching near the base, dark green to purplish-green, with 4 to 5(-6) angles often slightly twisted, and triangular teeth 3-4 mm long, more or less compressed, sharply tipped with a persistent hard white point (rudimentary leaf) and and with conspicuous axillary buds. The teeth usually decurved.
Flowers: In groups of 2 to 6 horizontal to nodding at the base of the shoots, 20-25 mm long, (15-)20-25(35) mm across with whitish yellow, papillous face dotted or marcked with red. Peduncle 1.2 (-2) cm. Bracts ca. 3 mm long. Pedicel up to 15(-25) mm long, brownish or purple tending to nod. Sepals 3-5(-6)mm long, 1-1.5 mm wide. Corolla outside yellowish to brown, inside whitish-creamy to pale yellow, stippled with reddish or purple or irregularly marked with concentric lines (lines short, broken, occasionally without markings). Corolla tube cup-shaped, basally rounded and glabrous, mouth markedly constricted, to 6 mm deep and 8 mm across, densely papillate at the mouth, creamy with many small maroon dots. Corolla lobes are upright, triangular, slightly revolute and acuminate, ca. 5 mm long inside densely papillose. papillae mostly obtuse, semiglobose, obtusely cylindrical or conical, apically shortly pointed or bristle-tipped; the intermediary lobes are small (ca. 2 mm). Outer corona-lobes crimson or purple, with 5 deeply bifid, weakly 2-notched, or variously incised or fused into a disc (specimens from the Hellskloof). Inner lobes yellow with crimson markings, claw-like at least as long as the anthers, incurving above the style head, sometimes erect, rarely basally with a prominent transverse furrow. Pollinia yellowish.
Bibliography: Major refrerences and further lectures
1) Focke Albers, Ulrich Meve "Illustrated Handbook of Succulent Plants: Asclepiadaceae: Asclepiadaceae" Volume 4 Springer, 2002
2) Doreen Court "Succulent Flora of Southern Africa" CRC Press, 01/Jun/2000
3) James Cullen, Sabina G. Knees, H. Suzanne Cubey "The European Garden Flora Flowering Plants: A Manual for the Identification of Plants Cultivated in Europe, Both Out-of-Doors and Under Glass" Cambridge University Press, 11/Aug/2011
4) Bruyns, P.V. 2005. "Stapeliads of southern Africa and Madagascar." Vol. II. Umdaus Press, Hatfield.
5) Peter Goldblatt "Cape Plants: A Conspectus of the Cape Flora of South Africa" National Botanical Institute of South Africa, 2000
6) Werner Rauh "The Wonderful World of Succulents: Cultivation and Description of Selected Succulent Plants Other Than Cacti" Smithsonian Institution Press, 1984
7) Luckhoff "The Stapelieae of Southern Africa" Capetown, A.A. Balkema 1952
8) Excelsa Taxonomic Series 4: 171. 172 1988
9) Foden, W. & Potter, L. 2005. Huernia namaquensis Pillans. National Assessment: Red List of South African Plants version 2014.1. Accessed on 2014/08/04
10) White & Sloane "The Stapelieae" edn 2. 3: 879-882, 1170-1176 1937
Huernia namaquensis in habitat.
Photo by: © Plantemania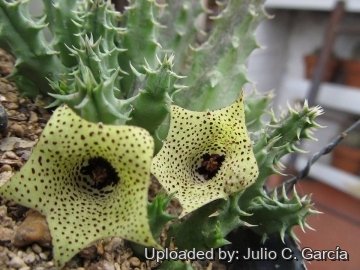 Huernia namaquensis
Photo by: Julio C. García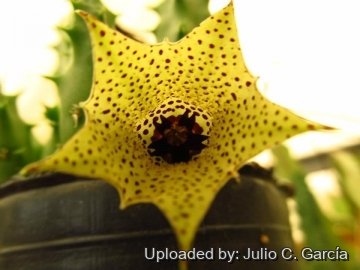 Huernia namaquensis
Photo by: Julio C. García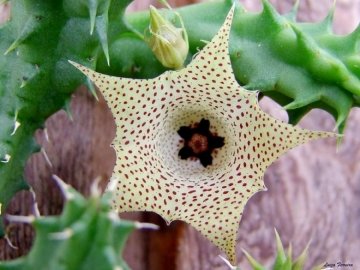 JS
Photo by: Luiza Ferreira
Huernia namaquensis
Photo by: Luiza Ferreira
Send a photo of this plant.
The gallery now contains thousands of pictures, however it is possible to do even more. We are, of course, seeking photos of species not yet shown in the gallery but not only that, we are also looking for better pictures than those already present.
Read More...
Cultivation and Propagation: Huernia namaquensis is very easy to grow, it needs light shade to full sun (but tolerate shadow), very resistant to heat will also tolerate quite cold temperatures but avoid frost, best in a ventilated environment. It is quite resistant to the "Balck spot" disease of Asclepiads.
Spring: When winter ends and they begin to grow again, they will require much water and soaking the pots will no longer put the plants at risk for rot. In the spring they will grow well in partial shade and leaving them out in the rain may provide them with the water they need.
Summer: In the summer months they will tolerate heavy rain, but will be just as happy if the season is dry. It's best to sort out the stems while the plants are resting in the summer before they begin their autumnal growth cycle. They will tolerate very hot weather outdoors as long as they are kept in filtered light and this will encourage them to flower in the Autumn. They also enjoy some fertiliser. Moving the plants as they are developing buds may cause them to spontaneously abort the flowers all together.
Autumn: In the fall keep them outdoors until the night time temperatures drop below the 5°C.
Winter: Winter care presents no problems at 5°-10° C with plenty of light. As soon as they are flowered be sure to take extra precautions to keep them dry, because damp cool conditions when the plants are resting is an invitation to fungal infections, but - according to temperatures –some occasional lit watering may be useful.
Potting medium: Since roots are quite shallow, use a cactus mix or add extra perlite or pumice to regular soil potting soil. A gritty, very free-draining compost is suitable, and clay pots help the plants to dry out between watering. Re-pot every 2 years.
Pest and diseases: Huernia are generally fairly easy to grow, especially if kept pest-free. They are very susceptible to stem and root mealy bugs, and damage from these may well initiate fungal attack. Any time when there is a dead or dying stem in the pot it is important to remove it immediately and completely before other healthy stems can become ill too, isolate the healthy parts, dry them off, and re-root them in new compost.
Propagation: Easiest with stem cuttings. Allow cuttings to dry a day before planting. Stems must be laid (Not buried) on gritty compost and will then root from the underside of the stems. It can also be increased from seeds sowing in spring in moist, sandy peat moss. Barely cover seeds. Seeds germinate quickly.