Donate now to support the LLIFLE projects.
Your support is critical to our success.
Since 4 Aug 2013
sponsored link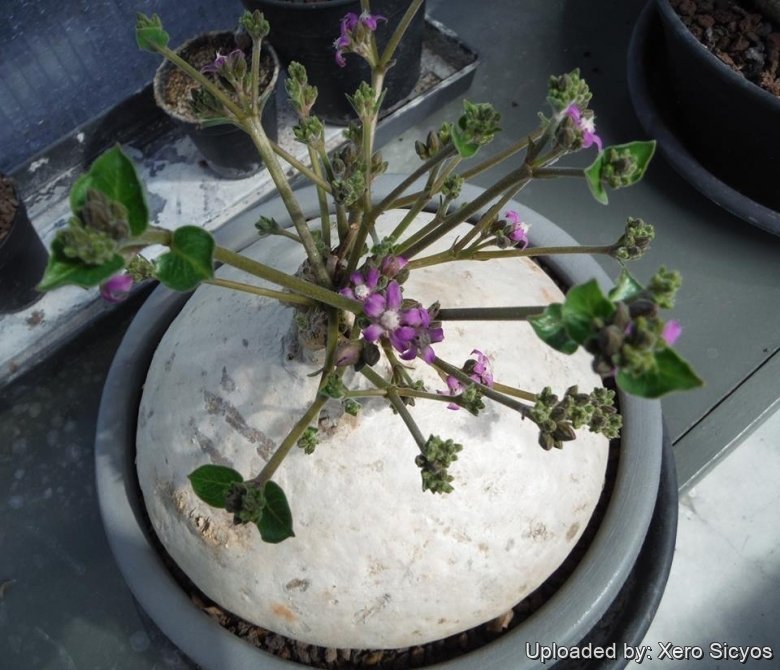 Raphionacme hirsuta Photo by: Xero Sicyos
Origin and Habitat: Raphionacme hirsuta occurs in Namibia, Botswana, Zimbabwe, as well as in South Africa (East Cape Province, Orange Free State, KwaZulu-Natal), Lesotho and Swaziland. The species is widespread worldwide in cultivation.
Altitude range: Sea-level up to 1800(-2000) metres above sea level.
Habitat and ecology: This species has a very wide ecological amplitude and is found in habitats that range from relatively moist to dry subtropical, frost-free coastal or lowland grass-lands and savanna, frost-prone grasslands of highlands and mountains north facing slopes to arid savanna and grasslands
Synonyms:
See all synonyms of Raphionacme hirsuta
Accepted name in llifle Database:
Raphionacme hirsuta
(E.Mey.) R.A.Dyer
Fl. Pl. South Africa 22: t. 853 1942
Synonymy: 10
Common Names include:
ENGLISH:
Water root, False Gentian
AFRIKAANS (Afrikaans):
Khadiwortel
Description: Raphionacme hirsuta is a perennial caudiciform asclepiad with herbaceous, annual spreading stems up to about 30 cm long, arising from a swollen underground, rootstock (caudex) variable in shape and size, up to 25 cm in diameter. The aerial portion seems ridiculously small in proportion with the root tuber. Leaves are opposite, broadly elliptic, almost glabrous. The pink to purple flowers, 10-15 mm in diameter, with toothed corona lobes appers near the tip of the branches in clusters. The purple colour of the petals is exceptional in the genus, but it is also unusual in the family Asclepiadaceae as a whole. This species is also easily recognized by the almost leaf-like white corona lobes and the seeds which are keeled along the underside. Raphionacme hirsuta exhibits a variety of forms with regard to leaf shape, hairness, venation and shape of the corona and should be regarded as a heteromorphic species.
Root tuber (Caudex): 15-20(-30) cm long, 7-15(-20) cm in diameter, rock-shaped, spindle-shaped to almost spherical.
Annual stems: Aerial shoot, few to many, preading, thin, short to medium-length, 5-30(-40) cm long, 2-5 mm in diameter, basally richly dichotomously branched, divaricate, glabrous to densely pubescent.
Leaves: 1-6 mm petiolate, alternate, lamina simple and entire oblong-ovate, broadly elliptic, circular or obovate, 1-3 (-5) long 0.7-2.6(-4) cm wide, acute or obtuse, basally rounded or cuneate, margin often reddish, pinnately veined with 6-10(-16) pairs of iconspicuous lateral veins. veined, dark green, upper face glabrous, lower face glabrous or pubescent. Stipules absent.
Inflorescence (cyme): Terminal in the bifurcations of the stems or axillary, pedunculate to 2.5 cm, somewhat pubescent, 5- to many-flowered. Peduncle 2-12(-40) mm long, pubescent.
Flowers. Flowers bisexual, regular, 5-merous. Pedicel 3-10 mm long. Sepals ovate-lanceolate, 2-4(-5) mm long, acute, hairy outside. Corolla campanulate, 10-18 mm in diameter, lilac-purple, but also pink, brownish, or violet. Corolla-tube 2-3.5 mm long hairy outside. Corolla-lobes erect to spreading-reclined, elliptic to oblong, 3-8 mm long, 1.5-3 mm wide, obtuse. Corona lobes leaf-like, mostly white (occasionally violet), narrowly obovate, ovate undivided or 2-parted, or lobes clearly 3-parted or irregularly divided and drawn out into filiform appendages, variable in size and shape, oblong-lanceolate to obovate, 1.4-4 mm long, 0.7-2 mm broad, margin toothed, covering the style head, imbricate. Stamens with filaments 1-2 mm long, anthers 2-3 mm long, ovate, white with pink or mauve connectives. Ovary superior, 1-2 mm long, style cylindrical, c. 2 mm long; head ovoid, 1-2 mm long.
Fruits: A single follicle or a pair of follicles, erect to spreading, fusiform. 2.5-6(-11) cm long, 7–10 mm whide, smooth, slightly pubescent.
Seeds: Oblong. 7-8 mm long, c. 3 mm broad, ridged, obtuse, glabrous and keeled along the underside. Hair tuft reflexed 10-15 mm long and white.
Chromosome number: 2n = 44 Synonyms.
Bibliography: Major references and further lectures
1) John Manning "Field Guide to Wild Flowers of South Africa, Lesotho and Swaziland" Struik Nature, 2009
2) Schmelzer, G.H. & Gurib-Fakim, A. "Medicinal plants 2" PROTA, 2013
3) "The Flowering Plants of Africa: A Magazine Containing Coloured Figures with Descriptions of the Flowering Plants Indigenous in Africa ...", Volume 22, Eds 85-86 Botanical Research Institute (Sudáfrica). Department of Agricultural Technical Services 1942
4) Focke Albers, Ulrich Meve "Illustrated Handbook of Succulent Plants: Asclepiadaceae: Asclepiadaceae", Volume 4 Springer Science & Business Media, 2002
5) Gideon Smith, Neil R. Crouch "Guide to Succulents of Southern Africa" Struik Nature, 2009
Raphionacme hirsuta
Photo by: Frikkie Hall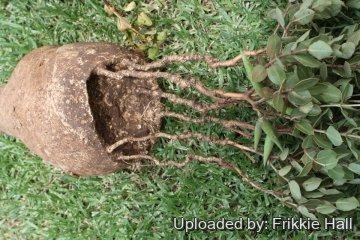 Raphionacme hirsuta
Photo by: Frikkie Hall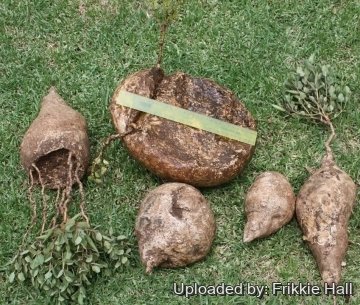 Raphionacme hirsuta
Photo by: Frikkie Hall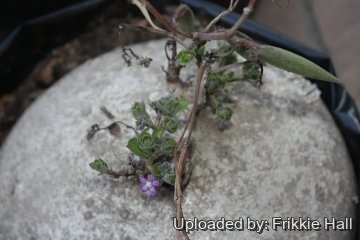 Raphionacme hirsuta
Photo by: Frikkie Hall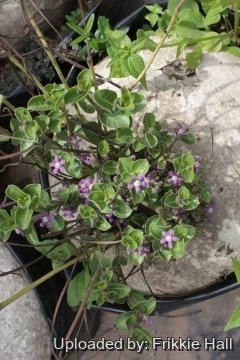 Raphionacme hirsuta
Photo by: Frikkie Hall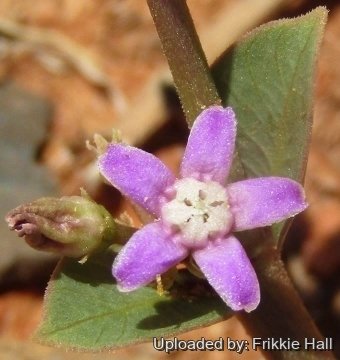 Raphionacme hirsuta
Photo by: Frikkie Hall
Cultivation and Propagation: In cultivation the plants are usually grown in semi shade, with the tubers wholly or (preferably) partially exposed to prevent scorching and rotting of the roots. This plant can take a good deal of water during active growth and should be watered only when not dormant. Keep dryish in winter. It should be overwintered in the greenhouse at temperatures over 12°C (avoid letting temperatures drop lower than 5° C). Use a very draining but rich soil. An error in cultivation may produce unsightly holes in the tuber.
Uses: Raphionacme hirsuta is little used for medicinal purposes, although its anti-tumour effect merits to be followed up by more research. Sliced tuber is applied to tumours. In Lesotho the tuber, mixed with hot water and sugar, is used for brewing a highly intoxicating liquor. It is possible that this species contains a higher concentration of glycosides than other Raphionacme species, which would explain its lack of use of the tuber as thirst quencher.
Propagation and planting: Raphionacme hirsuta is propagated by seeds.