Donate now to support the LLIFLE projects.
Your support is critical to our success.
Since 4 Aug 2013
sponsored link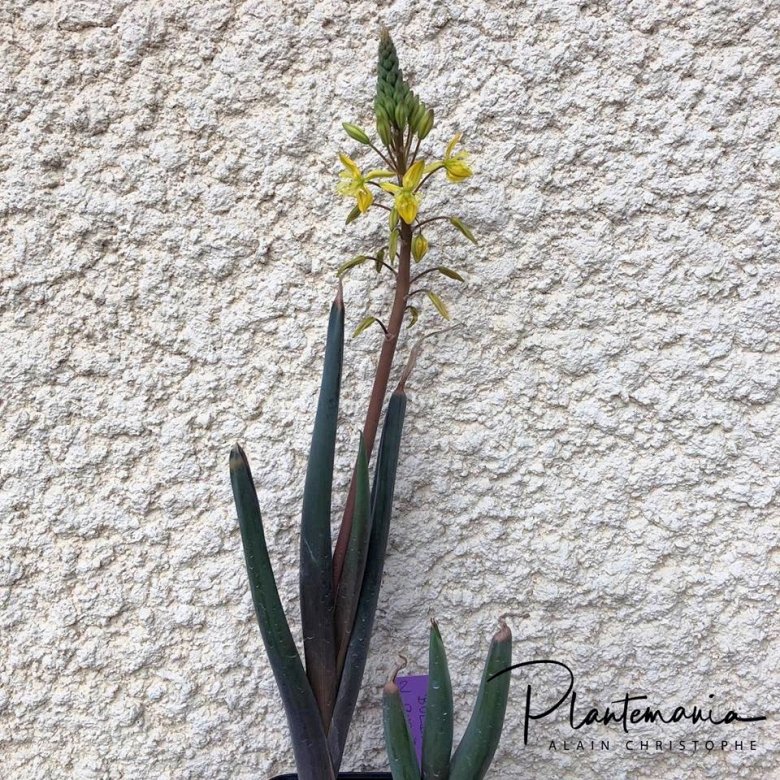 Bulbine quartzicola Photo by: © Plantemania
Origin and Habitat: Bulbine quartzicola is endemic to Namaqualand (Northern Cape and Western Cape) South Africa. From the Southern part of Richtersveld to Bulletrap Pass and central Knersvlakte. It is only known from less than five locations.
Habitat and Ecology: Knersvlakte Quartz Vygieveld, Umdaus Mountains Succulent Shrubland. This species is found on pebbly, white quartzite pavements and ledges. It flowers from September to November. B. quartzicola is potentially threatened by livestock grazing and trampling, and by habitat degradation.
Synonyms:
Description: Bulbine quartzicola is a perennial succulent herb up to 8(-18) cm high from a tuber. It has two to six curious leaves withered at the tip at flowering. Yellow flowers with fluffy yellow stamens are borne on an erect stalk
Derivation of specific name: quartziticola Latin from French / English 'quartzite', quartzite rocks; and Latin '-cola', inhabiting, hence "dwelling on quartzite rocks".
Leaves: 2-6 erect, ephemeral, cylindrical in cross section (or slightly flattened on the upper side), fleshy, light green, multi-veined, 3-5(-8) cm long, about 4 mm across, tightly clasped at the base to forms a smooth, solid neck of white to dark, papery sheaths up to 4 cm in length. The entire surface of the sheet is covered with microscopic scales. The leaf withers and forms a tight spiral or curl at the tip during flowering.
Tuber: Delta-shaped up to 3 cm in diameter.
Roots: Thick, spreading to the sides.
Inflorescence: Peduncle single, erect up to 12 cm tall.
Flowers: 6-petaled yellow star shaped with fluffy yellow stamens, the youngest flowers and buds at the tip.
Bibliography: Major references and further lectures
1) Annelise le Roux, "Wild Flowers of Namaqualand: A Botanical Society guide", Penguin Random House South Africa, 8 May 2015
2) Raimondo, D., von Staden, L., Foden, W., Victor, J.E., Helme, N.A., Turner, R.C., Kamundi, D.A. and Manyama, P.A. 2009. "Red List of South African Plants". Strelitzia 25. South African National Biodiversity Institute, Pretoria.
3) Snijman, D.A. 2013. "Plants of the Greater Cape Floristic Region 2: The extra Cape flora." Strelitzia 30. South African National Biodiversity Institute, Pretoria.
4) Williamson, G. 1996. "New Bulbine species (Asphodelaceae) from the northwestern Cape." Haseltonia 4:13-23.
5) Archer, C. & Victor, J.E. 2008. "Bulbine quartzicola G.Will.", National Assessment: Red List of South African Plants version 2017.1. Accessed on 2018/12/23
6) Urs Eggli, Leonard E. Newton, "Etymological Dictionary of Succulent Plant Names", Springer Science & Business Media, 11 March 2004
7) Смирнов А.В., "Суккулентные Бульбины (сем. Асфоделовые)" Web: http://www.lapshin.org/roiks/KIDSR/06/bulbine.htm
8) Jacobsen Н, "Das Sukkulenten lexikon". Jena, 1970